2020 ended the debate whether call centers should move to the cloud. With its inherent flexible features, cloud call center software saw a significant adoption in 2020. Sales, service, and collection departments have moved to remote work environments, paving the way for adopting cloud call center software at length. What led to cloud solutions' tremendous growth can be simplified into three segments: Scalability, Security, and Integration Capabilities.
But, there's no one size fits all cloud solution. There are three types of cloud call center software to meet the needs of different businesses. Depending on the business type and requirement, you can choose from the following:
Public Cloud Call Center
Public cloud is a highly cost-effective solution and is ideal for small and mid-size businesses in BPOs, E-commerce, Travel, and EdTech industries. In a public cloud, you share the same hardware, storage, and network devices with other organizations or "tenants."
In the public cloud, you only pay for what you use. Here are some of the advantages of the public cloud:
Highly Scalable
Cost-effective
No maintenance required
High reliability
Private Cloud Call Center
Private cloud or internal cloud is ideal for businesses seeking high data security and control over business-critical operations. In banks and financial institutions, where data security is a prime concern, private clouds act as an on-premise solution without hardware installation. Dedicated instances for the banks can be created to meet specific IT requirements.
Private cloud advantages that make it a tick for businesses:
Offers greater scalability than on-premise solutions
It is a highly reliable and secure solution
Ensures a high level of data security and control over business operations
Hybrid Cloud Call Center
Hybrid cloud call center software is the best of both worlds because it combines private and public clouds that allow the data to move between the two environments. It eliminates the need to invest huge capital. For instance, if a business needs to handle a short-term spike in the business demand, hybrid functions are ideal cloud call center software.
The following advantages make the hybrid the choicest platform for businesses:
Allows the business to maintain private infrastructure for sensitive data while the other data or applications are handled on public cloud
Offers excellent flexibility to the business
It is a cost-effective solution with ensured scalability
Why should you have moved to the cloud call center software yesterday?
Research by Call Center Helper suggests that almost three-quarters of call center professionals (74.7%) believe that cloud better complements improved customer experience than on-premise systems. 
So, help me guide you through the reason why cloud call center software is an ideal solution for your business: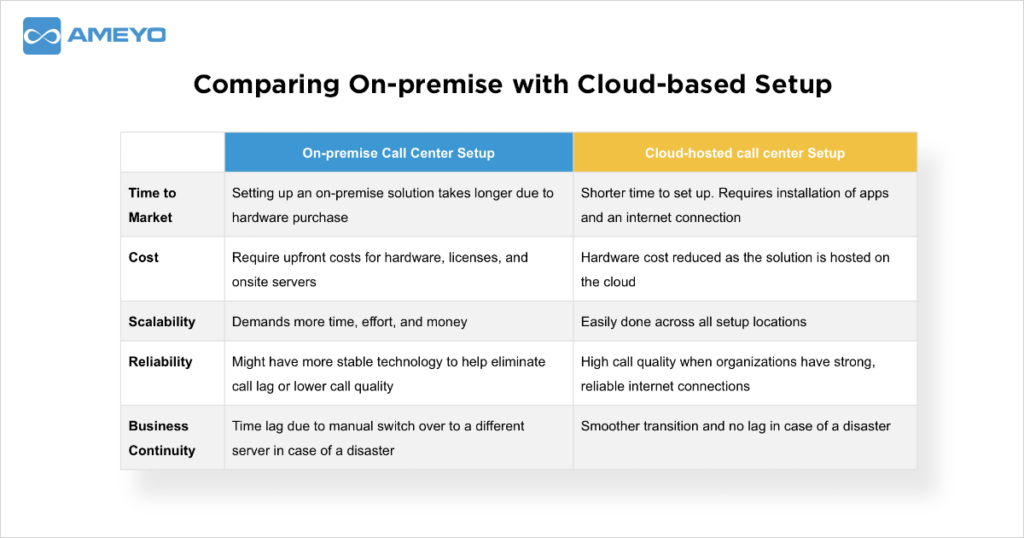 Less Complexity, More Flexibility
With cloud call center software, you get the flexibility to upgrade your solution as the business requires. You do not have to worry about IT maintenance, hardware installation, and even set up a physical office space. 2020 has led us to believe that cloud is the way forward as most businesses see working remotely as a permanent solution.

Data Security
In a closely-knit world where information is transferred within microseconds, data theft becomes more sophisticated. But, with cloud call center software, you can be assured of a high level of data security and save your business from the data breach with its enterprise-grade security and adherence to regulatory compliance.
Integration Capabilities
Along with flexible upgrades, your business' growth depends on the agility of the cloud call center solution agility. A flexible solution allows you to integrate with various applications like a ticketing system, knowledge base, in-house or third-party CRM seamlessly. Adding in-built or integrating new applications with a cloud call center solution will only take you a few clicks and your call center is ready to serve your organization and customers.
Faster Time to Market
You are running behind your competitor if you are still stuck with a complex solution that requires ages to complete the installation. Get yourself acquainted with a cloud software provider and implement your solution today. With a cloud call center solution, your business will be up and running in less than 48 hours, thanks to simple and quick installations.
Say No to Siloes
To deliver an extraordinary customer experience, you need to eliminate siloes. Help your call center agents drive the contextual conversation with the customers. Equip them with the right tools and information that they need to identify customers' unresolved grievances, previous interaction history, and other details to deliver a customer experience that differentiates your brand from the competitors.
Cloud Call Center: The Way Forward
If your current call center software is making the job more rigid, it's time that you choose a cloud call center solution that is highly scalable, secure, and reliable. To live up to customer's demands, do away with the never-ending struggle of hardware installation and IT infrastructure maintenance. Get a cost-effective solution that fits perfectly for your remote call center operations.
(Before you settle for a cloud call center software, check out this quick checklist to decide on the right cloud call center software vendor.)