As we step towards the fast-paced digital world, the relationship between businesses and customers has changed a lot in the last few years. With time, customer expectations are getting higher; thus, companies should find new ways to interact. Besides, companies also need to enhance their processes and service proficiency. So, numerous organizations have taken a step forward to board the AI train to improve their customer service.
Companies investing in AI efficiently increase their revenues and save quite a good amount on operational expenses and ordinary tasks. AI helps businesses in customer acquisition and retention.
As per a study by Aberdeen and IBM, nearly 33% of customers are much satisfied because of the personalized experience provided by AI
In today's scenario, Chatbots have become imperative for companies to streamline their operations and answer consumer queries without burdening their service team. With the advancement of technology, chatbots give a feel of personal touch to customers and meet their expectations.
What is a Chatbot?
A chatbot is known to be an AI-based program simulating human conversations. They act as digital assistants that are well versed with human capabilities, understands the user intent, promptly answer their questions and give solution to their issues.
As per Forbes, nearly 80% of marketers plan to use chatbots to optimize their businesses
There is a substantial reason why brands are making investments to enhance customer experience. Chatbots can communicate through voice and text and are deployed across apps, websites, and messaging channels like Twitter, Facebook messenger, or Whatsapp.
Here are some of the key reasons why most businesses are adopting chatbots: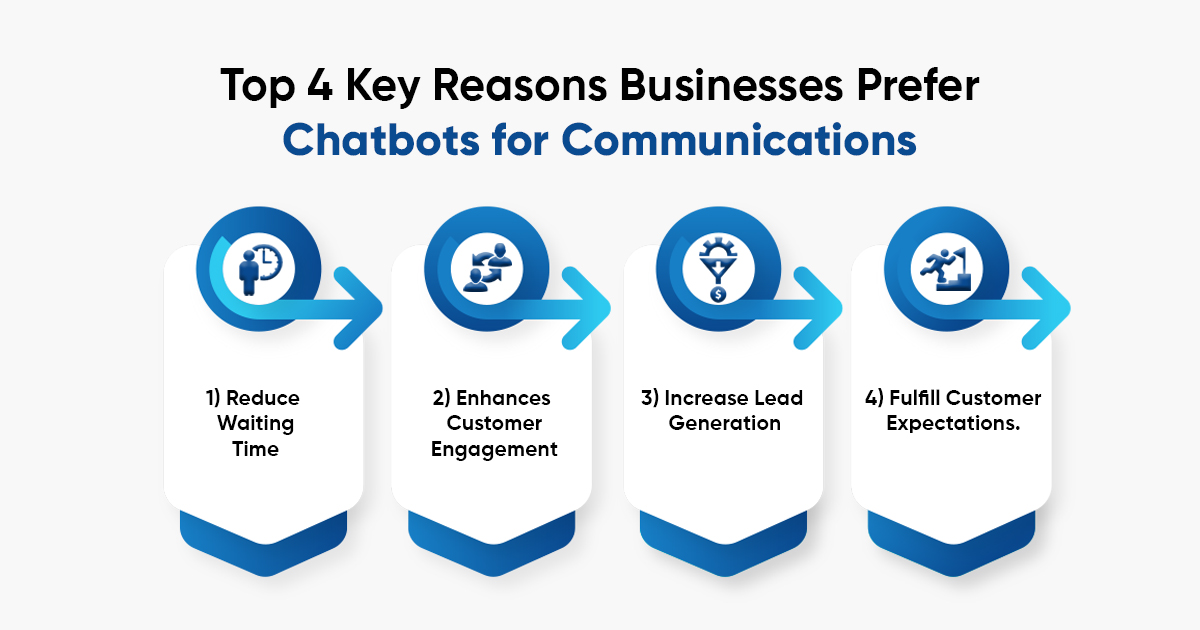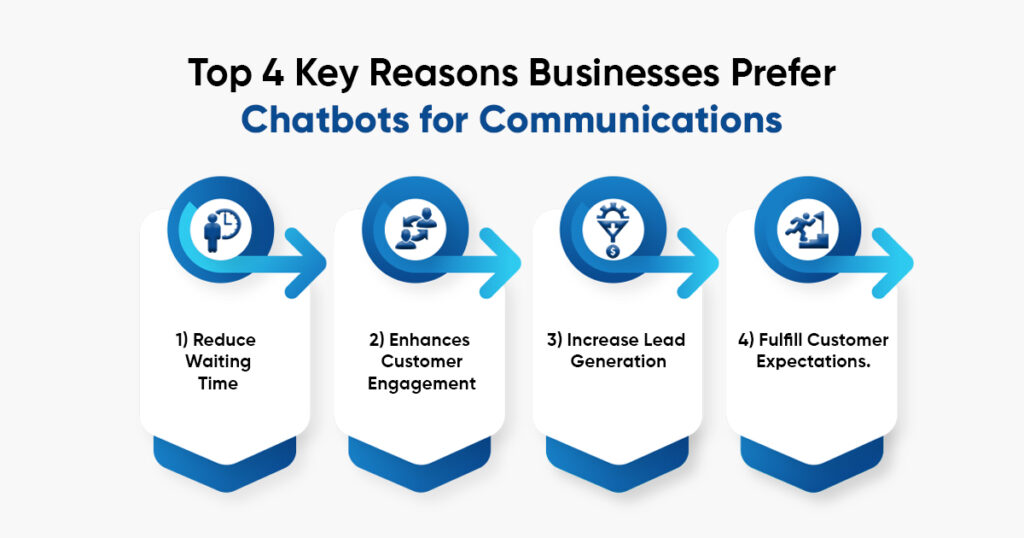 Reduces waiting time: Nearly 21% of customers feel that chatbots are the easiest way to contact any company. Chatbots ensure that consumers receive an instant response to their queries without waiting in a queue.

Enhance customer engagement: AI chatbots can deliver consistent answers, and it is also helpful in avoiding irrelevant answers to customers, thus increasing customer engagement.

Increase lead generation: Chatbots are formulated with advanced technology and thus are much more efficient in engaging customers with personalized messaging throughout their call. So, chatbots are beneficial in lead generation and ensuring higher conversion rates.

Fulfill customer expectations: Customers always expect to respond quickly to their complaints and queries. Due to their 24*7 availability, they consistently meet customers' expectations.
Various Types of Chatbot
With the invention of chatbots, the interaction between customers and brands has completely changed. Having conversations with customers and providing them instant responses has made chatbots beneficial for businesses.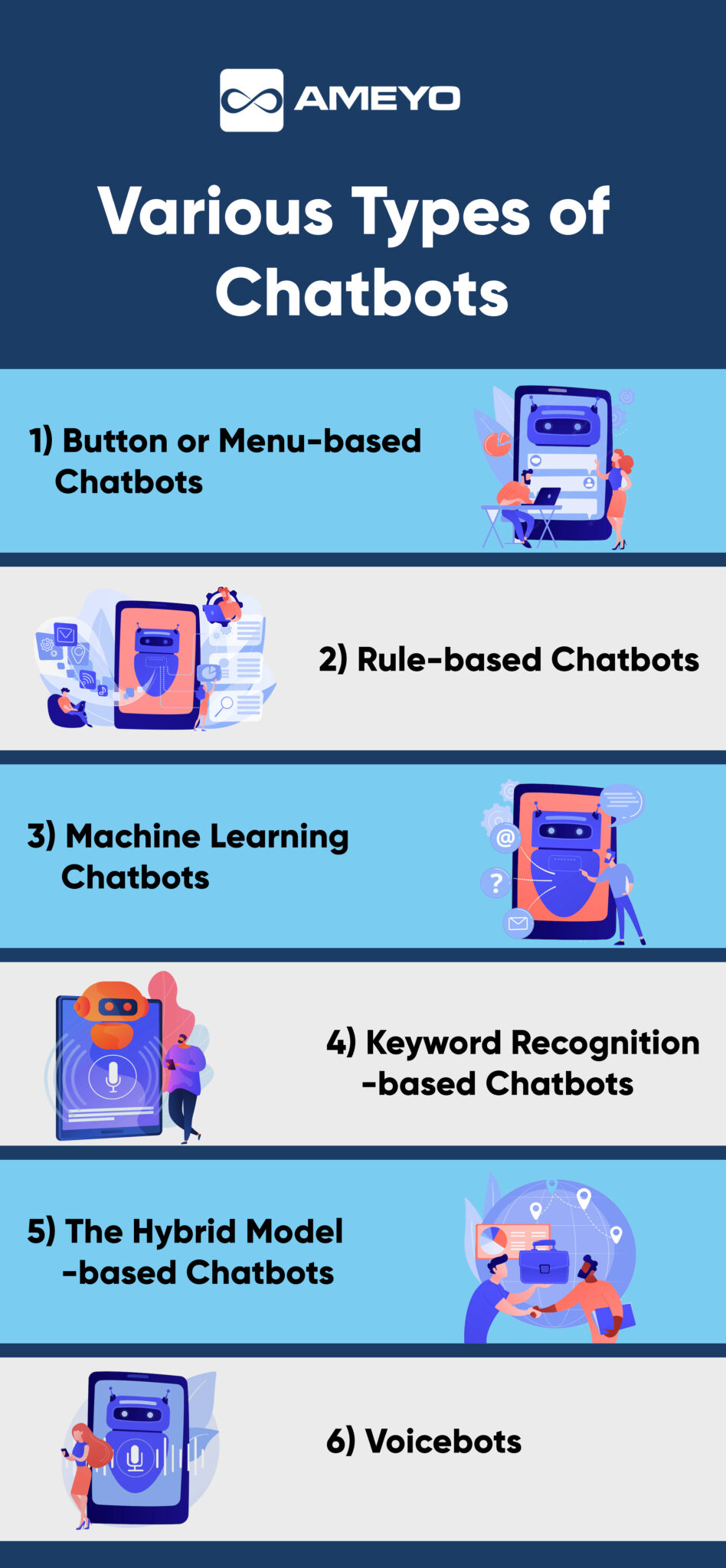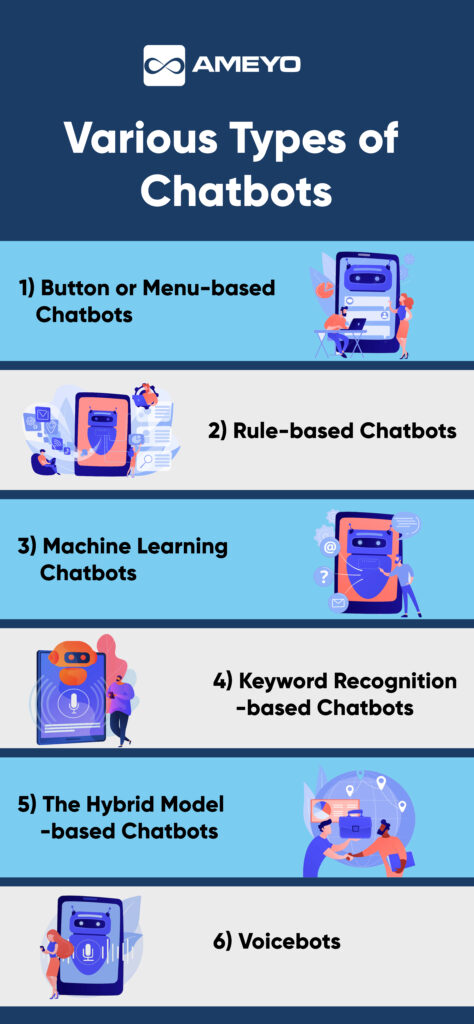 1. Button or Menu-based Chatbots
In today's market, button or menu-based chatbots are considered the most basic and slowest chatbots to get the customers to their desired result. However, they need users to make numerous selections to get the ultimate answer.
Menu-based chatbots are well programmed to answer FAQs in nearly 80% of support queries; however, they fall short in advance scenarios where they need too much knowledge to answer customers' queries.
2. Rule-based Chatbots
If you can predict what type of questions your consumers may ask, a rule-based chatbot is suitable for your business. Unfortunately, rule-based chatbots are usually slow to develop and use if/then logic to create the conversational flow.
In rule-based chatbots, businesses need to define the language condition of the chatbots—conditions ( asses the order of the words, synonyms, and many more). Then, if a customer makes any query that matches the condition defined by the chatbot, the customer can receive the required answer in no time.
3. Machine Learning Chatbots
Have you ever thought about what a contextual chatbot is? This type of chatbot uses Artificial Intelligence (AI) and Machine Learning (ML) to remember conversations that occurred with a specific user. ML chatbots have contextual awareness and are competent to self-improve depending upon what customers are querying about and how they are querying it.
For instance, a contextual chatbot that helps a customer order food would store the data from each conversation and, this way will know what the customer usually likes to order. So, eventually, bots can suggest food recommendations based on previously stored data or ask if they would like to repeat the order.
4. Keyword Recognition-based Chatbots
Keyword recognition-based chatbots are proficient in listening to what users are typing and responding accordingly. These chatbots use customizable keywords and Natural Learning Processing (NLP) to provide an appropriate answer to the customer. However, they usually fall short while responding to many similar questions. NLP chatbots start slipping when keyword redundancy is there between numerous related questions.
5. The Hybrid Model
Usually, businesses like the sophistication of AI-chatbots but often don't have the talent or large volumes of data to support them. Thus, they go for the hybrid model as it offers the best of both – the simplicity of the rules-based chatbots besides the complexity of AI chatbots.
6. Voicebots
A voice-based chatbot provides a frictionless experience to the customers. These days, businesses are initiating voice-based chatbots to make the conversational interface more vernacular due to its convenience. For a customer, it is quite easy to speak instead of typing.
Essential Tips to Choose the Best Chatbot for Your Business
Chatbots have come up with a new realm of communication between machines and humans. They are beneficial in enhancing a company's customer service, besides improving operational efficiency and driving better engagement. Chatbots have gained immense popularity; thus use of chatbots is important for the success of your business.
So here are some tips for choosing a perfect chatbot as per your business requirement.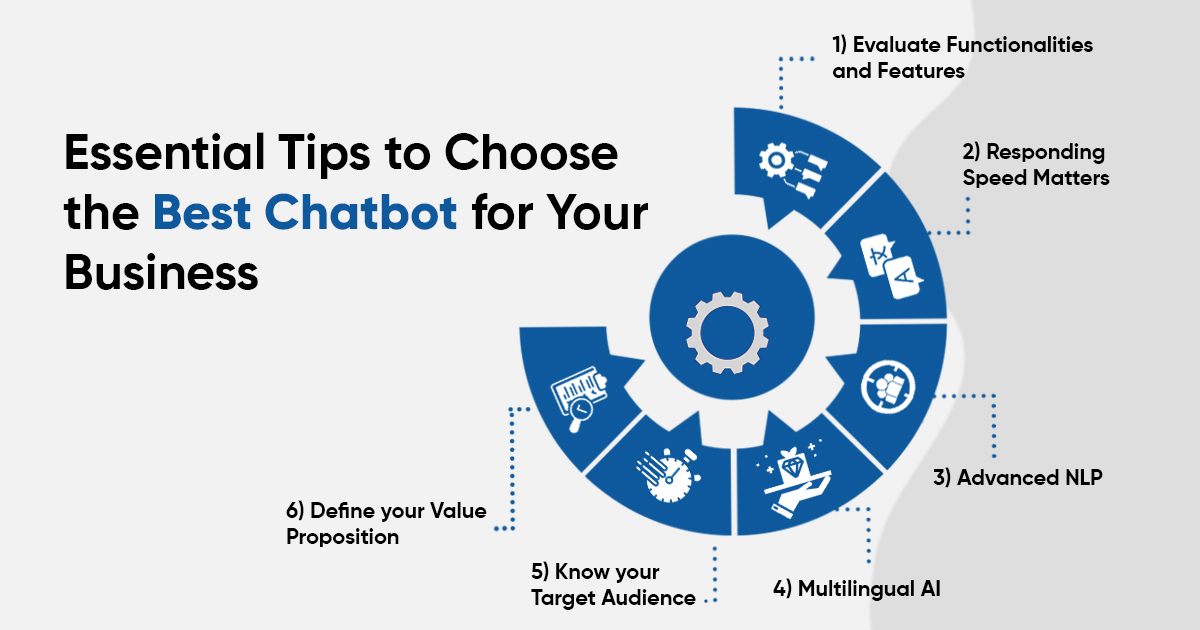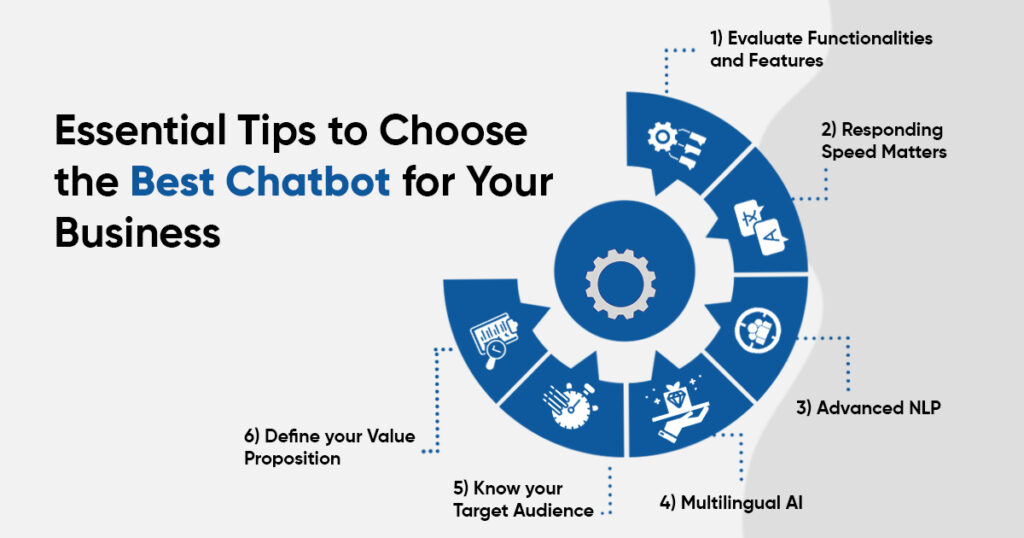 1. Evaluate Functionalities and Features
Evaluation helps identify the essential features and functionalities businesses would want from a chatbot to make them successful. A proper evaluation can help enterprises choose the right chatbot that would benefit their business in every manner.
Businesses should decide which features are required, like integration, NLP, contextual awareness, analytics, and many more.
2. Responding Speed Matters
Consumers always wish to get quick and easy answers to their queries. If the answer is delayed, the customers may get irritated. Choosing appropriate chatbots can be beneficial for businesses to avoid any delays.

While managing a complex issue, they should ensure that the chatbot efficiently gathers information without any delay. Also, if the call is needed to be transferred to the agent, it should be done fast and seamlessly.
3. Advanced NLP
In the Chatbot space, there are two options available: AI or Click. As per your requirement, you may choose one over the other. AI-powered chatbots use advanced Natural Language Processing to understand consumer queries in their language and respond accordingly in a conversational and friendly way. They should also maintain 85% accuracy in understanding the queries and responding accordingly.
4. Multilingual AI
In this fast-paced world, it's not just enough to chat in one language.  As your business expands and you have more international clients, you should keep in mind to have a system that can understand English and other languages.

An enterprise-ready powered chatbot enables the consumers to talk in their local language to have a natural and meaningful interaction. Also, the platform should keep on enhancing its multilingual capabilities by updating itself with new languages.
5. Know your Target Audience
Like every business should be aware of its target audience similarly, the chatbot should also know its target audience. It is imperative that the chatbot should serve as the bridge between you and the consumers. The chatbot should be capable to understand your customer's needs and cater to them with proficiency.
6. Define your Value Proposition
The value proposition means giving prime consideration to the most important factor of your business. It helps to understand whether your potential clients would come to you or be inclined toward your competitors. So companies need to determine a value proposition to choose the right chatbot for their business and fit their budget.
Conclusion
Today's customers are more demanding than before. They expect effortless and smooth experiences, and chatbots help businesses maintain such expectations. Here, chatbots play a crucial role in enhancing efficiency and providing seamless services to customers.
So by evaluating the objectives of your business, besides keeping in mind the expectations of your customers, your business can maximize the benefit of chatbot technology. Well, choosing the right chatbot that would be a perfect fit for your organization would get your business to the next level.