There are multiple technologies and terminologies available in the market in contemporary times. You might have heard about these features but might not be well aware about the use cases, functionalities and benefits.
Today, I will make an earnest effort to elucidate two vital features being increasingly employed by companies, namely – Virtual DID and Number Masking.

Virtual DID
From what I have gathered so far – Virtual DID numbers is a local telephone number in a selected city/country. Usually DID numbers are used to provide local telephone numbers for customers on a worldwide basis, or to provide access from regular telephones to non-PSTN destinations such as VoIP.
I have also learnt that listing businesses like Justdial employs Virtual DID to monitor the leads they pass to restaurants and the business generated for each restaurant. Justdial provides a phone number and an extension for each restaurant listed in their portal.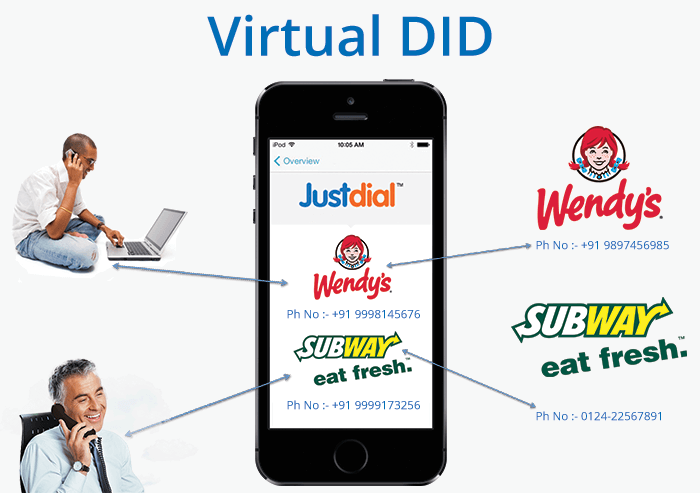 The company provides a unique number for each restaurant listed and maps it to the respective restaurant's contact number. Every time a customer calls a restaurant listed on Justdial, it is routed to the restaurant number mapped to the respective Justdial number.
Call Center Management Software to manage the customer interactions end to end.
A detailed example that I have come up with, is as follows:
Step 1: Customer opens Justdial app.
Step 2: Customer wants to order food from Kareem's. He dials the number listed on Justdial app (8877056666) to call Kareem's and place the order.
Step 3: An automatic call is thrown to Kareem's restaurant on number (9848923451) which is mapped to (8877056666) on Justdial.
The restaurant's phone number is replaced with another number, and the customer calls are redirected via Justdial's pipe so it helps Justdial track leads and monetize it.
Number Masking
Number Masking creates a communication channel between the customer and the service provider disguising the contact information of both the parties, ironing out the chances of either side to contact each other afterwards.
Therefore, I got to know that Number Masking enables businesses like Ola to keep the mobile numbers of customers undisclosed to drivers. When a customer books a cab, an encrypted number is sent to the driver. Thereby, drivers calling from their device will not be able to see the customer's mobile number but will automatically be routed through the encrypted number. This feature not only brings enhanced privacy for users but helps businesses to trace the driver-customer calls, monitor the conversations and reduce risk, which I think is a great stride in the larger scheme of things.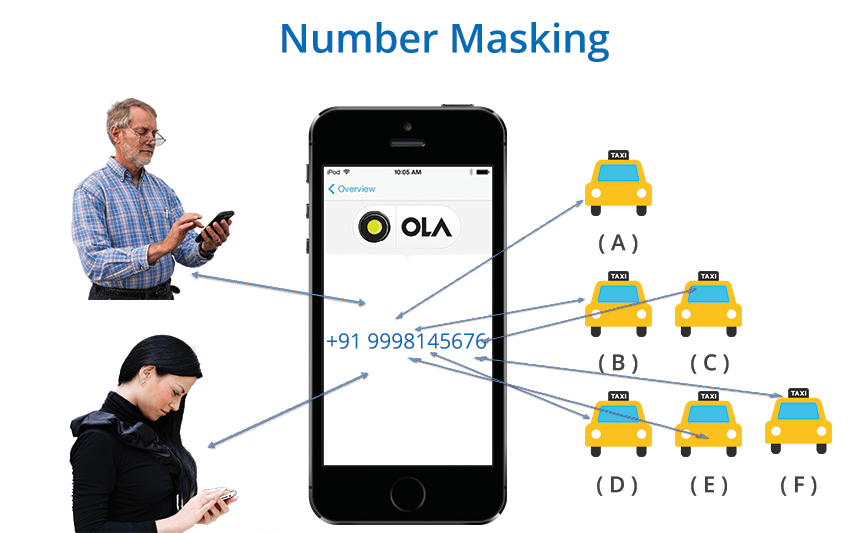 Let's assume that customers start booking the cabs from morning 8 AM. There are 3 cars available for 3 customers (Car A, Car B and Car C). When customer clicks on the Call Driver feature, two calls are initiated from random numbers (processed by Ola) and get the customer and driver connected.
A detailed example is as follows:
Step 1: From 8-9 AM – 3 persons book 3 cars Car A, Car B and Car C. Till the customers board the cars, a single number is given to these rides (In this case – 9998145676). This number is active for the conversations between the three persons and drivers of Car A, B and C till the ride gets started.
Step 2: From 10-11 AM: Therafter, 2 other persons book two cabs respectively (Car D and Car E). The earlier number is then passed to these rides (9998145676- as the number is no more active for earlier rides, it was allotted to Cars D & E)
Step 3: From 3-4 PM: Three customers book three cars (Car D, Car A and Car F). Now they were given (9998145676 – A number previously used for rides used by other Cars).
Therefore, there were 8 customers, 6 cars – A total of 8 rides – We have used only 1 single number for 8 different conversations between the customers and drivers for the rides.
Here is a bifurcation of Virtual DID and Number Masking as being used by various companies, from what I perceive:-