Many of you must have heard about AI chatbots in education. So what is this all about?
Technological advancements have completely changed the way of getting an education. Long before the pandemic, education became online because of technology. Today, educational institutes are making huge profits with chatbots. Educational AI chatbots are transforming the way institutions interact with their students. Right from teacher's assistants to student support, there are many ways in which chatbots are gaining popularity.
Well, Conversational design and Artificial intelligence are used to create chatbots that can interact with students for their studies. No matter what academic level or subject it is, AI chatbots can be used by students and institutes. The chatbot can only work as an assistant to the teacher to provide a modern education.
The Global chatbot market spent 526 million USD in 2021; however, by 2030, it is anticipated to reach USD 3,619 million, expanding at a CAGR of 23.9 percent from 2022 to 2030
– Globenewswire
The benefits of AI chatbots and their assistance in education have made it far-reaching in the future. Here are some of the reasons why educational institutes are opting for AI chatbots-
AI Chatbots in Education and Its Role
1. A Great Learning Medium
Artificial intelligence automated chatbot provides an excellent learning environment for the students to study and learn many things. It also helps analyze students' responses, learning patterns, and interaction levels with the learning content.
Similarly, AI chatbots can help teach students through a series of messages or chats made from a lecture. In this way, the learning experience of students will get better. 
Colleges, schools, and many educational institutions are now adopting and implementing AI chatbots because of their benefits.
The AI chatbot can assist in learning specific topics to students through audio, images, videos, or document files.
A chatbot can also be used to hand students the required learning material. It is also designed to take tests or quizzes and  send the results to the concerned teachers.
2. Enhances Student Engagement
Nowadays, Students find attending classes and going to college to study a bit boring. They like to get instant answers and solutions within a few clicks, and students easily switch to another option if they don't get it. These days, students are more engaged with their devices and accustomed to instant messaging.
They're on social media platforms and many other sites to communicate with each other and get solutions to their assignments and homework. In addition, the education sector can integrate chatbots, educate students with help and virtual classes, and increase engagement.
Status of Education Industry in 2022
A huge transformation has been seen in the education industry after the covid pandemic period. According to the research, the education sector is among the top five sectors that have been profiting from chatbots. Teachers, parents, and students are taking advantage by conveniently experiencing the privilege of interacting with chatbots to get diversified and satisfying solutions.
Key Use cases of Educational Chatbots
Chatbots for education are ingeniously changing how organizations communicate with their pupils. They are attempting to make it simpler for students to learn and participate in all the activities available throughout their studies.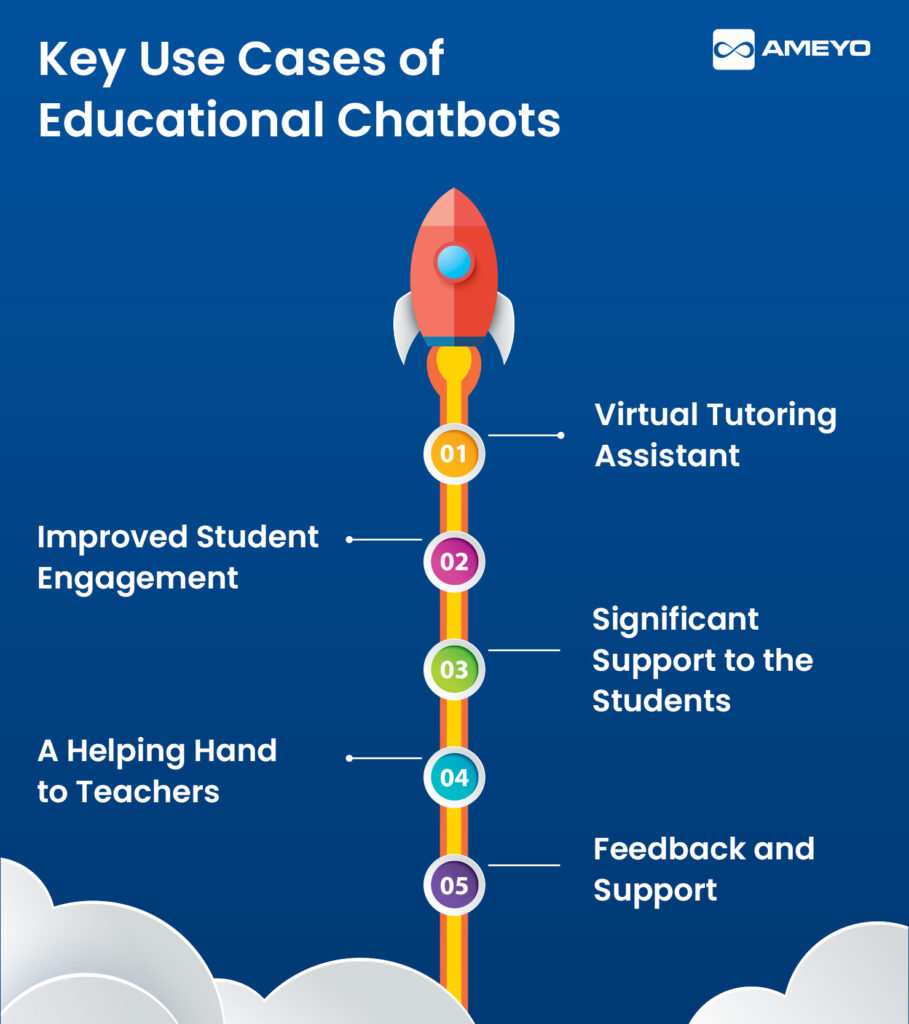 1. A Virtual Tutorial Assistant
AI chatbots can attend to every student individually by identifying their learning habits and giving them tutoring assistance accordingly. In addition, intelligent tutoring systems created based on Artificial Assistance can render personalized learning experiences.
2. Enhanced Student Engagement
Due to the sudden rise of the pandemic, the students' engagement reduced to zero due to the unavailability of physical classrooms and teacher interactions. However, By integrating AI chatbots, teachers can continuously interact with students and efficiently solve their queries. This way, AI chatbots have played a vital role in bridging the engagement gap between teachers and students.
Read More: Automate Customer Service with Conversational AI
3. Significant Support to the Students
People choose corporate training and courses online, so they don't have to take time away from their jobs and families to upgrade their skills.
A robust student assistance strategy is required for educational institutions in light of this expansion. Prioritize and respond quickly to student inquiries before registration, during the course, and after that. With educational chatbots, education institutions can support students to diversify their knowledge and learn around the clock.
4. A Helping to the Teachers
Teachers, in particular, are overworked and worn out from staying beyond hours to provide their pupils with good learning experiences. The majority of the work that teachers undertake is routine and repetitive. A few examples are keeping track of student attendance, grading exams, or assigning homework. Chatbots with artificial intelligence can help teachers justify their work without wearing them out too much.
The institutional staffs have to do a lot of everyday work that can sometimes make them exhausted and overburdened. They've to work several hours continuously, which lessens their productivity. Tracking the attendance of students, checking test papers, and assigning academic tasks to students are some common works that teachers and faculty staffs have to do.
5. Feedback and Support
Regardless of the business you work in, everyday feedback collection is crucial.
There is a lot of information that educational institutions need feedback on. Schools can gather data on every area, from instructors to curricula, admissions to hygiene, and rise to the top of their industry. After every discussion or process has been completed, chatbots in the education sector can assist in gathering feedback from all stakeholders. This can assist schools in gathering important data and addressing issues that lead to subpar outcomes.
In many ways, AI chatbots are important in the education sector, especially when there's a need to increase student engagement.
Read More: Improving Customer Feedback with Conversational AI Technology
Using an AI chatbot as an interactive platform, one can ask questions instantly without delay. Students can take different well-suited approaches to enhance their overall learning and engagement in any subject, be it proactive assistance, assessments, and evaluation.
With AI chatbots, one can easily communicate and connect to the classroom, teachers, different departments, and some educational clubs. It makes things easy for the students to collate information related to their studies. Overall, a chatbot helps make things easier for the students, and it takes education to another level by making it an engaging experience for students.
Future of AI Chatbots in the Education Industry
Traditional learning is the same for every student; each student gets the same treatment. However, every student's grasping power and understanding level is different. Right from their abilities to skills, all students are different from each other. Thus, treating them the same while teaching won't benefit many students.
If your educational institution is looking for opportunities to deploy AI chatbots, then this is the right time. There are many things that students can explore with AI chatbots in the future in the educational sector.
With AI chatbots, students can get a personalized learning experience. In addition, Chatbots can quickly help students by resolving this problem, customizing each student's interactions, and providing the best learning experience for each student.
AI chatbot solution that can automatically answer the questions of students based on their data and academic records. Personalized learning with the help of a chatbot will surely make the learning experience effective.

Chatbots are designed in such a way with artificial intelligence that they can know the intention behind the interaction with the students.

In short, an AI chatbots solution is well suited to improve the overall learning process of students personalizing it as per their exact requirements and academic records.
Sum Up..
The good thing is that AI chatbots can efficiently perform those repetitive tasks. A chatbot can be used as an assistant to the teachers. Because of artificial intelligence, chatbots can help teachers in doing their work without getting them stressed out or exhausted. If you want your institutional staff to increase their productivity, then you must use AI chatbots.