New Product Updates with Enhanced Capabilities
Ameyo has been into customer engagement and experience space for almost 2 decades now and is preferred by renowned brands worldwide for its advanced product capabilities. In order to ensure easier CX operations and continue to bring advancements in our product line.
To ensure hassle-free customer interactions, this time too, we have brought in some major updates in our products under our latest product release, 4.11.

Scroll down to know and understand these enhancements around Ameyo Voice (Call Center Management Software), Ameyo Omni (Omnichannel Customer Support Software), Ameyo Fusion CX (Omnichannel Customer Support Software & Ticketing System), and Remote Call Center Solution. Let's quickly jump on the updates now!
Feature Updates for Fusion CX
Dashboards augmented with Offline Chat Metrics
Many businesses do not provide 24×7 service but customers may reach out to them at any time. In such situations, business managers may not want to lose a customer and instead would want their representatives to connect with those customers, the time they start their operations.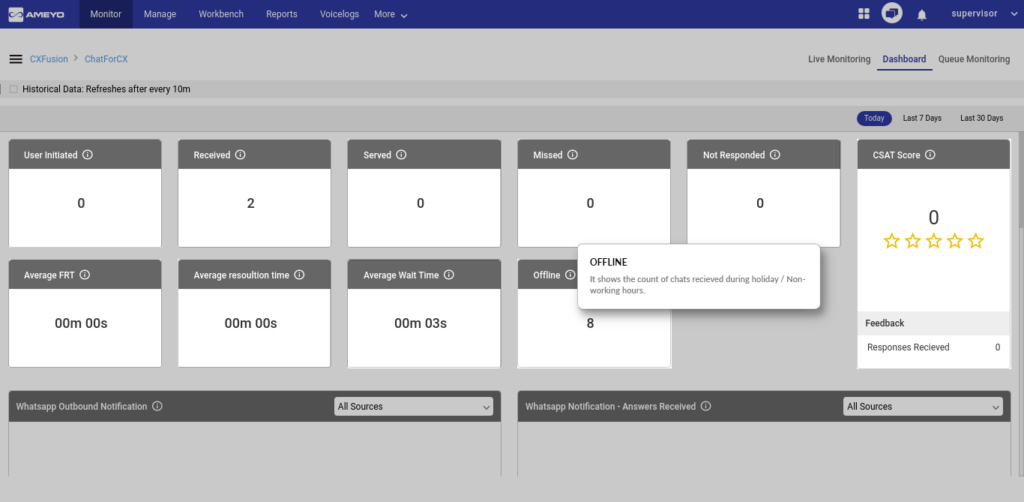 To ensure that no offline chats are missed, a new metric- 'Offline Chat' is added on supervisor's chat dashboard. This metric would provide the exact count of chats received during non-working hours or holidays in the selected period. This would help operation managers to strategize their operations such that no customer chats coming outside business working hours gets missed.
In addition to this, Ameyo agents will be able to view tickets received during non-working hours or holidays. They can view such tickets by applying filters for offline chats on the ticket listing page.
Supervisor can now view average first response time

Supervisor's dashboard has now been enhanced with new metrics that help them analyse agents' performance better. They can now check the Average First Response that their agents have taken to revert on an incoming chat. This enhancement in the supervisor's dashboard will specifically allow them to strategize workforce allocation for chat interactions coming in through various chat channels.
Agent can now preview attachments
Many times customers share attachments to provide more clarity on the issue raised. Downloading attachments every time to view its content increases the number of clicks for an agent and also the consumer's data is stored in the agent's machine even when it is not required.
Previewing the attachments will save a lot of time in scenarios where an agent is bombarded with attachments from customers on tickets and chats.
The agents as well as supervisors will be able to perform various functions while previewing an attachment. They can zoom-in and zoom-out an image, play and pause a video, download only the desired attachment(s) or all attachments by clicking on a single button.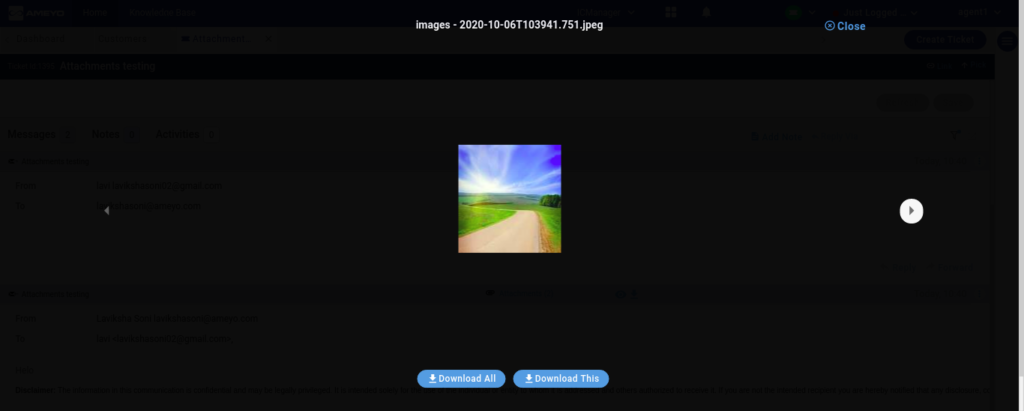 This capability will collectively decrease the number of clicks, significantly save agents' time, and therefore, improve operational efficiency.
Administrators can now deploy custom node flow from the UI
Ameyo admin for chat-specific campaigns will now have a separate tab for Advanced Nodeflow Settings within their user interface. This tab will allow administrators to deploy any custom node flow from their UI itself.
Earlier it was handled from the backend that led to downtime in restarting the application and was more problematic for multi-tenant setups where it resulted in downtime for all the tenants on that app server. This is now completely taken care of by providing the capability of deploying node flows from the UI.
Link the right customer with an ongoing chat
This new enhancement brings in a Customer Card that lets you link the right customer with an ongoing chat. The agent will be able to view some key differential details of the customer on a customer card to identify and ensure that this is the right customer to be attached to the live chat. By hovering on the customer name in the ticket listing page, customer listing tab, in the chat window, on the ticket history page, as well as on the telephony panel, the agent will be able to view the identifiable details of the customer.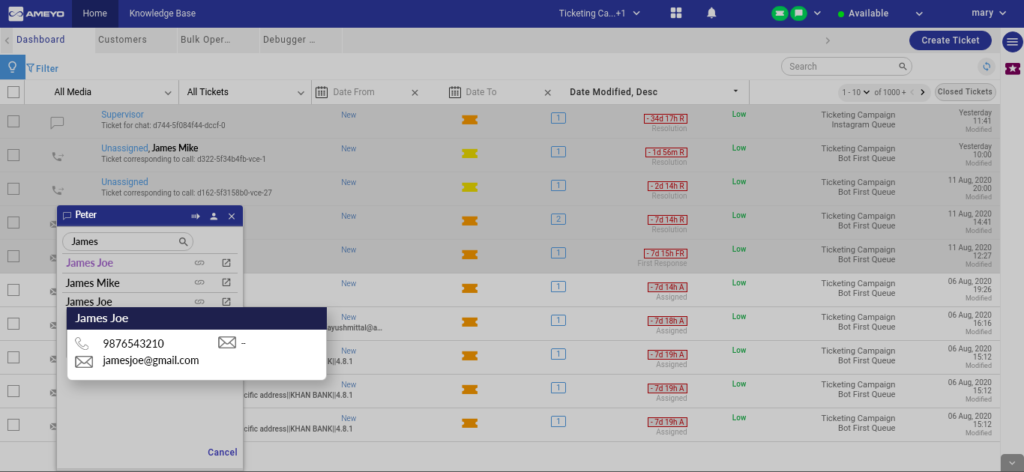 This will ensure faster resolution and boost agents' productivity. Additionally, there will not be any discrepancy in customer records and wrong linking of customers.
Keep agents' notes safe
Agents can add notes to tickets to keep the context of interactions. Sometimes other agents edit or delete these notes, making it difficult for ticket owners to keep the context intact. It may ultimately ruin the customer experience.
This feature enhancement allows you to restrict agents editing, updating, or deleting other agents' notes. Only ticket owners can make changes in their notes or delete them, however, supervisors can also perform editing or deletion of these notes. This enhancement will ensure that the context of the notes or tickets is not hampered.
In case of transferred tickets, once a ticket is transferred from Agent 1 to Agent 2, Agent 1 will no longer be able to make changes to its notes. Only Agent 2 will be able to do so.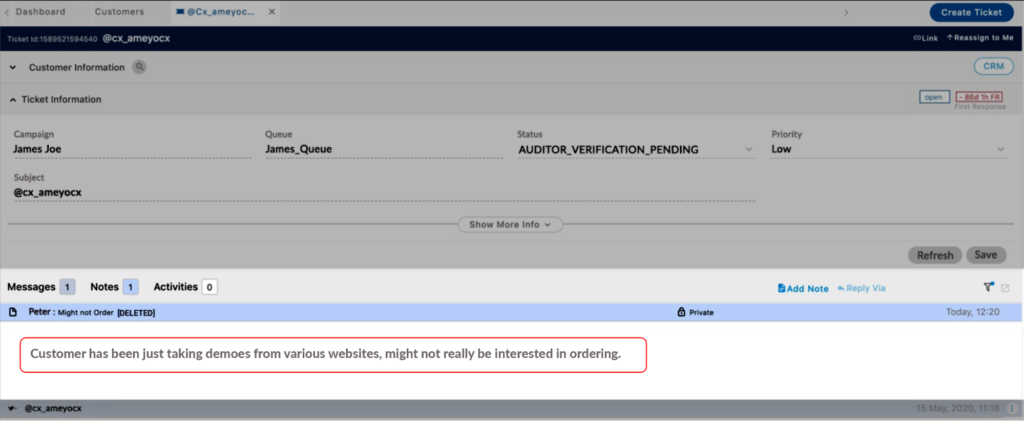 Field Agents can create tickets
In order to ensure that there are no missed tasks by field agents and no hassles in communicating with the backend workforce, Field agent will be able to create a ticket as well to view all tickets closed by him. He'll be able to enter customer details for a new customer or edit the details of an already existing ticket. Ticket details with queue selection, ticket status, attachments, and ticket priorities can be entered by the field agent.
Feature Updates for Voice
Blacklist Inbound Calls
If you constantly get inbound calls from the same number, you can block this number by adding it to the blacklist. You can identify and segment customers that are to be blacklisted from the inbound campaigns. The supervisor will be able to blacklist customers by uploading a blacklisted leads CSV or can block a single number from UI. Ameyo Agents will also be able to block a number; but while blacklisting a call, a call note will be mandatory to fill by the agent.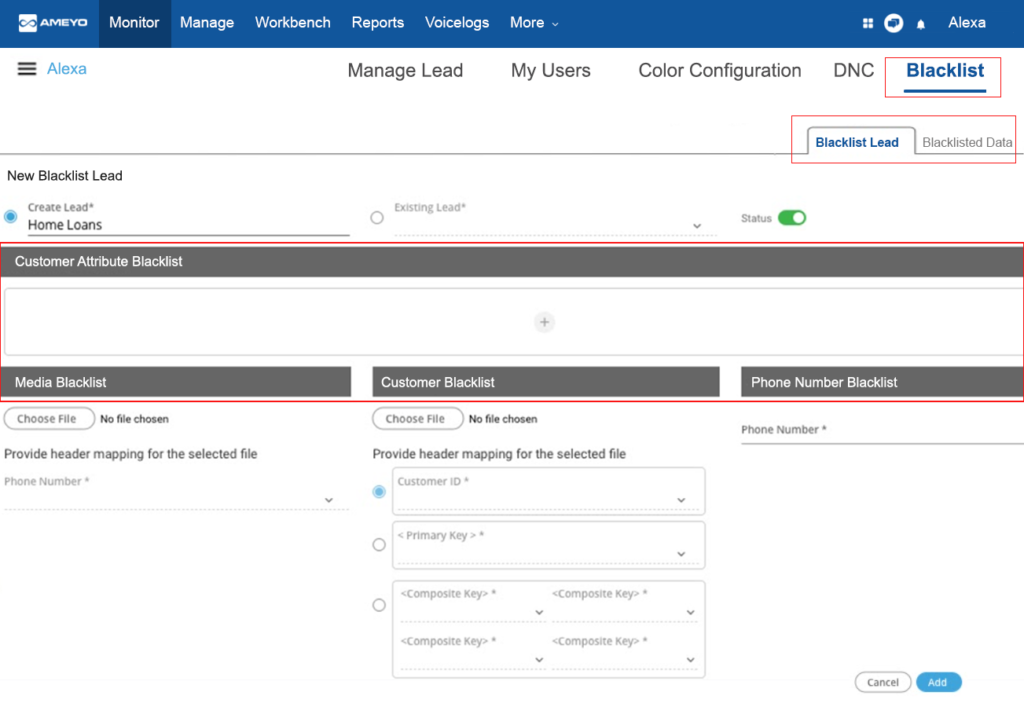 Mask Privilege for Auto Call On/Off
With this enhancement in toolbar integration, the admin can enable/disable masking privilege for Auto Call ON or OFF for agents. This feature can help the administrator to keep a check on the new agents by masking their status update capability. This configuration provides businesses additional flexibility in terms of assigning role privileges.
SIP Trunk Notifications to IT Admins
Use Case : In a contact center setup, to use the SIP Trunks provided by telcos, the call server must register to the telco SIP server. During use, it may so happen that the trunk may lose registration. There are several reasons for this such as below:
Change in the credentials
An incorrect configuration change
Loss of network connection
Loose network cable
It could just be an error by Telco
When this registration is lost, the trunk can not be used to do outbound calls or receive inbound calls. Hence, the administrator or supervisor cannot effectively use this trunk in a campaign any longer.
With this new enhancement, a Trunk down notification will be sent to contact center managers, administrators, and all supervisors of the campaign if the trunk is being used in either of the campaigns.
Location Support with Ameyo Apps
Ameyo app framework allows usage of system apps or user-developed apps to be used for various purposes. There can be apps that are required to be used across a contact center, while some should be restricted to be available for use by the users of a certain campaign only. Till now, we used to install an app in a particular slot.This is restrictive and allows a less number of apps. From this GA upgrade, apps can be installed in locations that can support multiple apps.
Locations can have certain restrictions on the number of apps. e.g. Telephony bar location will also support a fixed number of apps due to UX restrictions. If this limit is exceeded for an agent show an error to contact the Administrator. While installing and configuring apps via App Manager, an Administrator should be able to define the scope of availability of the app in terms of role and hierarchy. The administrator will be able to configure one app in multiple locations for a certain role. The app can be available in a contact center or multiple Processes, Campaigns or Queues.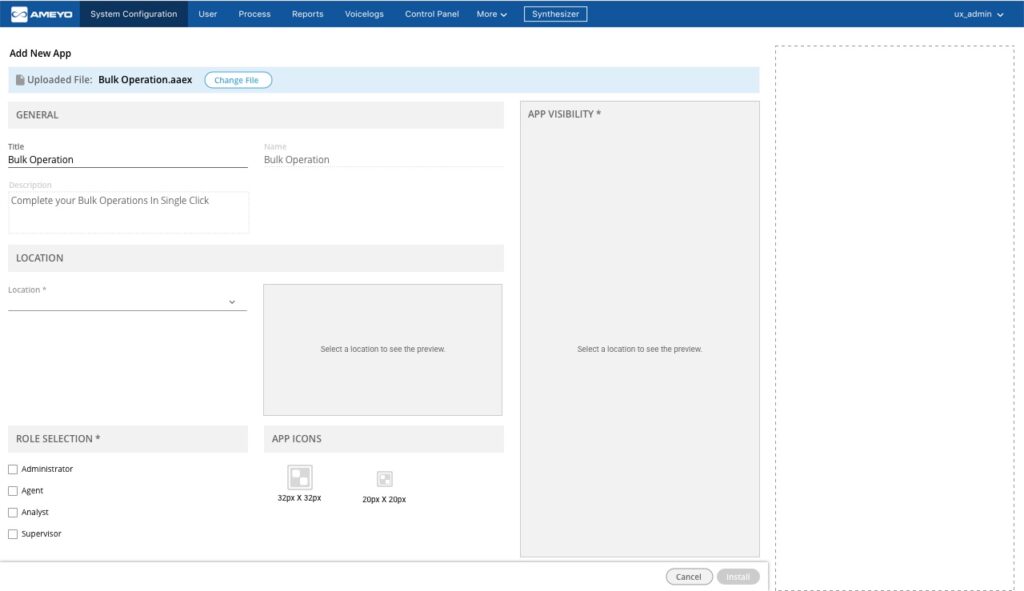 Priority dialing
Create Customer Segments or Groups for your leads in one go. You can also automate dialing as per the customer group priority. Prioritise dialing can be done on customer segments as per your sales strategy. This targeted outreach helps improve Sales Conversion Rates.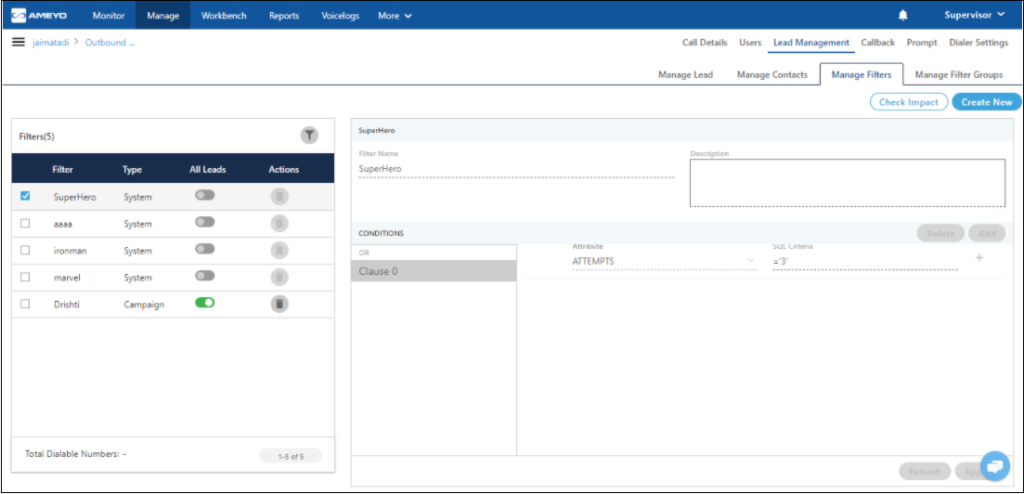 Disposition Class Inclusion under Call Details
Use case : Important in businesses where two different processes require similar disposition codes but there should be some provision to segment them.
Disposition class, as well as code, can be seen on the 'Call Details' screen under the 'Manage' tab of the supervisor's interface. This segmentation is also present for agents while disposing of calls from a toolbar or a chat conversation. Disposition classes are already available, now they have been made available on the below shown screens:

IVR Input Mapping on Agent's Interface
With this enhancement in toolbar integration, the agent will be able to view the IVR journey of the customer and understand the interaction context before connecting to the customer. This creates a positive impact in reducing call handling time and improving agent efficiency.
Warm Call Transfer from One Campaign to Another
There can be a scenario when an agent has to transfer a call to another agent in some other campaign to solve a single customer query. With this enhancement, an agent can transfer a call to another agent in some other campaign. This call transfer will be a warm transfer and the agent will be able to search for another available agent for call transfer by his/her username or user Id.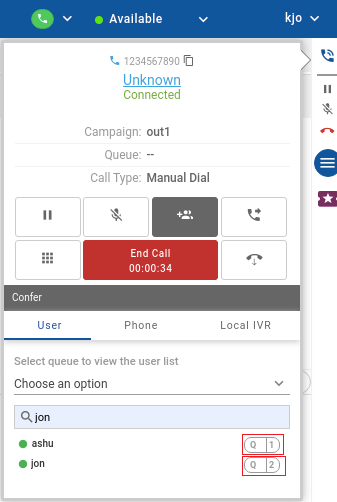 Reverse Timer for Agents Wrap Time
With this new enhancement, a reverse Timer will be shown on the toolbar starting from the configured wrap timeout value. This will help the agent to know how much time is left for the call to be auto-disposed.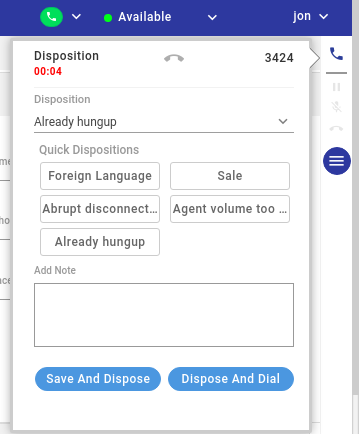 Feature Updates for Remote Contact Center Solution
Chat Transfer now available in Mobile App
There can be scenarios where agents might need to transfer the chat to a different user or queue so that the chat can be redirected to the best-suited agent. With this new enhancement, the remote Ameyo agents will be able to transfer a chat to the user in the same queue or user in another queue while on chat from the chat window. This feature is already available in Ameyo's web application and now has been extended to the mobile app.
Alternate Number Dialing Via Manual Preview Dialing
Some customers have more than one contact number and agents would want to dial out their alternate number in case the primary number is not reachable. Ameyo agents will have an option to select which number to dial in case of manual preview dialing.
This enhancement in the mobile app toolbar helps agents to dial out the alternate numbers of the customer. This cuts down the calls disposed of as 'Customer Not Reachable' when an alternate number is already there in the system.This feature already exists in web applications and is now also available with mobile application.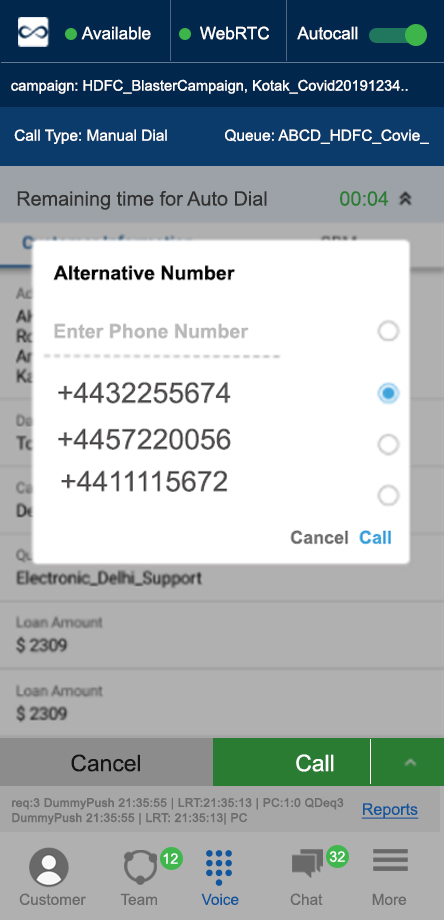 As we always try to match our steps with our customers' requirements and consistently bring new features and advancements in our products, stay tuned for more updates and feature enhancements!