Are you planning to use WhatsApp for Business? If I may say so myself – well done! You are making the right choice as with a user base of more than 1.5 billion across 180 countries, WhatsApp is one of the most popular messaging platforms today.
WhatsApp Business gives you the opportunity to interact with your customers in a private, secure environment, allowing you to interact with them on their preferred communication channel. Moreover, while chatting on WhatsApp, businesses can be creative with their messages and use attachments and emojis to increase customer engagement.
Using WhatsApp Business to Your Advantage
1. Automated Notifications to Customers
Get started with WhatsApp and send non-promotional personalized notifications to your customers. For eg., alert them of their order status, change in flight timings, or confirmation of order booking. Using WhatsApp for notifications, you are automating the task and thus, saving agents' time while eliminating human error and delivering top-notch customer service.
2. End-to-End Encryption for Privacy
One of the main reasons for WhatsApp's popularity is its security and privacy. The same principle applies when you are using WhatsApp for business purposes. You need to be verified by WhatsApp to become a user. And once that's done you can have a secure and private channel for messaging with complete end-to-end encryption.
3. Rich Media Support
Send multimedia messages – images, attachments, brochures, audio, or video file to make the conversation more engaging. Since WhatsApp supports richer formatting options, businesses can think out of the box and use bold text, italics, and stickers. etc to further enhance the messaging experience.
4. Multi-lingual Support
Interact with the customers in their preferred language. With WhatsApp supporting more than 50 languages, it provides a great opportunity for the brands to personalize the conversation. At the same time, you can also create templates for business responses to send notifications, alerts, and quick responses as a way to further use automation.
5. Monitor Performance Metrics
As a WhatsApp for business user, you can monitor and track the messages sent by the business as well as the messages received from the customers. The graphical view and dashboards make it easy to decipher the data and provide actionable insights.
Customer Engagement Made Easy with WhatsApp Business API by Ameyo

Ameyo being one of the WhatsApp partners to provide WhatsApp API has a lot more to offer. It's a plug and play solution that helps organizations deliver a true omnichannel customer experience. You can initiate two-way chats, add chatbots for customer service, and even log all your WhatsApp activity by sending the data to the CRM.
That's not all, by adding WhatsApp as a channel to Ameyo's Omnichannel Ticketing Solution you can also create tickets for WhatsApp interactions which can then be monitored for accountability and improvement purposes. Get channel-wise reports to monitor which channel is performing best and which needs to be improved.
Getting Started with WhatsApp Business API was never this Easy!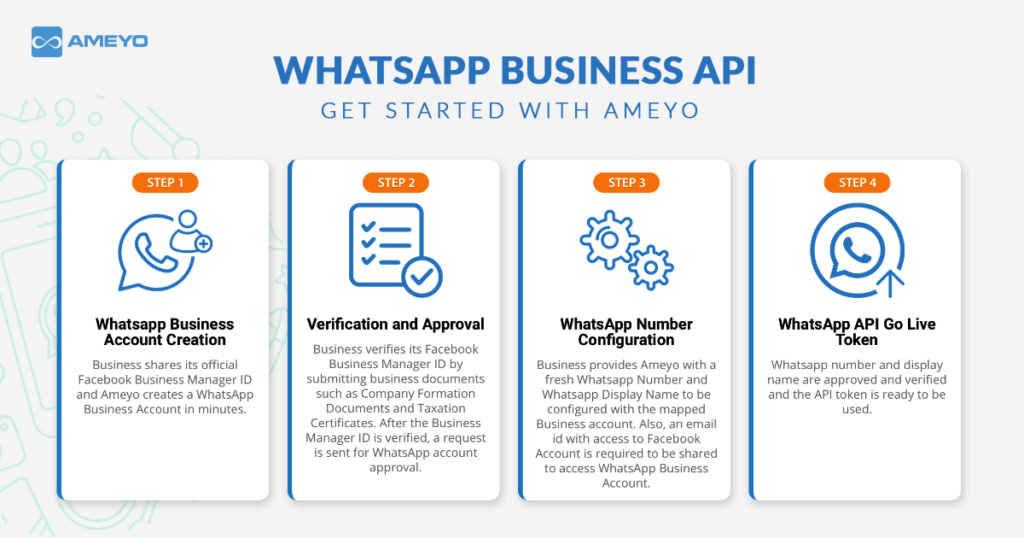 Want to get started with WhatsApp Business API? Contact Us today!