Does anyone remember what our world was prior to the onset of Social Media? How we used to share reviews with information seeking foodie friends before Zomato's 2008 launch? How we used to remember birthdays before Facebook came into existence? How we used to follow our favourite brands and stars before Twitter came to being in 2006?
I believe social media has transformed everything around us in such a short span of time. No doubt, technology is shaping the way we live and communicate with each other.
Social media sentiment analysis has become a buzzword lately, as social media are bustling with consumer chatter. It actually means monitoring social media posts and figuring out how consumers are reacting to a brand. The ability to extract insights from social media is a practice that is being widely adopted by organisations across the world.
Listening to customer feedback has always been important to companies that want to stay in business and expand their customer base. Online customer feedback can change the entire brand perception, and companies need to monitor and control any negative feedback. Responding to negative publicity at the right time, helps companies manage their online reputation and can save the brand image from further damage.
Ameyo Emerge Research team did a sentiment analysis on one of India's leading grocery delivery business's Facebook feed. It's both surprising and interesting to see a trend towards negative feedback.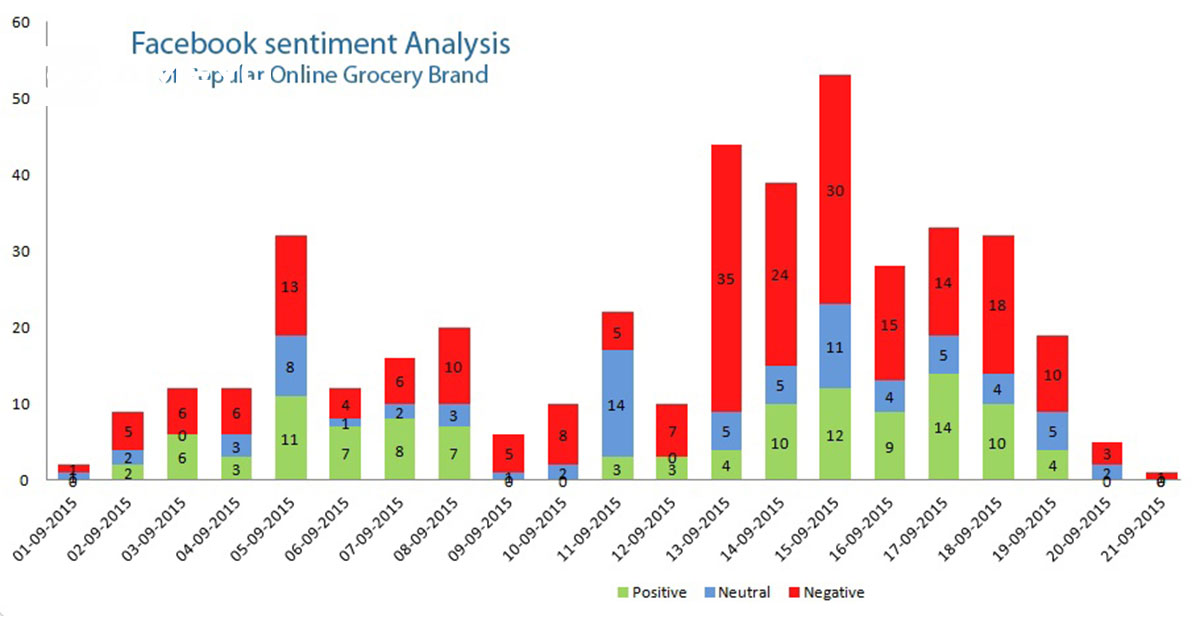 With the use of social media, language is evolving faster than ever before.  The need to be succinct and other prevailing memes has transformed the ways we talk to each other online. This of course, brings many challenges. To identify the right target group, monitoring and analysing becomes imperative.
It should be noted that social media has not replaced traditional customer service tools. However, it is a critical way to provide excellent customer service to a large number of tech-savvy clients and customers.
Ameyo Emerge offers social media monitoring feature that helps you design and deliver reports that can shed new insights about your business's social media activity and help you improve social media engagement with real and comprehensive data analysis.