Contact Center Software for Government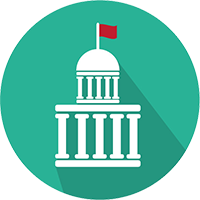 Government and public sector institutions offer a wide range of services nowadays. In an effort to keep up with the private counterparts and grab more market share, government agencies today are under a pressure to deliver great customer service quickly and meet customer expectations. They need a secure communication environment to protect and serve the customers even in the times of emergency, adhering to the regulations and compliance at the same time.
Ameyo enables these government institutions with an advanced customer engagement solution that streamlines customer interactions and ensures a productive and uninterrupted two-way communication.
3 Primary Concerns for Government Institutions
Security & Compliance Requirements: To safely transfer the data even in case of some national emergency without defaulting on compliance norms.
Improving Digital Sales – Competing with private players for new customer acquisition/ cross-sell or up-sell opportunities
Offering Superior Customer Experience – Improving the customer experience without having to increase resources
Department of Transport (DoT)
Find out how Ameyo helped DoT, Abu Dhabi to automate their entire interaction management system and significantly reduce their TAT

Consistent Customer Experience
Let the customers and citizens reach you from any channel such as IVR , live chat, email or social media and deliver a uniform experience across all platforms.

Understanding Customer Needs
Perform customer analytics by keeping record of text and speech conversations to properly understand the requirements of the customers and suggest relevant solution.

Protect the data of the citizens and customers by allowing only the authorized personnel to have an access to it.

Allow the customers to access the relevant information using self-service channels such as an IVR or a mobile phone in a secure manner, ensuring no data leakage.
Secure Customer Data with Ameyo Platform