Just a single glance at the accessible pool of data, and you are gung ho about providing clear-cut personalized customer experience!
Now, the aforementioned proclamation would seem be taken straight from a sci-fi novel, but we are elated to declare that it is not an imagination anymore, rather a part of the new reality that Ameyo Emerge and Zoho has formed with their fresh integration.

With Ameyo Emerge – Zoho integration, businesses will be able to combine the benefits of inbound and outbound multichannel communications, to streamline all sales and support campaigns within a single platform.
What more?
This integration will give your contact center agents the ability to contact customers quickly, access their information immediately, and address their needs efficiently – to create more meaningful and personalized customer relationships.
An increasing number of companies are adopting CRM (Customer Relationship Management) applications, to manage their clients and drive better marketing campaigns.
Imagine the efficiency you would gain if, each time you connect on the phone with a client, a window automatically popped up on your computer screen with all the important information you need to know about that client.
Ameyo Emerge – Zoho CRM integration helps agents personalize calls using CTI screen pops and do much more. This means now your agents can identify callers by unique attributes, like phone number, display information such as the caller's name on the agent's screen before the call connects.
We understand the need for continuity in business processes. That is why we've made it easy for our customers to integrate our software with Zoho.
The following 5 key features of the integration bear testimony of the aforesaid fact.
Readily available Caller Information
With the integration, Ameyo Emerge retrieves customer information from Zoho CRM (name, contact number, email, etc). As the phone rings, comprehensive information about the caller is displayed as depicted in the image below.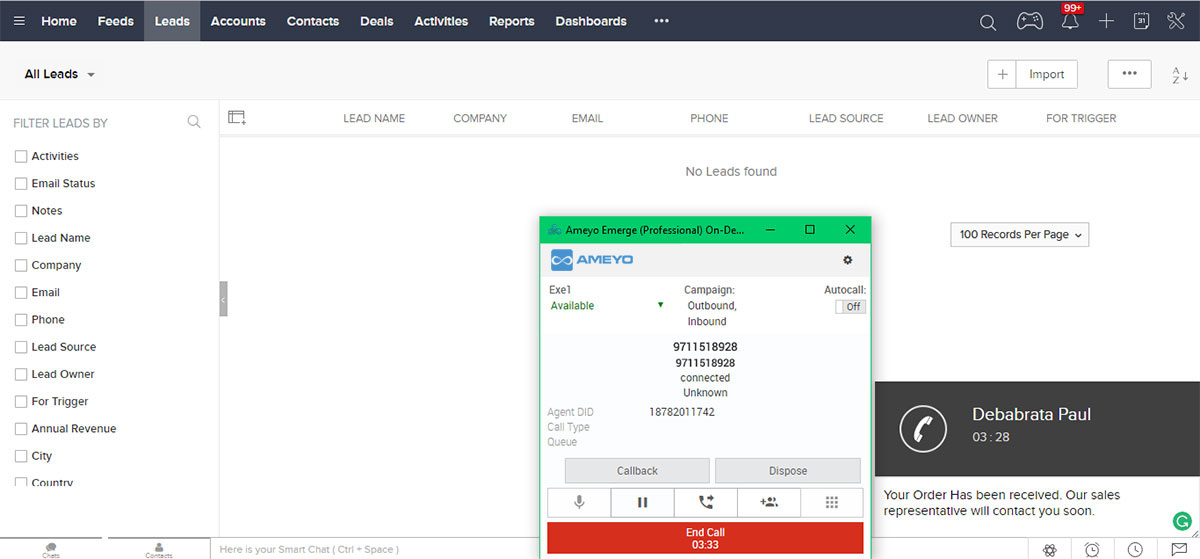 Click to Call
The Click to dial functionality helps agents to call customers directly from the Zoho interface by clicking on the icon next to the phone number. Agents don't have to copy and paste the number from Zoho to Ameyo Emerge, in order to dial the numbers. This helps agents to remain on the Zoho interface and never waste time in dialing the numbers.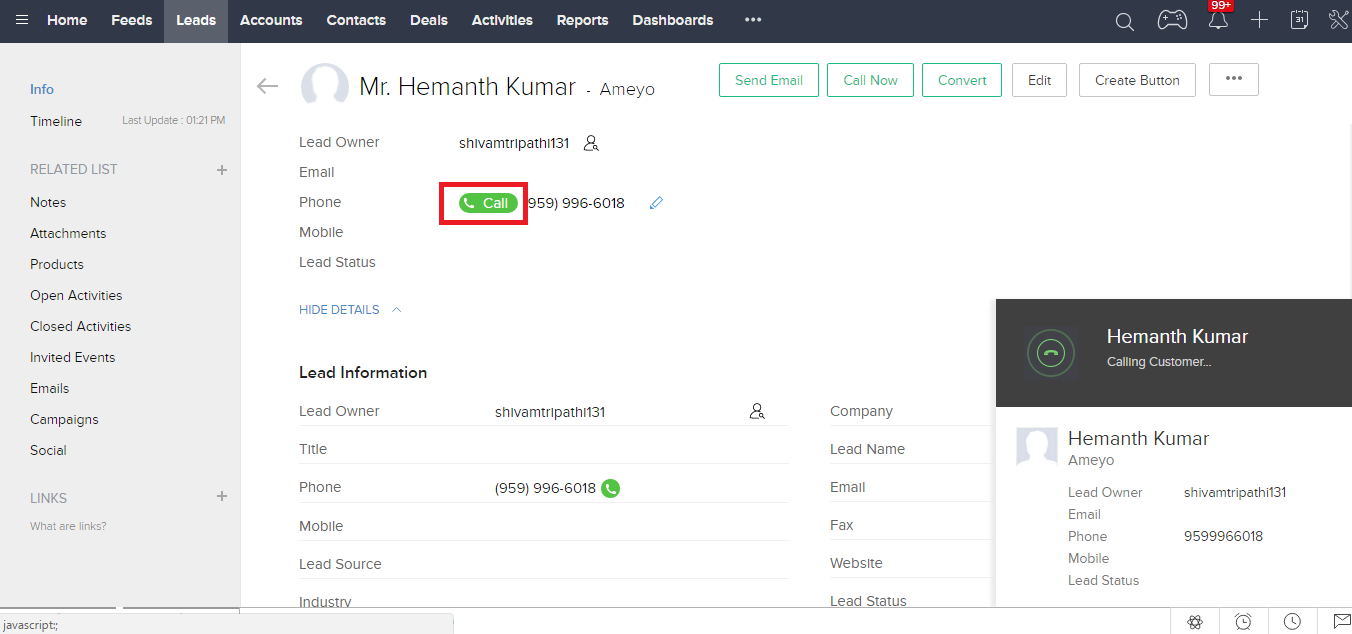 Lead Synchronization
This feature allows agents to update leads on Zoho CRM and the leads would get updated automatically on Ameyo Emerge. Once the call is complete, call information (call type, call duration, voice logs) is pushed back to Zoho CRM. This will help agents increase efficiency by eliminating the need to update information in multiple systems.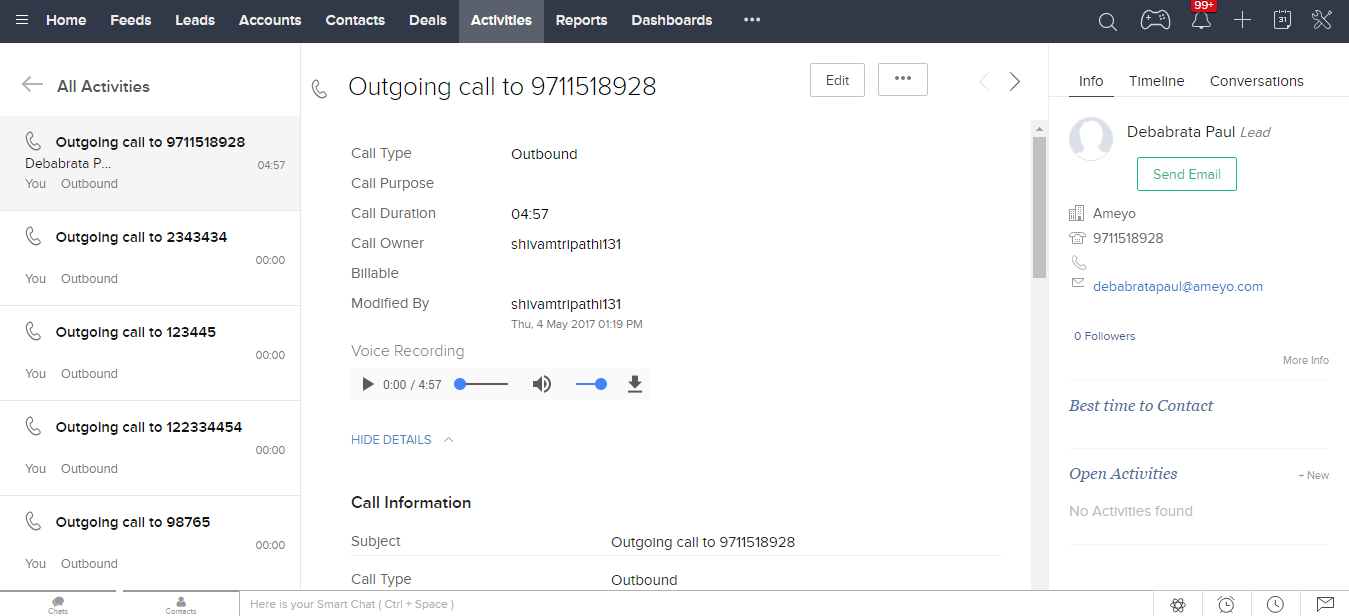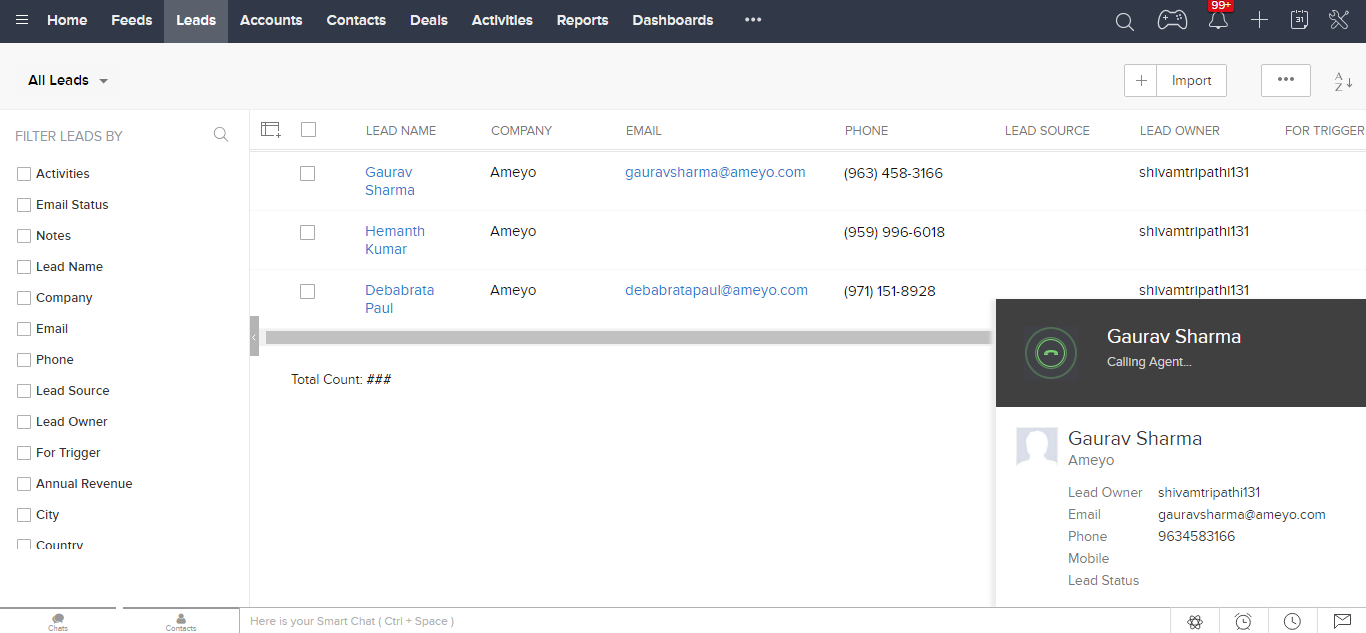 Associate call with CRM records
Ameyo Emerge creates logs for all the calls including call transfer and call conference that were handled by agents and thereafter, associate it with CRM records on Zoho. This helps businesses analyze all inbound and outbound calls handled by the agents.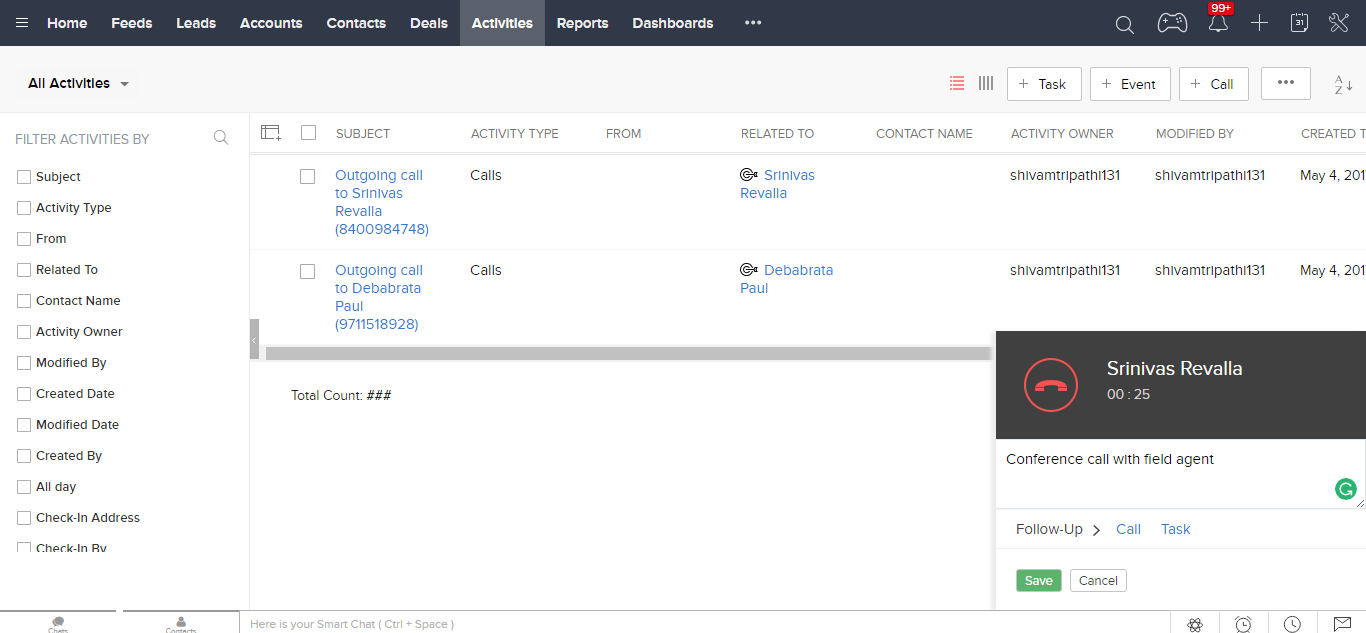 Call Retry Logic
Agents cannot assume that every outbound call would succeed in the first attempt. They probably need an easy way to retry a couple of times before giving up. In Ameyo Emerge, businesses can configure how many times they want to call a lead before changing the lead status. By automatically dialing and screening for busy signals, no answer, and answering machines, Ameyo Emerge ensures that agents can bring down the time allocated on the mechanical tasks of placing a call and system updates on the lead status on Zoho, which helps increase the efficiency of agents.
Ameyo Emerge and Zoho CRM make it simple for any business to streamline their sales and support interactions. Know who is calling before taking a call with screen-pop capabilities, or simply click-to-dial directly from Zoho to call back a prospect. During a call, you can also benefit from call-to-actions to add notes, apart from creating new records.
Also Read: How Ameyo Emerge and Freshdesk can Uplift Customer Experience & Agent Experience