The tides are changing in EdTech, inviting a massive adoption of online education across countries. The multitude of challenges exposed the need to create a system that brings continuity in education during and post-pandemic. This wave of change is attracting big money from investors as millions of students are moving towards online courses.
From an estimated size of $700 million today, the edtech market in India (that includes higher education, professional skilling courses, and, of course, primary education) is headed for an eight to tenfold growth in the next five years, says a Business World report.
The demand for EdTech is skyrocketing to supplement the traditional educational system. Unicorns like Byju's, Vedantu, and Unacademy are changing the way education is imparted in India. EdTechs in India have been flourishing even before the pandemic but the COVID-19 breakout and the announcement of the National Education Policy, 2020 (NEP) are perfectly aligned to fuel the education market in the country.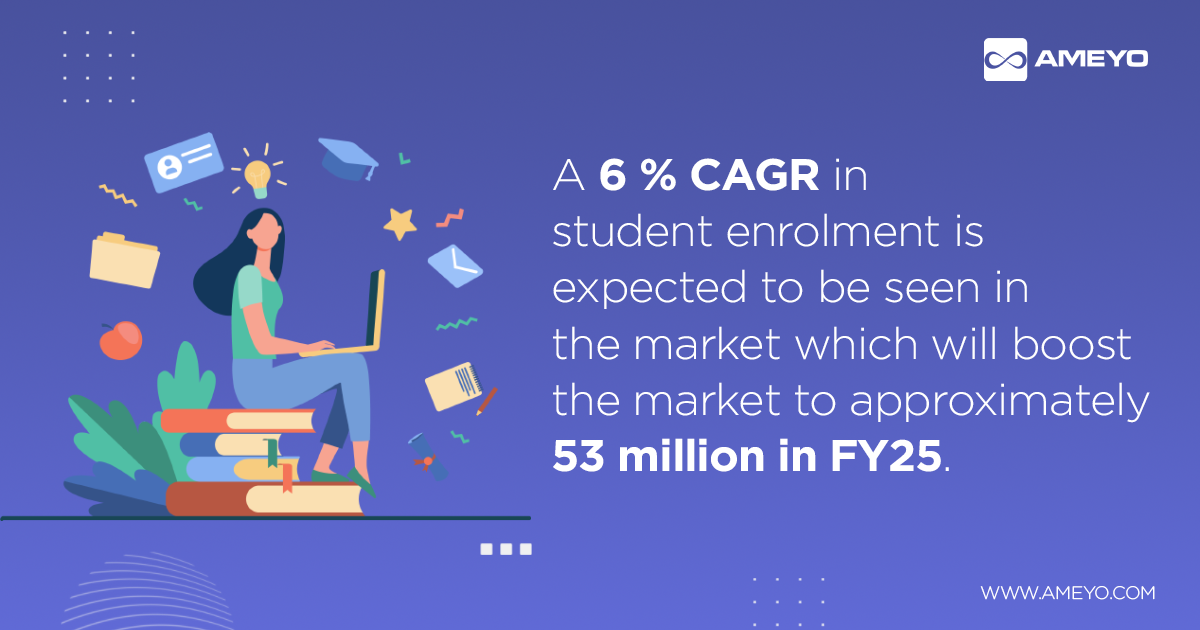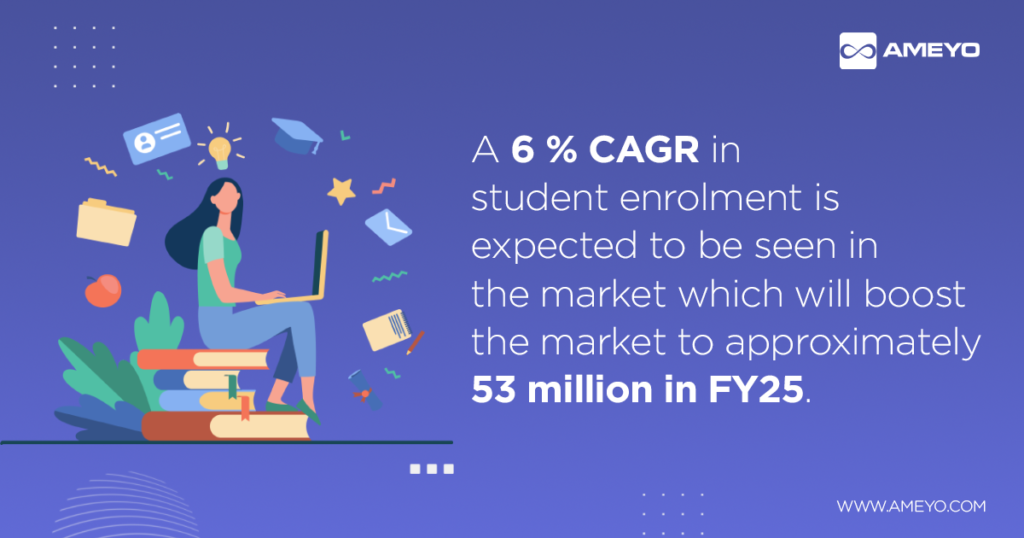 With the ever-growing EdTech market, there's a constant need to provide an enriched student and parent experience. The increase in enrollment for online classes raises the need for a contact center software solution in education sector that enables the EdTechs to speed up their Sales and Customer Service processes.
Challenges for Customer Experience in EdTechs
Lack of remote-ready infrastructure
Low agent productivity
Higher response time
Poor connect rate
Lack of live monitoring
How does an Effective Contact Center Solution help?
Now that the education sector is being reimagined completely, there's a need to change the contact center sales and customer service practices.
Byju Raveendran (Founder & CEO, BYJU'S) said, "We want to ensure that all children get an equal opportunity to learn and are committed to empowering children across the country through our tech-enabled learning programs."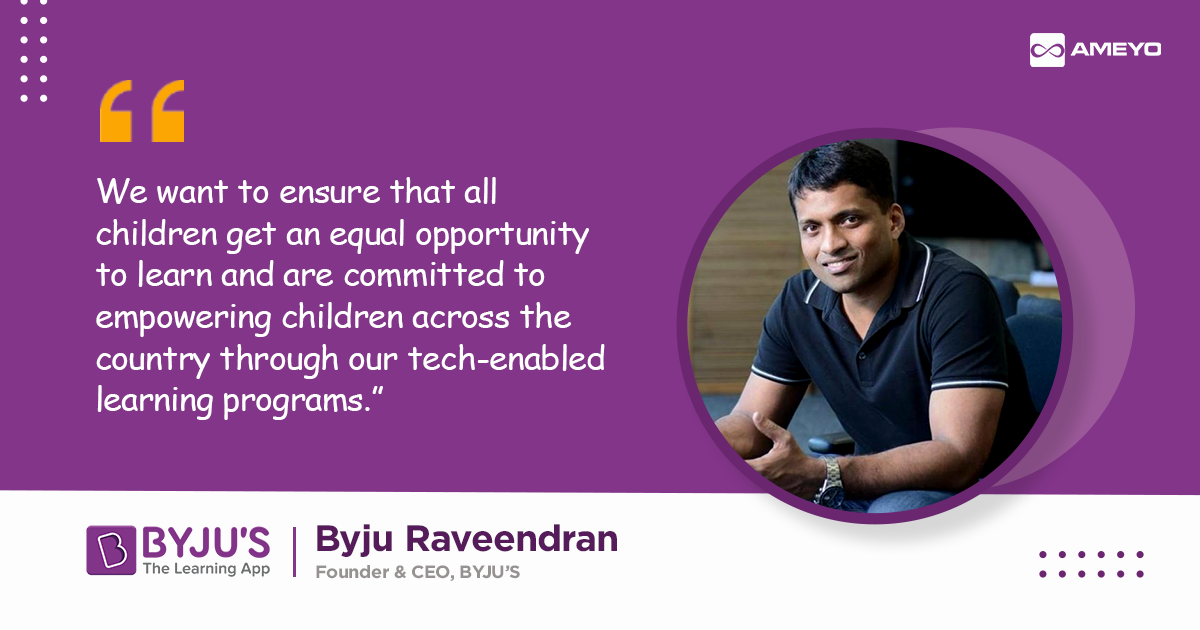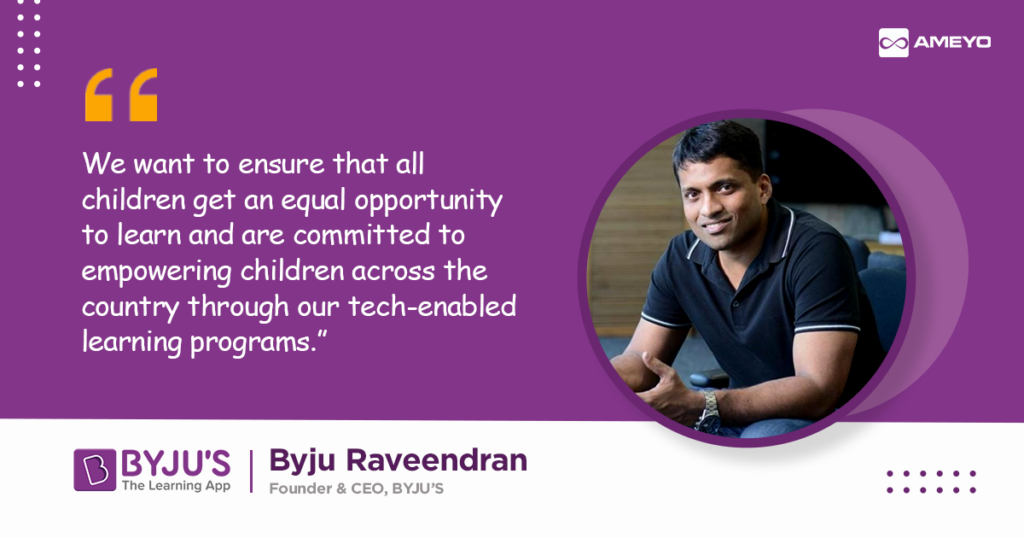 1. Remote-ready Infrastructure
Most businesses are adopting 'work from anywhere' as a permanent solution, thanks to the pandemic. This wide range of flexibility of logging in from any device, any browser, and any location, has increased remote agents' efficiency. Work from anywhere ready solution provides the flexibility to log in using mobile devices, laptops, or desktops, eliminating the infrastructural challenges.
Now, using remote contact center solutions, agents are able to provide exceptional customer service and sell more courses to students and parents from the comfort of their homes.
2. Increase in Agent Productivity with Automated Dialing
Manual dialing only allows the agents to talk to the customers/prospects for only about 40-45 minutes a day which results in low productivity. When stakes are high, automated dialing comes to the rescue to ensure that the agents are not faced with mundane tasks of manual dialing, landing a wrong number, or are answered by an answering machine. A smart dialer for outbound calls automatically increases the talk time from 45 minutes a day to 3 hours a day, resulting in more sales conversions.
3. Reduce Average Response Time
The higher the response time, the more the customer gets aggravated.
While resolving customer queries, it's important to understand the context to refrain from asking the same questions repeatedly. If a student has a critical query regarding a course, the agents should be able to respond to the query faster to avoid SLA breaches.
A tight CRM integration with a remote contact center solution allows the agents to retrieve student's information, their previous interaction history, and unresolved grievances. This enables the agents to quickly understand their queries, prioritize them, and help them find the best solutions immediately.
4. Live Monitoring for Supervisors
It's no longer possible for supervisors to take a quick glance on the floor and monitor agents' activities while working remotely. With live monitoring tools, supervisors can jump in a live call and monitor it to understand if the agents are able to qualify the leads and provide the right solution.
Supervisors can also keep track of login hours, average handling time, language proficiency, customer satisfaction rate, etc. so that the business standards are maintained.
5. Smart Call Routing Algorithm
To achieve a higher First Call Resolution (FCR) rate, route the calls to best-suited agents on the basis of preset routing parameters.
In the education sector, for instance, language-wise segregation can be helpful. If a call from Assam has landed, an agent with high language proficiency will handle the call to provide a native customer experience. This increases the customer satisfaction rate and helps in quick query resolution.
6. Priority-based Dialing
In a call center environment, where thousands of calls are landing each minute, defining the priority helps qualify leads that have a higher potential for conversion.
If a customer has inquired about a free course, the priority can be set as P3 whereas if an existing customer/student is looking to upgrade the existing plan, the priority can be set as P2. And if the student has shown the intent for upfront enrollment, the priority can be defined as P1.
7. Comprehensive Reports
To track and analyze call center metrics such as campaign performance, call abandonment rate, conversion rate, call disposition, agent productivity, detailed reports can be generated and shared with the right stakeholders to analyze and make well-informed decisions.
For instance, when an agent is interacting with the students or their parents on a video chat, the supervisor gets the report against each call or chat and they can quickly filter the interactions based on different call dispositions. These reports help the supervisor track the agent's performance and analyze channel performance.
It is observed that video chat interactions have a higher conversion rate than a normal voice call interaction. Both parents and students are looking for a lively human to human interaction. The supervisor, while looking at these reports can establish the performance of each channel and then leverage it for their future campaigns.
In a Nutshell
While the world still battles the COVID-19 pandemic, EdTechs are emerging as a growth opportunity for startups and investors. According to a Business Insider report, 2020 saw India's edtech startups raise over $2.2 billion in funding, with BYJU'S alone accounting for $1.35 billion. In the decade ahead, the country is set to put the best foot forward with EdTech companies gaining the biggest market share.
With this growth opportunity, EdTechs will continue to adopt the remote contact center solution for education to provide exceptional parent and student experiences.