A contact center is a facility where customer service representatives answer customer queries over phone calls, emails, chat, social media, and other channels. This facility may be owned entirely by the organization or (as many companies prefer today) may be outsourced to a contact center operator.
The contact center operator supplies its services to many organizations simultaneously. The outsourced functions may also include other customer service functions, such as order tracking, billing inquiries, help desk services, technical support for customers, corporate customer-relations management, and employee assistance programs.
The contact center operators handle such a multi-threaded business with the help of many agents often performing roles in different companies. Moreover, the operation of such complex contact centers is supported by technology.
Importance of Contact Center Technology Stack
Contact center technology has come a long way since the early days of call centers. The simple, old "rodent on a rotating wheel" phone system is now a thing of the past, replaced with computer-driven centers that are more efficient and effective than ever before.
For many businesses, these advantages make contact center technology an integral part of their operations, making it extremely important to stay up to date on the latest advancements in this field.
In 2020, we witnessed paradigm change in different avenues of our life. Social distance and increased digital adoption forced organizations to develop new business strategies to reach their consumers. In this race to get consumers' attention, brands are now reaching customers where they are present.
Unfortunately, the existing tech stack of the contact center cannot handle either the increased volume or the complexity of customer requests.
In 2019, the Salesforce State of Service Report suggested that 80% of modern-day customers now consider their experience or journey as important as their products.
Furthermore, a Forrester report indicates that great experience delivering companies registered 17% CAGR against 3% CAGR for companies with poor customer experience. More reports suggest a strong correlation of the customer experience with the financial metrics such as revenue, CAGR, CLV (customer lifetime value), ROIC, etc.
The trends suggest that customer service and engagement teams are crucial players in the customer experience journey and need all the support and investment enabling them to enhance the customer experience.
Can Tech ALONE Enhance Customer Experience?
The simple answer is no. Traditionally, technology has enabled functional teams with time to focus on their core jobs. In addition, the technology (in various forms) was used to automate everyday business workflows, better record-keeping, and operational efficiency.
Next-gen technologies such as AI, ML, NLP, AR/VR, and more are capable of helping reduce cost and improving metrics such as revenues, wallet and market share, and steady cash flows.
Brands should focus on their CSATs and NPS scores and use Tech wherever necessary to improve these metrics. It requires a much more holistic approach to customer-centricity. The idea of customer service as a telephonic conversation between the service agent and the consumer needs to be shunned.
The precious calls with the customers provide the purest data and feedback about your customer. Instead, contact centers should be integrated with modern-day tools such as CRM, workflow management, ERP, order management, and quality management solutions.
This integration enables them to collect data in real-time. This data can help analyze and finetune customer preferences. In addition, the product, sales, marketing, and customer-facing teams can access real-time conversations.
For example: In a situation where a consumer is facing an issue with the product. Assume that there is a fault anti-pinch feature in the power windows of an automobile. Since this is a less examined safety feature for vehicles, many consumers will not complain simultaneously.
But, if the marketing teams can provide real-time information about a safety hazard with the vehicle, the engineering teams can arrange for a recall before any major accident hurts the consumer and the brand's image. Such prevention is only possible when the contact center tech stack is state of the art and integrated with other functions to perform as an expanded contact center ecosystem.
Contact centers should see their operations as a seamless omnichannel customer experience hub instead of a physical-digital patchwork.
Transformations Expected in Contact Center Technology
The contact center technology stack will be completely different in 2022, with many advances in multiple streams. These transformations are forced by the ever-changing economic, geographic, and consumer behaviour landscape.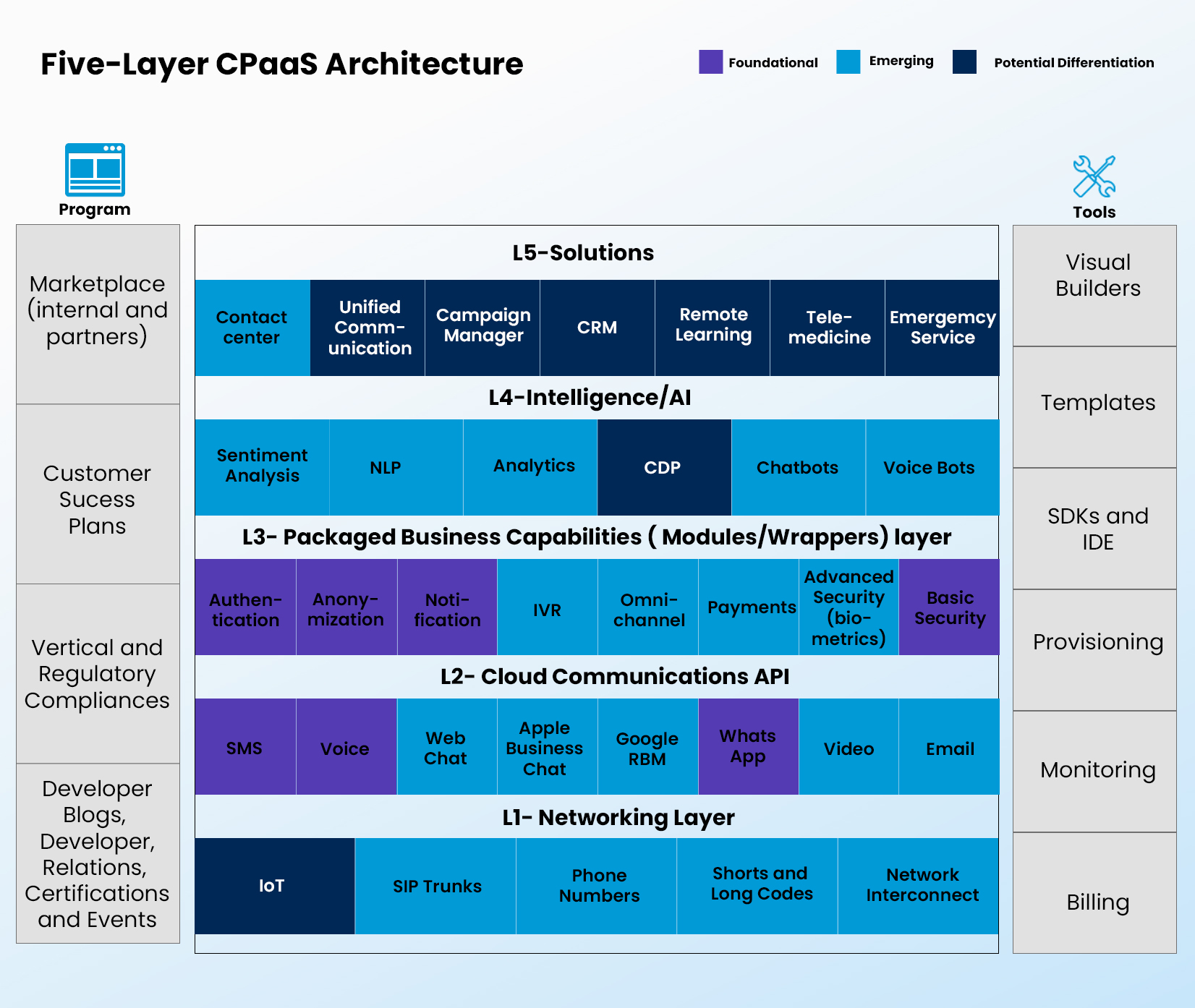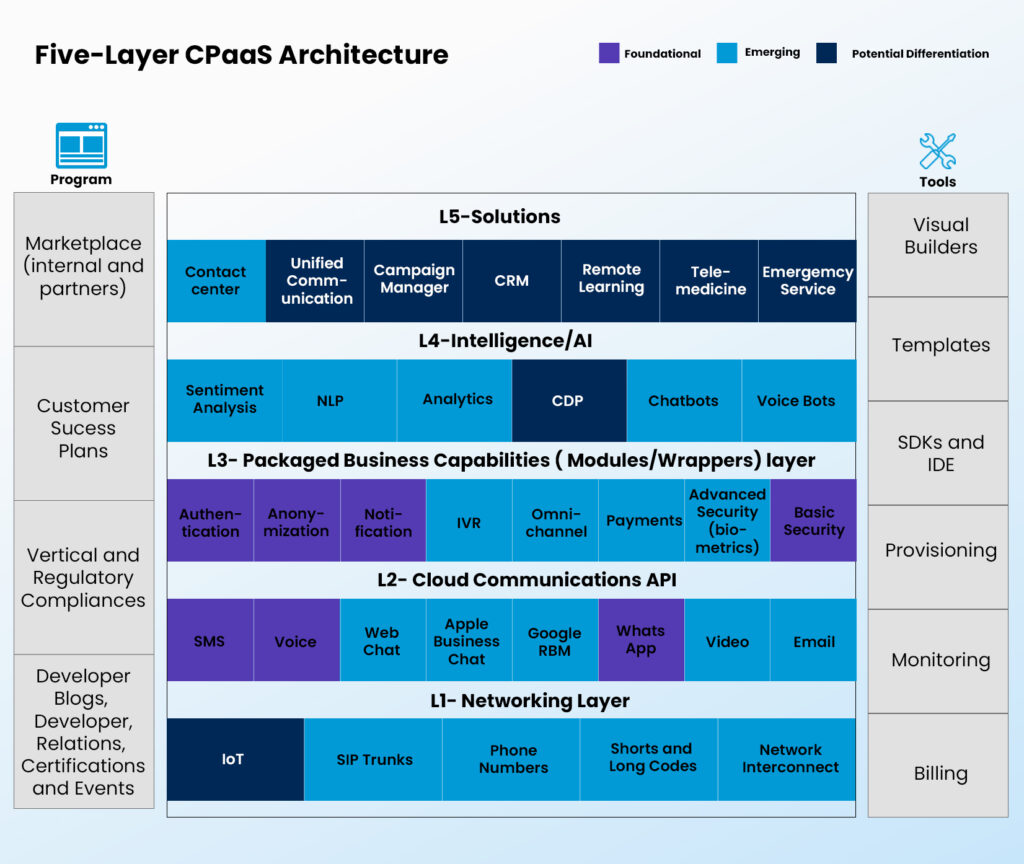 Cloud Computing & Edge Computing
Cloud computing will replace the traditional on-premises setup of contact center solutions. The cloud-based contact centers operate at a higher efficiency level with a meager upfront cost.
Mundane tasks such as maintenance of servers, the lifecycle of computing units, networking issues, and downtime maintenance are automatically completed by the cloud provider.
Moreover, the cloud is coming up with new services every quarter. For example, AWS grew from a simple storage service (S3 bucket) to more than 200+ services today. These span from a basic service around storage, networking, and computing to advanced frameworks for using AI and ML models.
The industry will witness increased adoption of cloud-based contact centers. Simultaneously the advancements in Edge computing will enable the cloud contact centers to gather more data and information about their consumers.
Edge is defined as any computing power which resides away from the data center. It could be your laptop or a mobile device. Wearables such as smartwatches, computers driving autonomous cars, and IoT-based sensors transmitting telemetry data from products are one of the best examples of Edge computing today.
The contact centers need to upgrade their tech stack to include data from the edge devices. In addition, the integration channels must be kept open for future devices and data needs. Cloud-based integration platforms can make the lives of the contact center engineers easy.
Language Support:
As the world becomes increasingly connected, businesses encounter customers from all corners of the globe. While English, Spanish, and Mandarin are the top three most spoken languages globally, there is a renewed focus on customer support in local languages.
This is driven by the customer's need for a more personalized experience and businesses' understanding that customer support is a crucial touchpoint for building brand loyalty.
Providing customer support in the local language has numerous benefits. It creates a more personal touchpoint with the customer, builds trust and credibility, and can help to increase customer satisfaction and loyalty. In addition, it can also help to create a competitive advantage as not all businesses offer this level of customer service.
Machine translation has the potential to revolutionize customer support. By allowing contact centers to translate local languages into the language of their preference, they can reach a broader range of customers.
This is not only good for business but also customer satisfaction. Google Translate, DeepL, Microsoft Translator, and AWS Translate are a few examples of services that employ Machine translation to make our lives easier.
With this technology, contact centers can provide customer support in multiple languages, making it easier for customers to get the help they need. In addition, machine translation can help to improve customer satisfaction by providing more accurate and natural-sounding translations. As more businesses adopt machine translation, we can expect to see a significant increase in customer support options and improvements.
These services support 100+ languages and are continuously improving their quality of translations.
Contact centers should integrate the extended language support services into their technology stack. Again, cloud-based contact centers will be at an advantage here. They can directly integrate or subscribe to services from AWS Translate without worrying much about the privacy and security of translated texts.
AI, Speech recognition, and bots:
Speech recognition has improved from being just a gimmick (in the early versions of voice command operated computers) to a widely adopted and usable home assistant (in Alexa or Google Home).
AI will fuel the technology and finetune it until NLP (Natural Language Processing) is indistinguishable from human speech. Voice notes and voice-operated IVRs adoption rate among the masses increases and will enter the mainstream in the next few years.
The contact centers need computing power to analyze and process voice data for training data for their NLP projects.
Conversational AI is the new kid on the block. The adoption of voice bots will change the way customers purchase, browse and share feedback on products. In addition, the contact centers should have the ability to contact customers through conversational AI methods.
These methods will help both sides of the spectrum, i.e., the consumers and contact centers. Conversational AI technology can also help in matching and routing customer calls. It can automatically route calls based on heuristic and finetuned classifications to the best-matched customer service agent.
Conversational AI will also carry out tasks or L1 level requests on the customer's behalf, like finding an address, ordering goods from past purchases, or checking account balances.
Apart from Conversational AI, Artificial intelligence projects will help employees or customer service agents be more productive by performing repetitive tasks.
On the other hand, chatbots and personal assistants can act as customer service representatives. They can answer questions and assist with a human touch to the customer.
A conservative estimate of the tickets that chatbots or voice bots can handle is 30%. Thus, allowing more time per customer for the customer service agent or lower operating costs for the contact center operator.
Linking Customer Experience Metrics:
It is well established that customer experience correlates with financial metrics. For example, a brand's revenue depends upon the number of times a customer visits the website and places. Therefore, this brand needs its customer support systems to be adequate to ensure that the customer can make the right purchase.
The customer support system must be responsive and provide the customer with the information they need in order to make a purchase. The system should also be easy to use and navigate. If the customer support system is ineffective, it will lead to a decline in sales and revenue for the brand.
The availability of supports systems, in turn, depends on an SRE metric called MTTR. Contact centers will heavily rely on composable architecture spread across a hybrid cloud setup that supplies security and scalability simultaneously.
Contact centers will slowly start aligning their service metrics from operational to financial in the future. For example, instead of focusing on how quickly a customer service query is resolved, the focus will shift to how we can increase the customer lifecycle value.
Big Data and Analytics
The customer support landscape is changing. With the advent of big data, contact centers are increasingly relying on data analytics to make sense of the growing amount of customer data.
This data is becoming more and more unstructured, comprising audio, video, and large metadata files. The challenge for customer support teams is to make sense of this data and use it to improve the customer experience.
Big data analytics can help customer support teams to identify trends and patterns in customer behavior and use this information to improve customer service levels.
In addition, big data can help customer support teams to identify potential problems before they occur and take proactive steps to prevent them.
As the customer support landscape evolves, big data will play an increasingly important role in helping contact centers to
The current breed of databases and storage devices will fall short of these capabilities, and contact centers will need modern data analysis tools to transform the unstructured data and gather meaningful insights.
The data storage and compute operations in a contact center technology stack will be transformed to accommodate the increasing number of data points gathered during customer touchpoints. In addition, cloud-based analytics engines and unstructured data processing will help decipher the insights hidden in the data.
Contact centers need to use analytics tools to understand how their customers use their services. Big Data and analytics will allow the contact centers to understand customer behaviour and give customers better service by predicting what they want before asking for it.
Privacy & Security
As the contact centers keep getting closer to their consumers, gathering more metadata, the issue of encroaching privacy is very high. Therefore, the contact centers should make their systems compliant with GDPR, HIPAA, LIBOR, PII, etc.
The data collected after being compliant with accepted norms have to be secured. Many countries are putting restrictions on sending data outside their borders. In this case, contact centers are increasingly dependent on the cloud service provider's location of availability zones.
On a similar note, 256-bit encryption has become a norm, and encrypted client data is much more secure than unencrypted data. Data falling into the wrong hands can affect the customer financially, medically, and mentally.
Contact centers should also be wary of new channels explored by the tech giants such as Meta, Apple, Google, Netflix, and Microsoft.
The way investments are currently being made in the Metaverse, and AR/VR-enabled technology can soon appear as the next interaction channel with customers. As a result, it may look like a challenge to upgrade your contact center technology stack for Metaverse.
However, it is also an opportunity to connect with your customers at a much deeper level. (through the immersive Metaverse experience). Therefore, at this stage, contact centers should not invest heavily but keep a keen eye on the developments in the industry and adopt Metaverse if their customers have started spending a considerable amount of time in the digital world.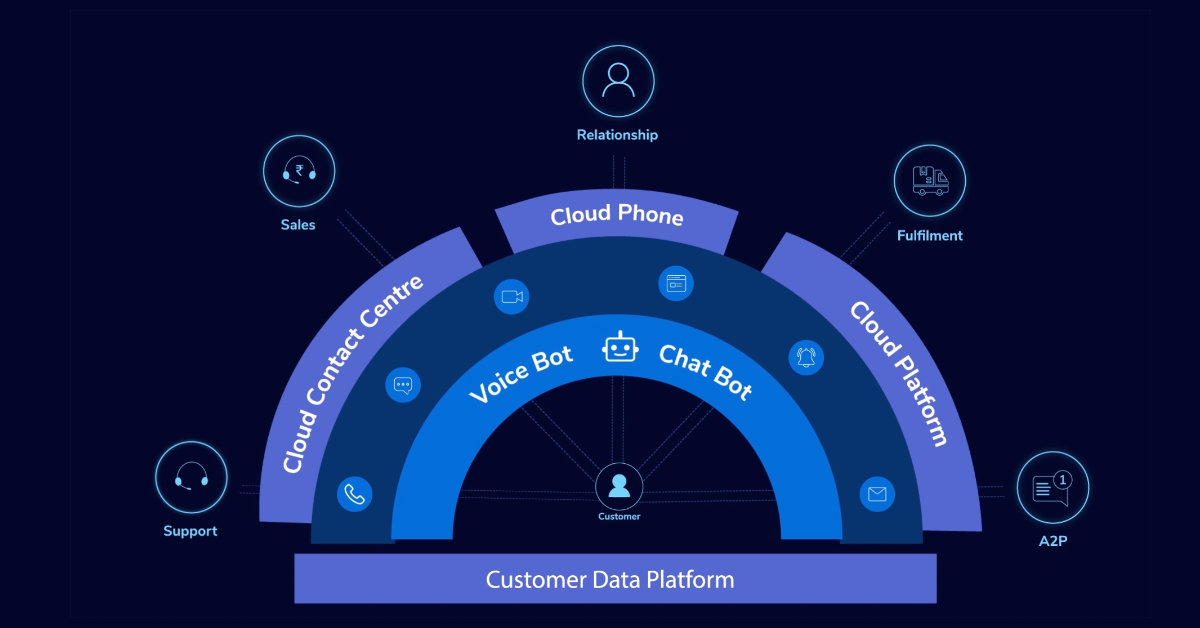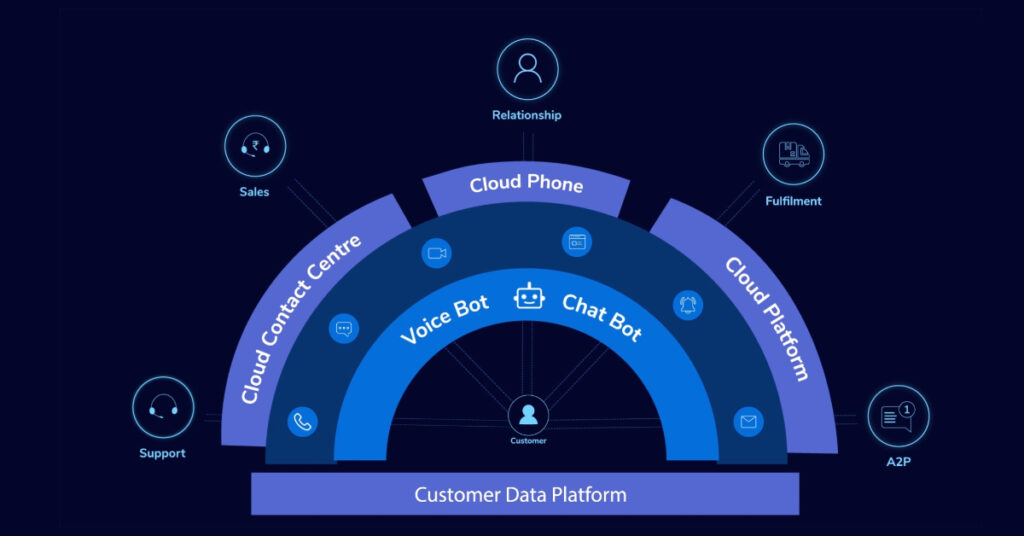 The contact center is an ever-evolving landscape. New technologies are constantly emerging and changing the way customers interact with businesses.
In order to remain competitive, contact centers must adopt these new technologies and keep up with the latest trends. Some of the most popular new features include video conferencing, virtual agents, and social media integration.
These advanced features allow businesses to provide a more personal and efficient customer service experience.
In addition, they can also help to improve service levels and quality metrics. As technology continues to evolve, it is essential for contact centers to stay ahead of the curve in order to remain competitive.
They can also use predictive analytics to provide proactive customer service that anticipates needs before the customers themselves even realize them.
In the future, contact centers will evolve to become customer experience hubs that offer seamless support to customers across offline and online channels.
In addition, the text and voice bots will become mainstream, and customer service agents will be required to provide a more personalized service to the customer.
With the help of AI and machine learning, the contact center will be able to provide a more humanlike experience to the customer by understanding their emotions and providing relevant solutions.
Contact centers will also be able to proactively reach out to the customer through channels such as chatbots, social media, and phone calls.