We saw many businesses switching to a remote working setup during the COVID-19 pandemic while governments have been supportive in enabling remote work. Some of these businesses might never have imagined working from home due to multiple reasons, like infrastructure limitations, nature of the business, security concerns, and the list can still go long. However, sitting today we can say that many of them adapted well to these changes. An obvious factor in the success of this transition is the use of technology.
We saw employees relying on video conferencing apps to have their standup meetings as an alternative to traditional usual face-to-face interactions. Video conferencing tools, such as Zoom, Skype, Google meet, etc. made things somewhat easier, but do they address every challenge when it comes to building a relationship with customers?
Challenges with Basic Video Calling Software: Contact Center Perspective
While most businesses have found themselves in arguments over which is better among Zoom, Google Meet, and Skype, there has been negligence towards unscheduled walk-in meetings by customers. These tools enabled employees to connect with each other virtually, but they have their own limitations – especially when the customer wants to initiate a call. Some of the challenges of using these basic video meeting solutions are:
Lack of integration with your CRM for a unified view
No agent monitoring or quality check available
No option to route the incoming video call to the most qualified agent
Lack of proper collaboration mechanism – no call transfer
This is where contact centers need to up their game and adopt channels beyond voice and texts. Looking at these challenges it is safe to say that contact centers need more than these basic video meeting/conferencing solutions – they need something more sophisticated and advanced that helps them up to their customer experience game, improve customer satisfaction and boost loyalty.
The Need for Video-Enabled Contact Center
Contact centers have to handle numerous customers in a day. The agents are busy throughout the day managing (inbound) customer support requests while also working towards increasing their sales conversions (in an outbound call center). This leaves little room for experimentation and those standardized responses can more often than not spoil the customer experience.
That's where video-enabled contact centers come into the picture. Having video chat added as a communication channel to your existing omnichannel customer engagement strategy can be the best thing that you can do today. If this pandemic has taught us anything, it is to make the most of every situation. The same goes for this new technology. Customer-centric organizations that take resolving customer queries quickly and effectively without compromising on their experience have already adopted this technology.
The question remains – when can we leverage video chat the best for their business?
When Visual Assistance is Important
Video calling particularly comes in handy when dealing with situations when showing is better than telling. For instance, if the customer/caller is stuck on assembling a product, it would be much better to show them how the product is assembled rather than just telling them over a voice call or sending a product manual. Similarly, in the case of elderly care, video live assistance will be easier and more effective than written directives.
When Delivering High-end Customer Support
No business wants to mess around with their high-value customers. They want to make an extra effort to delight these HNI (High Net-worth Individual) customers. So, rather than making them wait in a queue or having to bounce around for answers, it is better to have their relationship manager get on a video call with them and resolve the issue faster. This is particularly useful in the banking industry where the relationship manager can view the customer's financial portfolio using CRM and other digital banking systems to better understand the concern and provide an effective solution.
When Dealing with Sensitive Customer Information
We all have gotten photocopied of our address proof, or identity, or some other document for one verification or another. This is not just inconvenient but a security concern too. You might lose some important documents or someone gets hold of your personal information that can be disastrous. Now, imagine you can get these documents verified, authenticated, and approved virtually – while sitting at your home or workplace. Won't that be more secure and convenient?
When Making Decisions about a Product or Service
Humans usually like to research, think, check out options before making the purchase – especially if it's a big investment. Being able to show them the product, or even give a live demo increases the chances of purchase than an email or a website browse. Similarly, visual representation helps in a better understanding of the customer while allowing them to resolve any doubts there and then.
Benefits of Video Contact Center
Now that we have seen where all video chat can be useful for businesses, let us also look at some of the benefits of having a video-enabled contact center.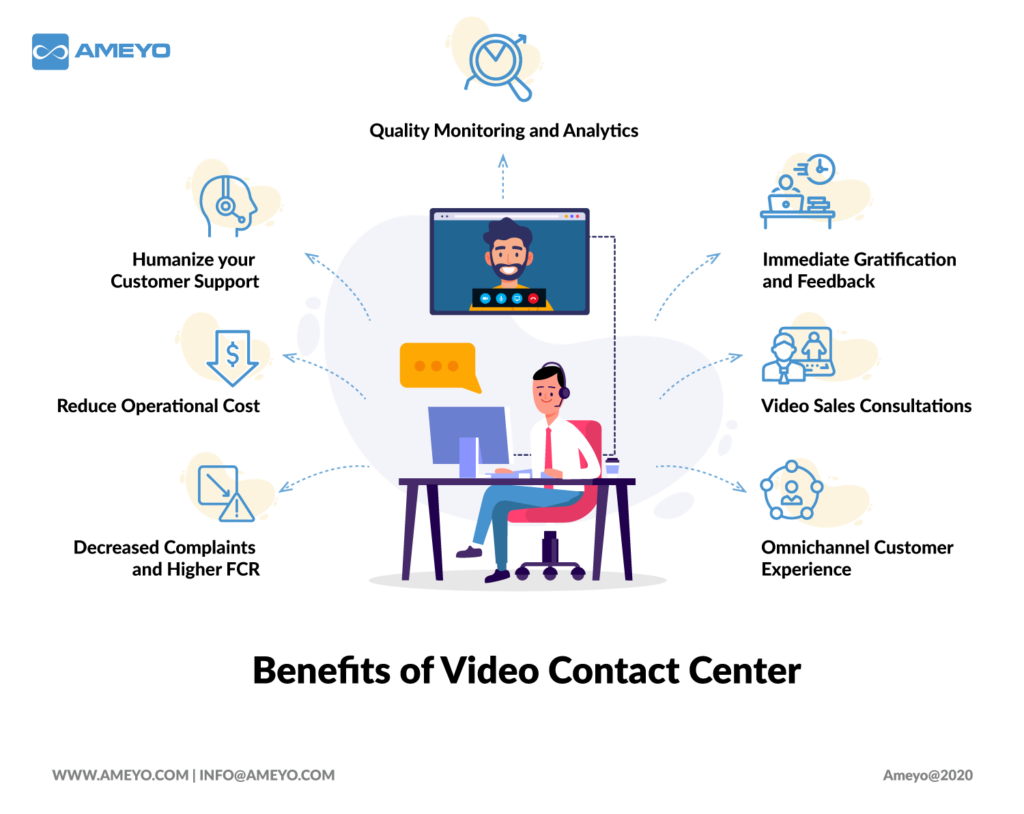 Humanize your Customer Support
Video chat software for contact center allows you to bring the human touch to your customer interactions. When the customers/prospects can see your agents, it instills a sense of accountability. They can now put a face to the person rather than being a voice on the phone or just an email signature.
By eliminating the need to physically go meet the prospects you can face face-to-face discussion over a video chat. At the same time, you get to save up on spending on toll-free numbers and can actually route your incoming video chats via your website or the mobile application. 
Decreased Complaints and Higher FCR
By converting your voice calls into video calls, you are not just improving your First Call Resolution (FCR) rate but also easing things for the customers. Reduced wait time, average call duration, and collaborating with visitors to share documents and co-completing forms further help to ensure first contact resolution.
Immediate Gratification and Feedback
When visitors or customers are happy with the service experience, they tend to give more positive feedback. This also provides the agents with an opportunity to get the feedback while on the call rather than after. This ensures more customers provide the feedback and since all of these video calls are recorded, the supervisors can always verify the score.
Video Sales Consultations
Armed with both verbal and non-verbal cues, the agents are in a much better position to boost their sales conversions. More so, when the customer has reached out themselves. This is an amazing opportunity to cross-sell or upsell – especially if you are dealing with complex products or services. At the same time, by allowing people to schedule the video call at their preferred date and time further adds to the whole experience. That shows you care about the customer rather than shoving your product down their throat.
Omnichannel Customer Experience
One of the most effective ways to ensure customer delight is by offering them convenience. If you make it easy for them to reach you on the channel of their choice, if you provide them timely updates about their request or proactively help them with support – your customers will love your brand. All of this is possible by having an omnichannel ticketing system that for eg., creates a ticket for every interaction, irrespective of the channel of communication. That combined with CTI integration allows the agents to access all the customer details and have contextual conversations.
Quality Monitoring and Analytics
Last, but not least is the ability to track the conversation quality and monitor agent performance. A video contact center software allows the supervisors to view video call recordings, monitor the stats on live dashboards, and even provides them with comprehensive reports to draw actionable insights. Having all these data points, empowers the managers to identify the gaps and plan an effective strategy to meet their goals and improve overall efficiency.
Skype and Zoom Might be Good… But there is Something Much Better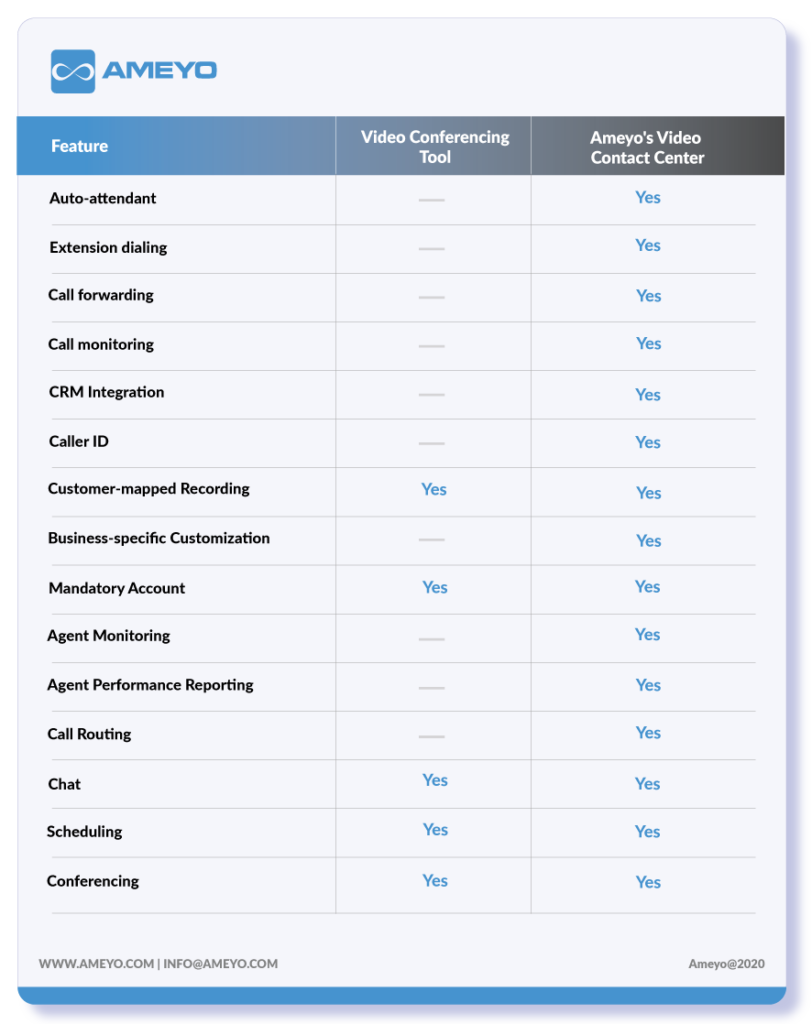 There is no doubt that the Zooms and Skypes of the world have enabled organizations to handle virtual meetings during the pandemic. But then they are just that – video conferring tools. Which might be good for your routine sync ups or meetings. However, when we talk about ROI, generating revenue, and increasing sales – it requires something much better. It calls for a holistic and advanced video call center solution to drive exceptional customer service experience at every touchpoint.