Chatbots have been around for a long time, nearly 68 years. During this time, they have got considerably smarter and reached almost every aspect of our society. We are communicating with them right from Skype, mobile to Facebook Messenger. Thus, they are not behind when it's real estate chatbots. On the contrary, they have brought a revolution by making long variable forms into an enjoyable experience and have tremendously changed the way we purchase, rent or sell estates.
A real estate chatbot lets potential clients browse through the list of properties and answer the questions depending on preferences for relevant references on properties.
Though it is quite hard to tell how much chatbots have benefitted a specific industry. As per a survey, real estate is counted as the top industry benefiting from chatbots. This is because chatbots provide instant response 24/7, provide customized conversation to customers, fix and update appointments for estate view, and automate the follow-up process.
AI Chatbot Meet Real Estate Industry
In the process of development, AI chatbots play a vital role. The influence of chatbots is one of the changes that AI has brought. AI has evolved industries on a huge level. These days most companies are leveraging artificial intelligence to develop the most suitable solution. AI chatbots and real estate industries have realized that AI chatbots provide solutions and offer long-desired options.
Here are some of the roles AI chatbots play in the real estate industry.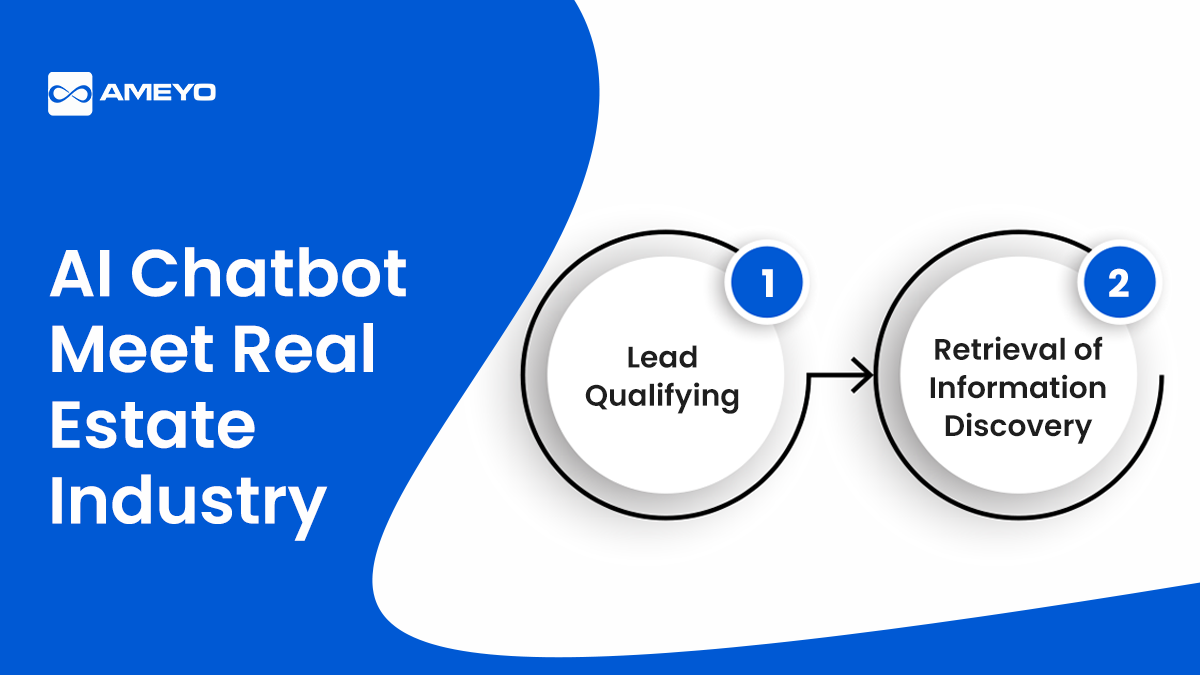 1. Lead Qualifying
A customer's interest in a particular site can be triggered if he gets an instant response to their queries. As a result, they will be more inclined toward that website, and there will be more chances of a customer returning to it. The best thing about chatbots is that they offer convenience, speedy and efficient response that leads prospective clients to land on your website.
2. Retrieval of Information Discovery
Humans previously did the retrieval of information, and it was time-consuming. To provide customers with the best deals, it is necessary to scrutinize customer information. The user's overall experience can be negatively affected due to the long wait time because of implementing filters, searches, etc.
At a much faster pace, AI chatbots can offer huge volumes of information and solutions. In today's scenarios, customers wish to get results fast and conveniently. AI chatbots are efficient enough to quickly provide precise and expected solutions to clients.
Read More: Best AI Chatbot Features to Deliver Expectational Customer Service
Few Use Cases of Chatbots in Real Estates
Here are the top use cases of a chatbot in real estate: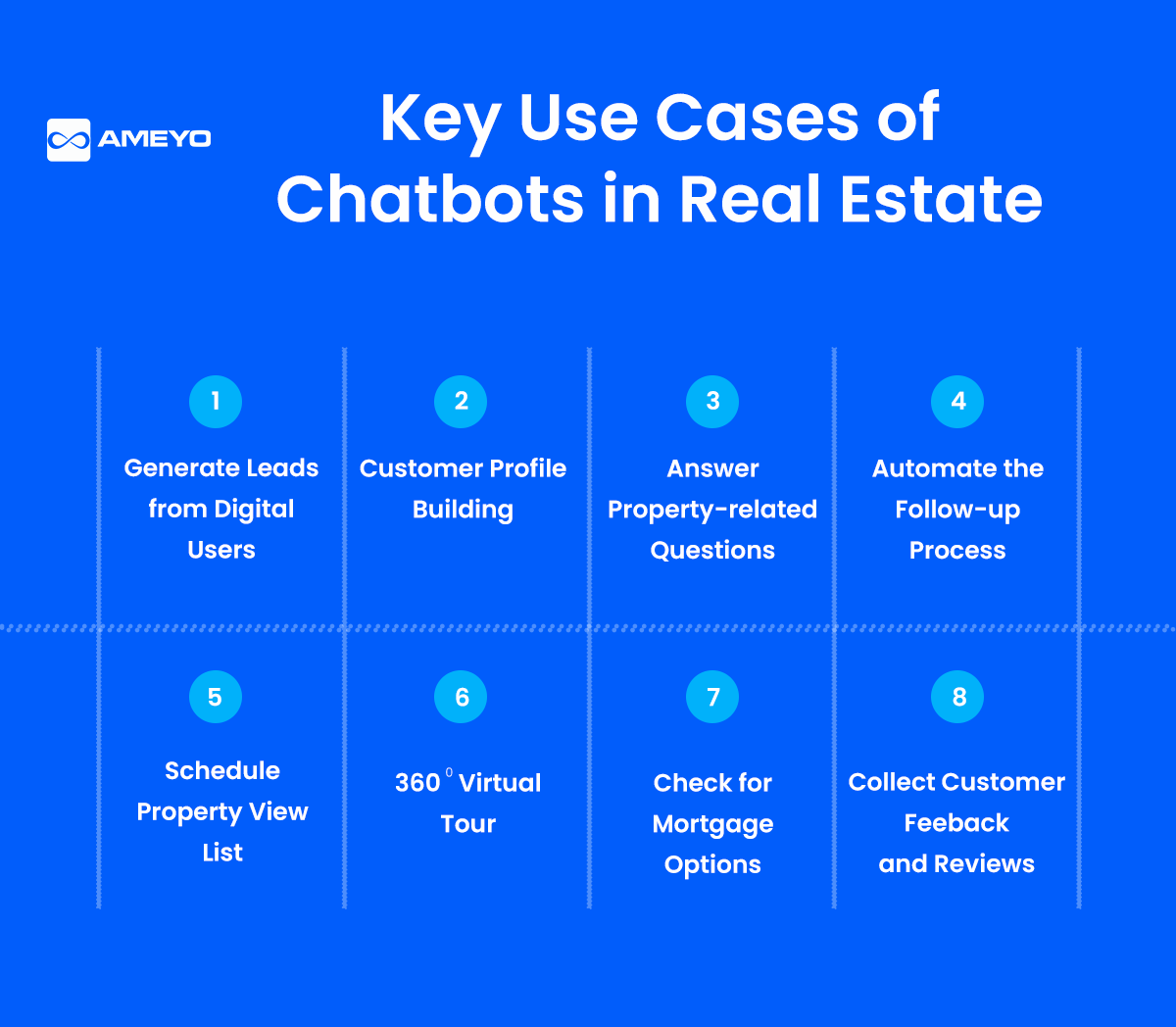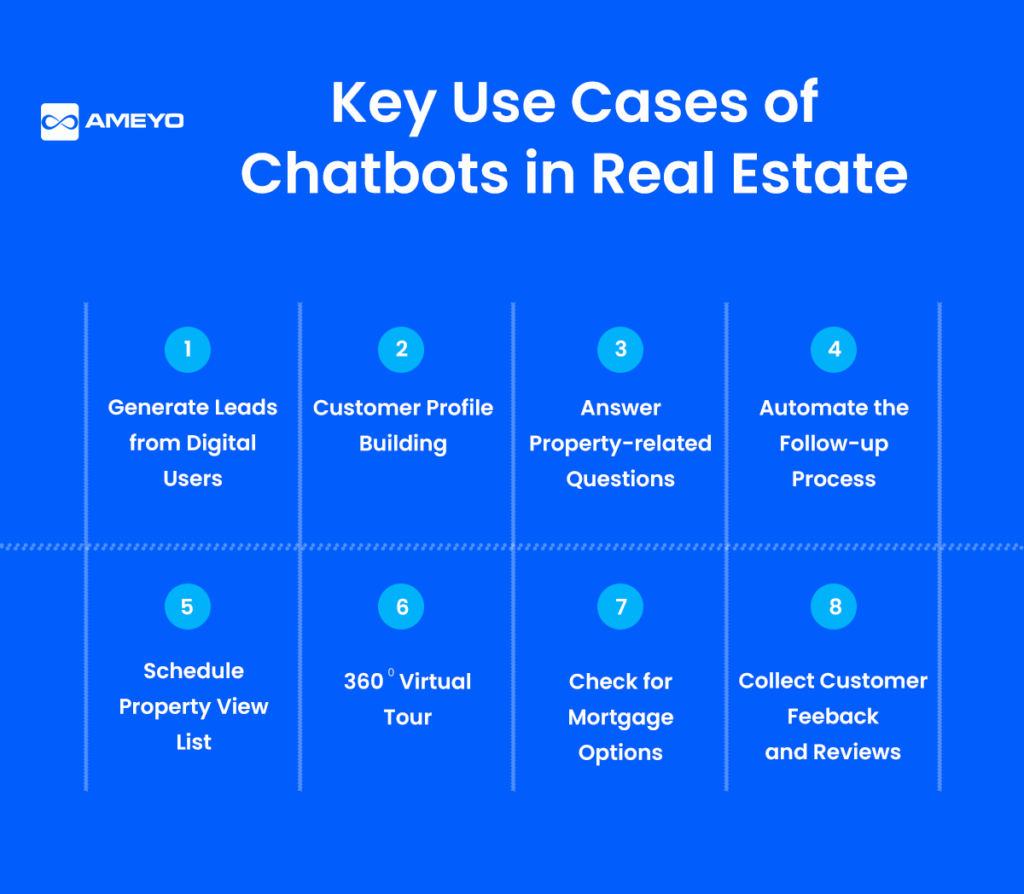 1. Generate Leads from Digital Users
When a user opens a real estate website, a chatbot opens up. The Real estate chatbots start a communication with the prospective online buyer and ask them whether they are looking for buying, selling, or any other related information. In addition, Chatbots can reach out to customers via email or text about their promotions on properties and campaigns on rental homes.
2. Customer Profile Building
Chatbots can ask users for information to have an idea of preferences in terms of
Area, city, and the town where they live and what are their top preference to buy a property
Budget of the prospective buyers for enlisting their properties and whether they prefer to rent, buy or lease?
Choice of properties like apartments, houses, or condos.
Chatbot gathers this information from prospective buyers to create a profile for each user and give them personalized property options and listings.
3. Answer property-related Questions
While searching for a property, prospective buyers might have some doubts or questions about various aspects, and chatbots answer them. Chatbots have access to the agency's database, answering the buyer's queries regarding agency, working hours, available locations, etc.
4. Automate your Follow-up Process
Chatbots follow up with the customers after their first interaction via whatever social media the leads are on, like email or text message. Sometimes the chatbot helps the leads to talk with the realtor directly.
Texting people after initial contact leads to a higher level of engagement; for example, it has been proven that engagement can be increased by 113% due to follow-up texts.
Read More: AI-Based Chatbots: Can They Improve Customer Loyalty And Provide A Better Experience?
5. Schedule Property List
Chatbots can schedule property walkthroughs with a live agent for prospective buyers. The chatbot can go through the realtor's calendar and provide them with available dates and slots for them to choose from. Once they choose a date, Leads or customers can book their schedules for viewing the properties or meet the realtor through a chatbot.
6. 360-degree Virtual Tours
When the prospect is too busy to have a property tour before buying properties, chatbots provide them with 360-degree virtual tours to give them an idea about exterior and interior design and the property's location.
7. Check for Mortgage Options
Users can collect information about whether they are qualified for a mortgage, seek tips to qualify, and apply for the mortgage through the chatbot.
8. Collect Reviews
After purchasing a property or signing a rental contract, the chatbot can collect reviews from the prospects via emails by requesting them to fill up the survey sent by it or via text to have a conversation and understand their overall experience.
Key Benefits of Chatbots in the Real Estate Industry
Chatbots are quite technically sound and provide more advantages for customers.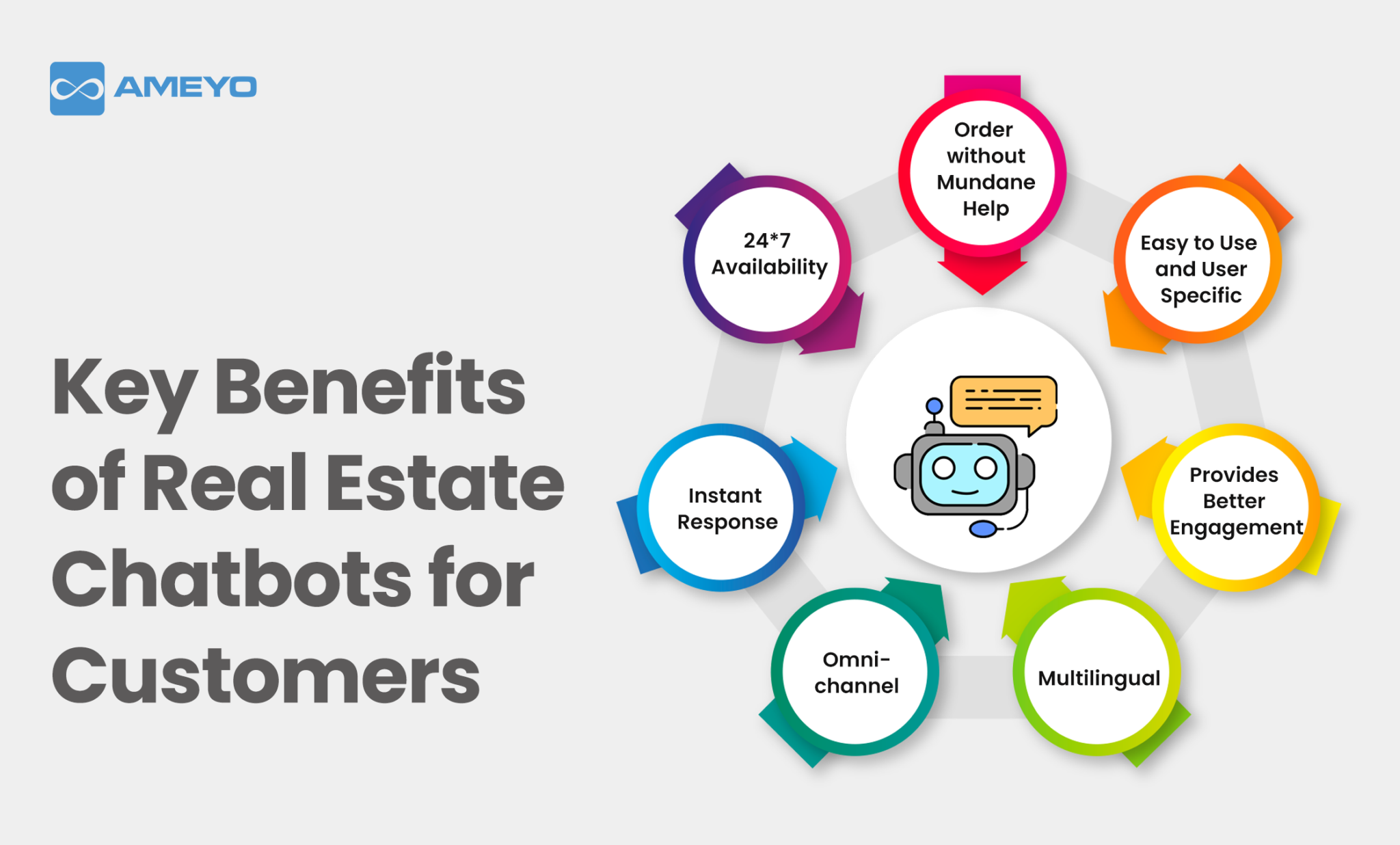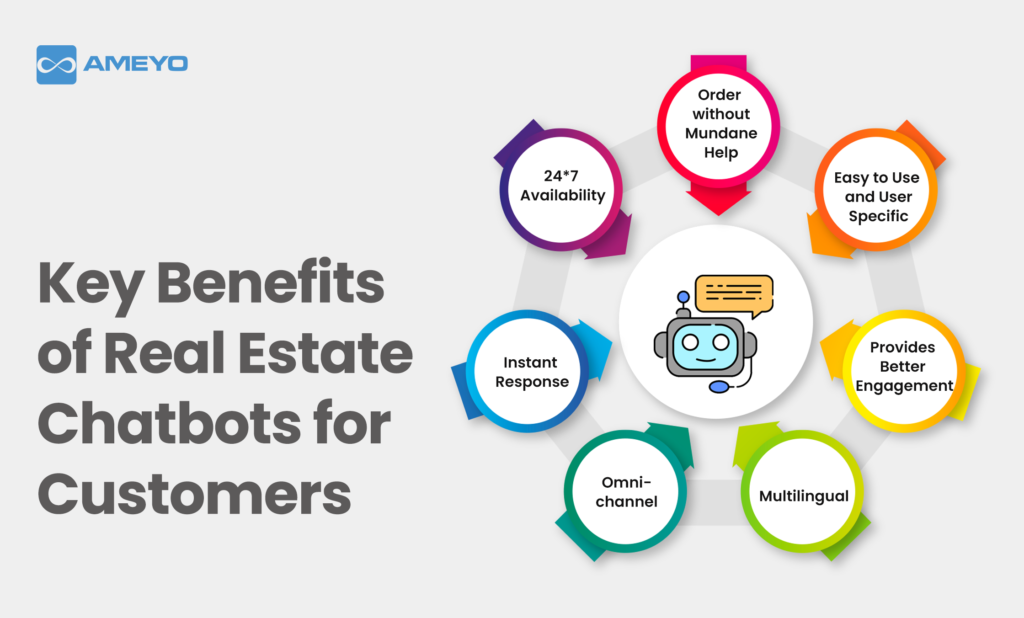 1. 24*7 Availability
Customers do not need to wait in line to get a call with customer service personnel nowadays because a chatbot is available all around the clock to attend to a lead and can handle many leads at a single time.
2. Instant Response
The chatbot can deal with thousands of customers instantly and simultaneously and improve the average response time.
3. Omni-channel
This AI chatbot comes with omnichannel messaging support features that benefit the customer to communicate with a business through various channels such as Facebook and the website.
4. Multilingual
The chatbots have options of languages for different customers. Therefore, every user can communicate and get answers to their queries irrespective of their language.
5. Order without Mundane Help
Customers can book properties or make transactions with the help of a chatbot without any real human help.
6. Easy to Use and User-specific
Every lead is looking for a different apartment or property type. Chatbot helps welcome the customers or leads and provide them with what they need by asking a series of questions and offering relevant information through interaction which keeps the customers engaged.
7. Provides Better Engagement
Customers can engage in real-time compared to the traditional question-answer form to be filled with information. This old method is lengthy and tedious, and you can get no result. But the chatbots in real estate respond to the queries and collect information about the lead simultaneously.
AI Chatbot: Benefits for Companies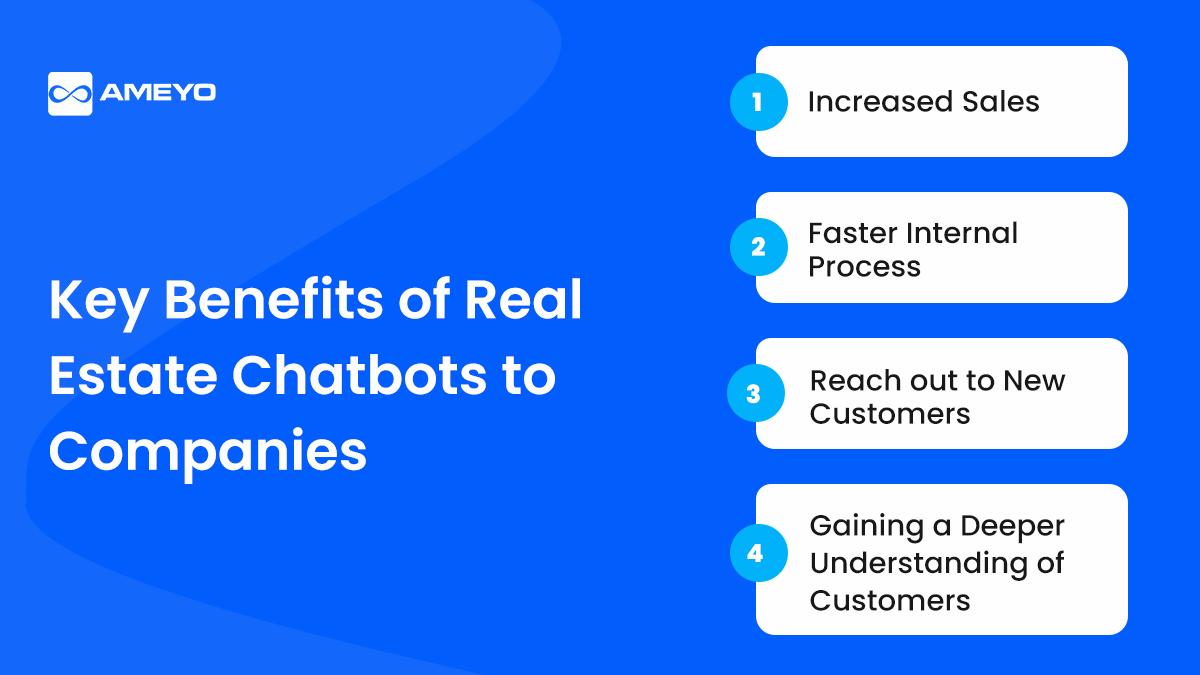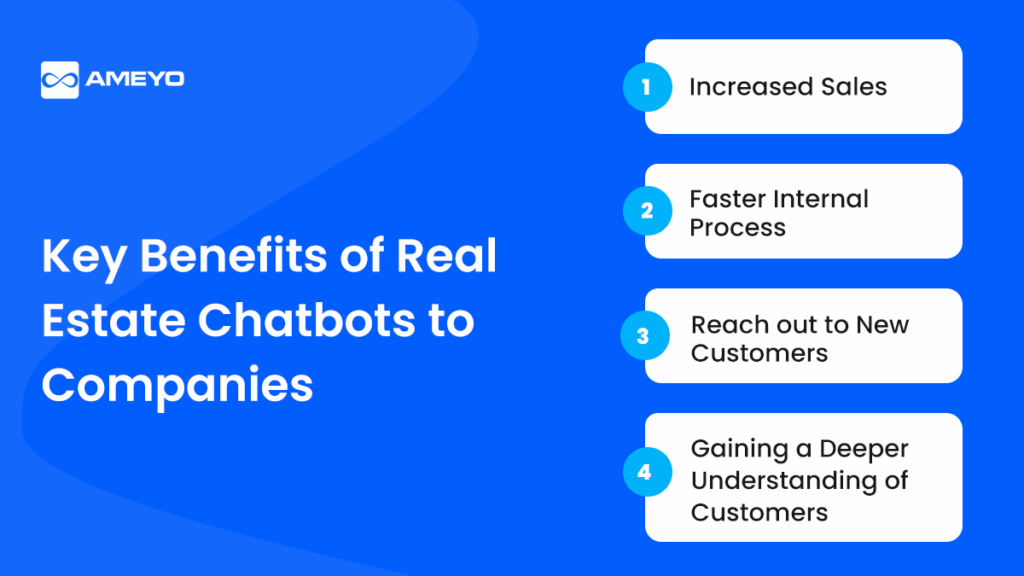 1. Cost Savings
The chatbots replace the cost of hiring the employee for handling more and more complex queries. The implementation of the chatbot can cause an initial investment cost, but it shall give profit without any further expense in the long run.
2. Increased Sales
It is proven that chatbots have enhanced the company's sales by 67%. The reason behind it is that chatbot is a platform with pre-programmed software which is proficient in attracting customers, thus increasing sales. Also, it works 24/7 and has a faster response rate.
Statistically proven, the chatbots have increased their company's sales by 67%. The reasons are it is a platform with pre-programmed software which can bring many customers and expand the company's sales. The other reason is it can function24*7 and has a fast response rate.
3. Faster Internal Process
Chatbots can improve communication and the process within the company. For example, when a prospective buyer asks the chatbot and gets an answer promptly without any delay without contacting various departments.
4. Reaching Out to New Customers
The chatbots help bring new customers every day while maintaining existing ones by follow-ups and constantly being available.
5. Gaining a Deeper Understanding of Customers
Customers get the chance to talk to your business directly. The chatbot provides detailed information about customers to the business agents to improve their business and understand new trends in the market.
Conclusion
Artificial intelligence and machine learning have advanced a lot with time, resulting in the latest and most advanced application of conversational AI. These days Chatbots are benefiting real estate industries a lot. When a customer is looking for some specific property, AI chatbots can search through several data and recommend the right property suggestion to the customers.
Chatbots linked to the property database can extract properties in no time per the client's requirement. Chatbots are helping the real estate industry make work easier for agents. Thus, the AI chatbots can also follow up with the customers through email or SMS and provide them with further details. So, the conclusion is to take your real estate business to the next level; you should go for AI chatbots.