If you scrutinize marketing statistics from the past decade and compare them with today's numbers, you will see that there is a swift shift in the industry dynamics. This is an evident digital transition which is gaining momentum and there's no stopping this digital throttle.
This is the world of Social Media. This is your company's Facebook page, Twitter account, Instagram page, Google Plus business page, LinkedIn page/group etc. This is your blog's page. This is what you share and distribute for your customers to read, learn, and guide them through the decision process. This is your passive-slowly-turning-active voice. This is the emerging face of your company's brand seeking refuge in your customers' daily life and routine.
Social media marketing lets you be more than a brand. It lets you breathe, walk and do things like your customers would want you to. It gives you ample space to build customer rapport and leverage that small space you occupy on their Facebook feeds and Twitter timeline. If you are planning to pilot launch a product or a service or planning to upgrade any of your existing products, you should be thinking about digital marketing. This is the most accurate way to be non-intrusive but have a direct access to your customers life.
 
But how does Social Media let you win customer attention or build customer rapport?
Those days are long gone when your customers would be patient enough to wait 48 hours for your reply before moving on to the next brand. They want quick and easy access. They want it now. If you have zero or poor online presence, you can expect to lose over 37% potential customers every quarter. But that is about customer engagement.
Let me roll the dice ahead for you. If your primary concern is to build customer rapport and you are pretty comfortable with the level of customer engagement, you still need to bank heavily on social media. It gives your customers the flexibility to not need to switch to their traditional mailing regime and can easily just drop you a message as per their convenience. This also gives you an opportunity to leverage their trust and build lasting customer rapport, by giving them instant or quick replies and sorting out their queries as promptly as possible.
From product centric approach to customer centric approach – Marketing 3.0
Over the past 60 years, marketing has moved from being product-centric (Marketing 1.0) to being consumer-centric (Marketing 2.0). Today we see marketing is (still) transforming once again in response to the new dynamics in the environment. We see companies expanding their focus from products to consumers to humankind issues. Marketing 3.0 is the stage when companies shift from consumer-centricity to human-centricity and where profitability is balanced with corporate responsibility. And social media has contributed humongously to this colossal shift of statistics and preferences.
In a recent survey conducted by Global Web Index SlideShare, they have clearly mentioned that there has been a global increase of 14% in total figure of the number of active social media users. This is untapped open market, which does not require any major inputs, as the user base continues to rise organically.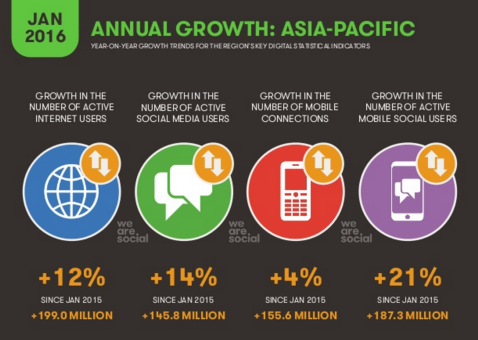 Facebook – Check
Twitter – Check
G+ – Check
LinkedIn – Check
Instagram – Check
What else is there for you to include while leveraging social media to engage more customers?
If you think that having company pages and posting content on these social platforms will give you customer engagements, you need to re-evaluate your social strategy. It is lot more aggressive and demands consistency, effort and fast response time, with minimum or no delay at all.
Sharing valuable offers, product information, product features, etc., can aid your marketing portfolio, but to engage customers and to build customer rapport, you need to be on your toes always. It is more than a marketing stint for your company, it is about creating a platform where customers can drop in their queries and get instant reply. If you cannot sort out a problem there and then, it is highly recommended that you route them to the appropriate help desk. Social media is a dynamic trait; it is not just limited to posting what you want to share, but sharing what your customers want to know. It can incorporate various other domains including email marketing, bi-weekly newsletters, asking users to subscribe to your blogging forum, so as to get better and clearer insights about various processes in your organisation.
Social media and contact centers – A fun way to engage customers
Contact center industry is highly customer centric. This is a huge intersection point for social media and contact centers. If you can start leveraging social platforms and guide your customers to have a better customer service experience, there is hardly any chance that they will let go of your brand and services.
How contact center technology can make use of social platforms?
Social media ticketing is an interesting tool and approach which can help you gauge more customer oriented results. This approach let's you automatically assign Facebook and Twitter mentions to helpdesk tickets, which can be easily assigned to live agents. This way, the agent can keep up with social monitoring, while answering customer queries without leaving their portals.
Social media monitoring is also an interesting way to keep an eye on traffic and customer reach. It gives you real time insights on how to keep up with increasing or decreasing customer statistics on your website, total engagements, posts reach, etc.
Hope you can start leveraging social platforms and build customer rapport like a pro! Have feedback? Let us know in the comments section.