Businesses are in the habit of analyzing their sales and revenue trends at the end of each quarter and then again at the end of each year. This helps them make predictions and allocate resource accordingly for the coming year. Departments which are progressing are encouraged to follow trends that make them successful. On the other hand, departments which are not doing so well are put under review and changes are made to their work styles. This is done so that in time, they will have better turnarounds and contribute to the larger enterprise positively.

Likewise, in contact centers, campaigns are constantly in need of analysis. They collect data all the time in the form of customer information, reason for call, how many agents are present, how many calls were registered, how many were completed, calls that failed, issues resolved, among other details. This large data needs to be made sense so that supervisors and managers can identify trends and make informed decisions.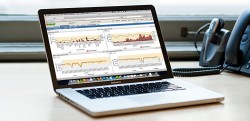 With the help of a robust contact center solution making the reporting process easy, enterprises can benefit a lot. Here are just a few benefits to be derived:
Configure reports accurately: Designing and generating business-oriented comprehensive reports is important to businesses. Reports relative to agent performance, campaign productivity, call details, call history, user session, and workforce should be analyzed in detail and reports generated thus, should adhere to high accuracy standards.
Generate reports automatically: Robust solutions allow enterprises to set schedulers to send out reports automatically on regular basis via e-mail/SMS/chat/fax, etc. A solution like AMEYO creates comprehensive reports either by choosing predefined templates, or configuring reports based on filters. Also it enables customization and scheduling of reports according to multiple parameters (agents, campaigns, statistics, call volumes, conversion rates, Answering Machine Detection, busy rates etc.).
Importance of real time and historical data: The reporting tool should be able to analyze marketing results across campaigns and lead to opportunity conversion, plan marketing strategies, and monitor distributed or centralized workforce in real time as well. This allows scope for quick changes to campaigns by removing aspects that do not work with successful aspects that work. For example, supervisors can quickly change greeting messages which agents use if responses to 'Hi' are more positive than 'Hello'.
Dig-up information quickly: The concise, detailed, and organized presentation of data allows supervisors to quickly fetch full reports, or relevant parts of the reports. A single-unified interface with drag-and-drop facility makes it easier to navigate as well. Additionally, filters define search parameters and give quick access to relevant information.
Use multimedia: As more contact centers become mobile or use different platforms, reporting by AMEYO allows the exporting of reports to CSV (Comma Separated) format as well. Supervisors can also view statistical data in graphical form, if they would prefer to do so.
Archive old reports: Automatic archiving stores reports not viewed for a long time to an external device such as a CD, tape, NAS, SAN or external hard disk, thereby ensuring optimal storage usage.
Secure data: Strong security features should be a must to ensure that only the management, supervisors, or analysts have access to highly confidential or sensitive information. This will prevent data from being used unethically by unauthorized personnel.