Until a few years ago, several companies and BPOs treated their contact center division as an entity that managed superior customer service and nothing more or less. The work of contact centers would be to resolve customer queries and offer solutions to the customers for their problems, for instance, troubleshooting of product-related problems, resolving disputes, etc. In short, the objective was limited to resolving the query.
However, with advancements and the rapid automation of call centers, the entire system has been revamped and transformed to offer much more than just customer call service. According to Microsoft's State of global customer service report, more than half (58%) of customers choose a brand based on their customer service.

An almost similar number of customers (59%) have grown their expectations from customer support over the last year. The message is loud and clear – 'your contact center is key to win customers'.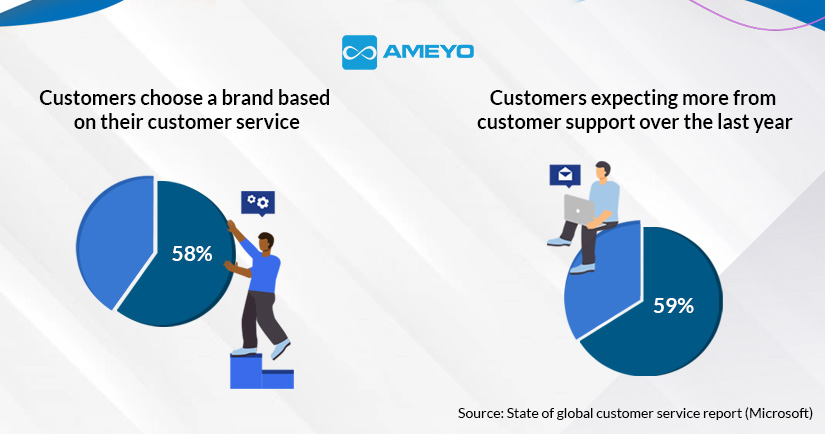 With contact centers and brands recognizing that service channels can work as a prospective source of revenue with the 'sales through service' model, the working models have changed. There are custom contact center solutions for BPOs. With advanced applications in technology today contact centers add much more value to all three functions including sales, service, and collections.

While utilizing the technology, you need to ensure a humane touch. With Covid-19 hitting the world, brands and processes moved into remote working and in this rapid transformation, brands would not like to loosen their human aspect of the relationship with customers.
Contact Centers: Automation and Transformation
Let's discuss how contact center automation has helped the brands in numerous ways-
1) Work from Home Shift
With the lockdown being imposed and offices closed, brands asked their contact center agents to WFH. The contact centers had to put in tremendous efforts to enable customers to go remote. It was with the application of new technologies such as Video KYC that the centers were able to bring new customers onboard even in a remote situation.
Video contact centers have now been developed to humanize customer interactions, and collections bot to increase customer coverage for loan collections Some major transformations by contact centers to move towards a stable Work-from-Home environment include-
Cloud-based contact center solution for remote operations
Mobile App with full-stack Contact Center capabilities
Omnichannel solution for multichannel chat/email in one place
Customer Analytics Tools
2) Modern Analytical Metrics Tools
Contact centers have understood the importance of data-driven metrics for a long and they have been using various KPIs to measure the effectiveness of operations. However, the changing dynamics require the change in metrics as well. Businesses are moving towards agent KPIs that are closer to the overall business goals.
Currently, contact centers are largely working in a work-from-home environment, with many of them planning a structured hybrid model in the future for optimum performance. Framing a hybrid model would need a clear understanding of agent performance in different environments. This is where 360 Application Infrastructure Monitoring helps.
While there is no need to ignore the traditional metrics, such as the number of inbound calls handled, average wait time, average call duration, and others, you need to understand how these numbers change in different scenarios (work-from-home vs work-from-office). Moreover, another critical metric would be understanding the metrics across channels. Based on such assessments, you can make informed decisions on learning from one platform and probably try them on another.
3) Agent Monitoring System in Remote Setup
Remote contact centers present an interesting challenge in the agent monitoring process. It begins right from the training process, where traditional classroom and on-desk training methods are not applicable. The challenge is even intense with experienced agents. While working in a remote setup, keeping agents motivated and trusting them with the network/device issue is a concern. There are interesting solutions as well, such as Ameyo's Mobile Call Center app.

The Android-based app enables agents to work remotely using a smartphone and enables managers to monitor their performance in the realtime. The app also maintains the record of network strength and device status to give a transparent view of the agent's availability.

4) Interactive Voice Response and Robotic Process Automation
With the dynamically changing digital world, today several people from all age groups and socio-economic classes, engage with messaging apps. Hence, contact centers are adopting new methods to reach their customers that are more responsive when coupled with IVR (Interactive Voice Response). The growing user base is leading to the increasing importance of customer engagement.

Companies have Omnichannel needs with social media compatibility, remote accessibility, Field agents, and voice bot. The ticket management system at contact centers lets the brand create automatic helpdesk tickets for all the queries coming in through email, webchat, social media platforms (Facebook, Instagram, Twitter, Youtube), voice calls, SMS, and other messaging platforms, such as WhatsApp.
The integration of workforce management systems, CRM software, and other legacy systems has also levelled up the entire customer service process. The contact center's ticketing system integrates with popular business tools and has Application Programming Interfaces (APIs) for custom integrations.
The contact centers are combining Robotic Process Automation (RPA) with Machine Learning and Artificial Intelligence to automate the routine tasks for agents. In contact centers, RPAs provide customers with immediate responses to their queries and agents do not need to be involved in every menial task, they can manage their work more efficiently.
Today, contact centers operate not just on the model of receiving calls and providing customer solutions. Rather they have become a knowledge dissemination analytical service for the growth of brands.