If you were someone who thought it's time to say a much-needed goodbye to the dreadful COVID19 virus then let me tell you – you were not the only one. Truth be told, many believed that we will get a handle on the situation with global vaccination drives. However, the second and in some countries the third wave of the pandemic put everything for a toss.
Businesses that were looking at remote working for the short term are now facing a shake-down. And organizations that set up their technology and infrastructure looking at work from home as a temporary solution are now re-thinking the situation as the pandemic is still not over.
The Second Wave of COVID-19: Re-thinking your Customer Experience Strategy
With the pandemic extending longer than expected, it is time for the contact centers to re-look at their customer engagement strategy and invest in the right technology to ensure great results.
Some of the contact center trends that we observed were:
Accelerated adoption of cloud-based call center software
Closing down of physical offices with workforce moving to a work from home model
Increase in digital channel traffic
Need for remote monitoring of virtual agents
How Remote Contact Center Software can benefit your Business?
Having the right technology partner by your side makes all the difference – especially in difficult times like the pandemic. A remote contact center or a cloud contact center vendor that understands your business requirements while ensuring business continuity.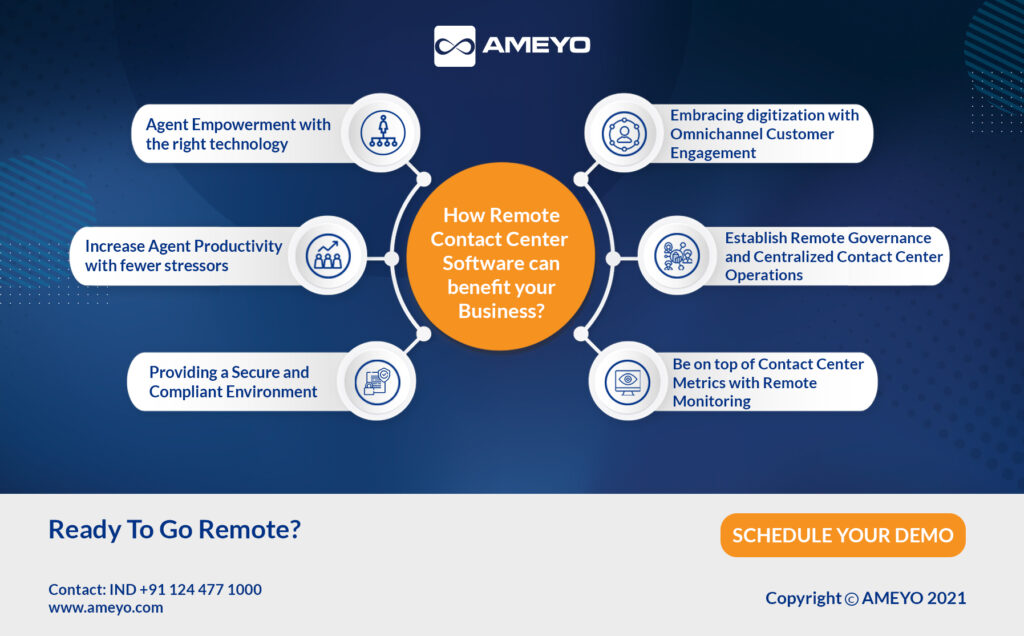 #1. Agent Empowerment with the right technology
During the first wave of the pandemic, many contact center owners looked for short-term solutions to overcome the challenges of remote working, especially those faced by remote agents. One of the biggest issues being the availability of a system/computer. Unlike in the office, where agents have access to an individual laptop desktop they might not have one at home too.
Having a remote contact center solution that allows your agents to use their smartphones as a full-fledged contact center is the answer. A mobile call center software with advanced features and top-notch security features empowers your agents to manage all the inbound and outbound calls from literally anywhere, anytime using just their smartphone.
#2. Increase Agent Productivity with fewer stressors
It's no secret that working from home has its own perks over working from an office. Convenience taking the cake at that. Armed with a contact center software powered by advanced customer interaction management features – inbound and outbound calling, CTI integration, unified agent desktop, click-to-call, and more, you can expect your agents to drive first contact resolution.
Additionally, apart from the ease of use of the contact center software solution, another factor that significantly improves agents' lives is reduced traveling time/staying away from family and friends due to work commitments. This further improves the work-life balance along with the mental health of the agents which will directly or indirectly improve their productivity.
#3. Providing a Secure and Compliant Environment
Contact centers are data sensitive. One has to be careful as to who has access to what and when. This particularly becomes important when the agents are not working from an office. Common concerns are around data security, secure internet connection – you do not want your customer data to be leaked. For that, you need a contact center software vendor that can provide you with enterprise-grade security features.
Being PCI-DSS compliant, having ISO 27001 and ISO/IEC 27018 certification are some of the factors to consider while deciding on your contact center provider. Some other ways to ensure data integrity and security are by following measures like enabling captcha, AES 256 based data encryption, DTMF tone masking, number masking, strict password policies, etc.
#4. Embracing digitization with Omnichannel Customer Engagement
A trend that we saw in the initial days of the pandemic was a spike in customer engagement over digital channels – and this trend is here to stay. For the most part channels like social media, WhatsApp, live chat gained prominence due to lack of physical visits and human interaction. Everything went online and e-commerce saw a boom.
Check out: How Call Center Software can help the E-commerce and retail industry
For any customer-centric business, delivering an exceptional customer experience is the key to success and omnichannel contact center software is the way to go. With this, you can interact with your customers via multiple channels such as voice, email, Facebook, Twitter, live chat, WhatsApp, Google Business Messages, etc while allowing your agents to have a 360-degree view of the customer journey and thus, having contextual customer interactions.
#5. Establish Remote Governance and Centralized Contact Center Operations
Contact centers are data-driven entities. SLA and metrics are the keys to contact center optimization. But what happens when you cannot physically see the agents sitting on their seats or see their work? You have to rely on technology! But in a virtual setting, the big question remains – who do you trust? The agent, the network, or other factors?
The best way to establish remote governance and manage operations remotely is by getting a 360-degree view of all remote systems, devices, and environments. Having this data and reports with them your IT infrastructure team if and when the issue is with the agent's system, network, or something else, and fix it accordingly.
#6. Be on top of Contact Center Metrics with Remote Monitoring
Contact centers are data-driven entities. SLA and metrics are the keys to contact center optimization. But what happens when you cannot physically see the agents sitting on their seats or see their work? You need remote monitoring tools that empower your supervisors to track relevant call center metrics.
Live dashboards with numerical and graphical data for agent performance call volume, average wait time, and other metrics allow the managers to analyze the data in real-time and take corrective actions. Additionally, having detailed reports, for eg., missed call report, ACD report, etc further offer insights into identifying the gaps and strategizing accordingly.

Conclusion
Businesses are going through a tough time as the world is battling the COVID-19 pandemic. Some industries like travel and hospitality saw a decline in demand whereas, e-commerce and Edutech industries saw an increase in demand. Thus, it is important for contact centers to evolve with the changing market dynamics and adopt the best technology, in this case, a remote contact center software that will help them to sail through these times and emerge a winner. As we can say with some certainty that remote working is here to stay and the sooner businesses realize that the better it with be for their future growth and customer experience.