The COVID-19 pandemic turned the world on its head. We saw things and circumstances changing, with call centers being no exception. They had to adapt quickly from being practically 100% on-premise to going for a remote contact center. Something that was seen as a reaction to the pandemic has turned out to be something that is here to stay – remote working looks like the future.
"Almost 50% of employees will continue to work remotely post COVID-19."

Gartner
However, contact centers have moved from a system dependent model to an app or mobile contact center during the pandemic – and rightly so. Let us look at some of the reasons for this shift.
Mobile-based Contact Center – Is it Just Hype?
Since the launch of many COVID-19 vaccines made available across the world, many are calling it the start of the end of the pandemic and life returning to as it was before everything hit the fan. However, much research reveals that even when the pandemic is over (or controlled), some businesses will still continue to work remotely – many having already announced permanent work from home.
"One in three call centers in India to switch permanently to WFH"

Business Insider
If we look at such numbers, then it's safe to say – work from home is here to stay. And that requires the best tools and systems to ensure top-notch performance. Mobile Contact Center Solution offers just that – while overcoming the many challenges of a virtual workforce.
Let us look at some of the benefits of mobile contact centers that have tipped the scales in their favor.
> The Business Should Never Stop
Whether your agents and supervisors are working from the office or home, it is essential to maintain business. Mobile-based contact centers have allowed the contact centers to ensure business continuity without having to depend on heavy infrastructure. Having a contact center on mobile provides the ultimate freedom to work from anywhere, anytime – without hampering agent productivity or customer satisfaction.
> Data on the Go
For contact centers having access to data, monitoring it is of great importance. And just because you are not chained to your computer should not come in the way of effectively managing your contact center performance. The ability to track contact center metrics on your mobile device is one of the biggest advantages of having a mobile app-based contact center.
> No More Infrastructure Worries
One of the biggest concerns of agents working from home is providing them with equivalent infrastructure as they were using in the office. Since the agents can now perform almost all the functions from their mobile phone, that takes a huge burden off.
> No Compromise on Customer Service
Awesome customer experience is at the heart of the success of a brand and the kind of customer support/service that a brand offers can make or break this relationship. Thus, it becomes imperative to maintain high customer satisfaction – irrespective of the location of the agents.
10,000+ Downloads – Agents Love Ameyo's Mobile Contact Center Application
When the world was in chaos and businesses were struggling to stay afloat, Ameyo recognized the need for a contact center solution that provides people with the mobility to work from anywhere, without the constraints of a laptop or desktop system. And thus, India's First Mobile Contact Center Solution came into existence.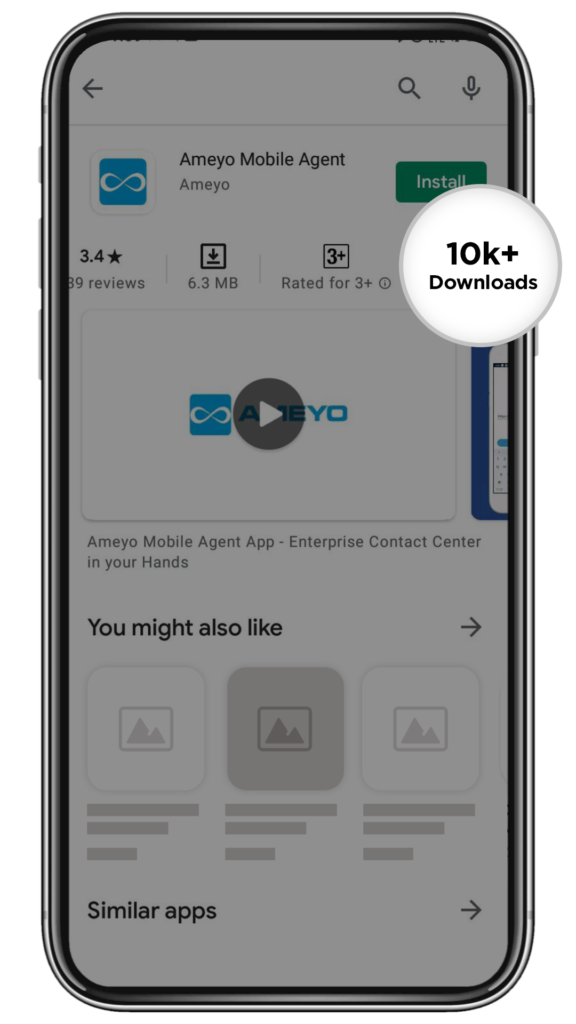 Continuing with our motto of creating the most memorable and happy CX memories, we set on a mission to deliver just that – pandemic or no pandemic.
50,000+ Agents got Remote Ready with Ameyo
Let's look at some of the reasons why contact center agents and managers love Ameyo's Mobile-based Contact Center.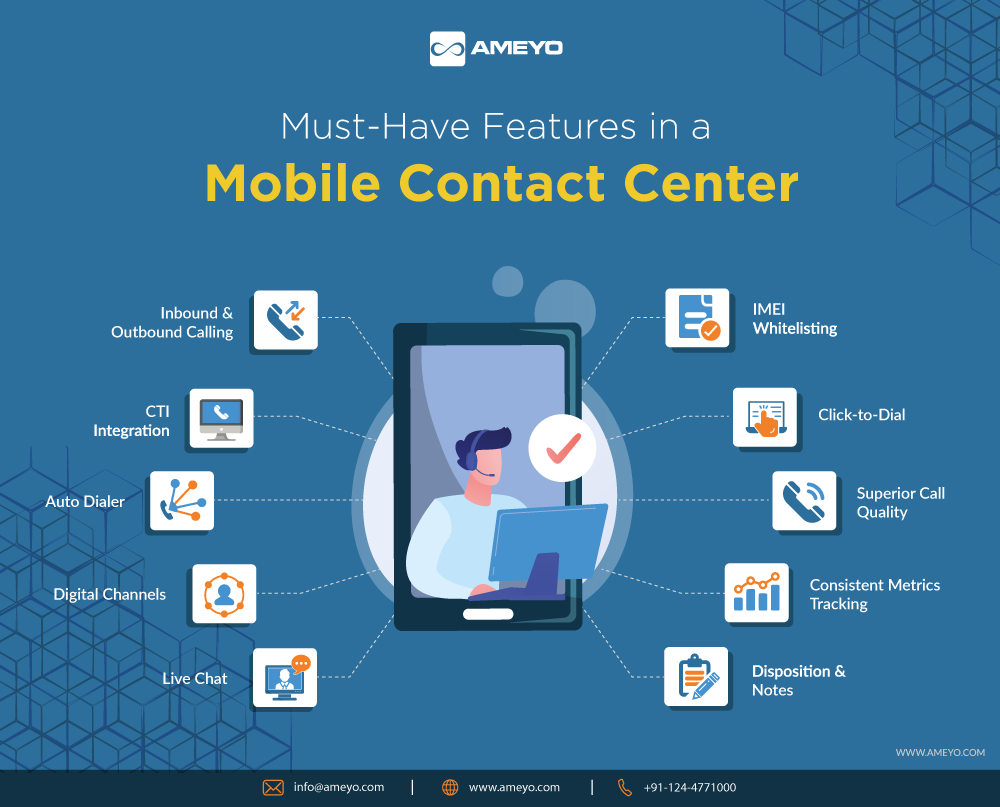 ✓ Full-fledged Contact Center in the Palm of your Hands
Ameyo's mobile-first solution offers an enterprise-grade, feature-rich contact center on your smartphone. Receiving inbound calls, automated outbound dialers, click-to-dial, call disposition, WebRTC, CTI integrations, and more – name it and you got it.
✓ Multi-level Data Security
We understand the importance of protecting customer information. Enjoy complete data security with advanced features like IMEI Whitelisting, blocking call recording, and the ability to take screenshots along with secure VPN support. All this while comply with your industry and regulatory requirements.
✓ An Easy-to-use Interface to Improve Agent Productivity
With features like a floating widget allowing your agents to have quick access to call or customer-related information even when they are on a different app goes a long way in making their lives easier. At the same time, the click-to-call functionality further makes things simpler as the agents can dial a call with just a simple click.
✓ Never lose Sight of Contact Center Performance
Allow supervisors and managers to view important call center KPIs with campaign level dashboard/dashlets. As the agents are also performing post-call activities (dispositions, notes, etc) using the mobile application itself, the supervisors can track the same and use this information to further optimize operations.
The Competitive Landscape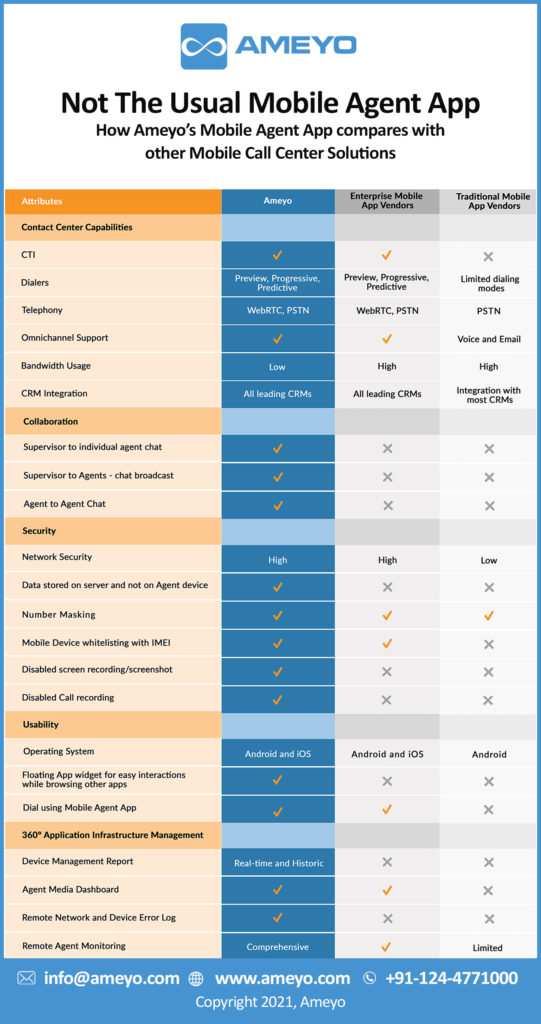 While Ameyo's Mobile friendly contact center was the first mobile call center at the time and gained significant ground, we are now seeing other players trying to follow suit. However, the numbers speak for themselves – they still have a long way to go.