Keeping customers at the heart of your core business strategy should be the goal of organizations aiming towards providing an extraordinary experience to their customers. In order to offer superior customer service, organizations have been measuring their call center performance based on different parameters or on some key metrics that are essential for sustaining in this competitive environment.
Call centers are dramatically making a shift towards completely examining and improving customer experience management keeping in mind a 360 degree view of their call center performance. With this practice they are able to keep a close track on the task being performed by each individual.
The fair rule to winning brand advocates still depend upon the kind of process and strategies being used by call centers to retain customers. Organizations in order to maintain brand supremacy have started using tools like Quality management (QM) system and performance management (PM) systems.
WFO or Workforce optimization is another invention which has come into existence in the recent times owing to the ever changing trends in customer service. The stand alone offerings like QM, PM & workforce management systems are now being integrated by vendors into workforce optimization suites. However, WFO being new in the industry has still not justified its existence and its benefit still stays uncovered especially to small business setups.
In order to help customers decide whether to go ahead with WFO suites or to restrict the purchase to best available systems, Software Advice interacted with Ameyo (Customer experience expert) to unravel the buyers trend in the industry.
On the occasion Rahul Zutshi of Ameyo quoted that "Smaller and midsize contact centers are asking for performance management [PM] in cases where they want to increase agent productivity. People are exploring how to include the notification piece within the contact center system so that agents can see their own dashboards, which motivates agents to hit their goals."
The above statement clearly signifies the importance of performance management in small and midsize call centers. Agent's productivity still plays an integral role in justifying the existence of call centers. Studies by Software advice have shown that PM is more popular in smaller organizations and buyers are gravitating more towards PM over QM and WFM.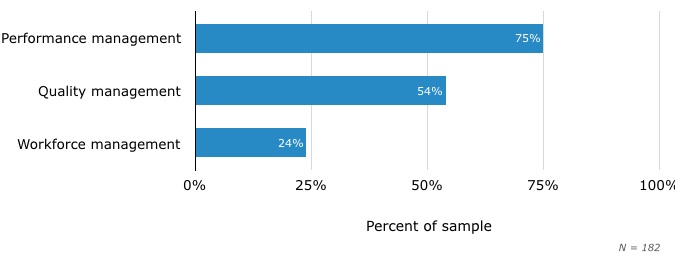 PM consists of many managerial aspects such as planning call center metrics, developing agents skill, rating and rewarding agents based on their performance level. With the help of a performance management suite, call centers can maximize the efficiency of each agent. However, PM alone cannot control other situations in the day to day operations.
The vendors have witnessed powerful capabilities by integrating the PM, QM and WFM. The below screenshot of Ameyo's Agent interface shows how performance data agent scheduling, and feed call quality scores from a QM system into KPI dashboards, along with more basic metrics on call duration, abandonment rate etc., can be used.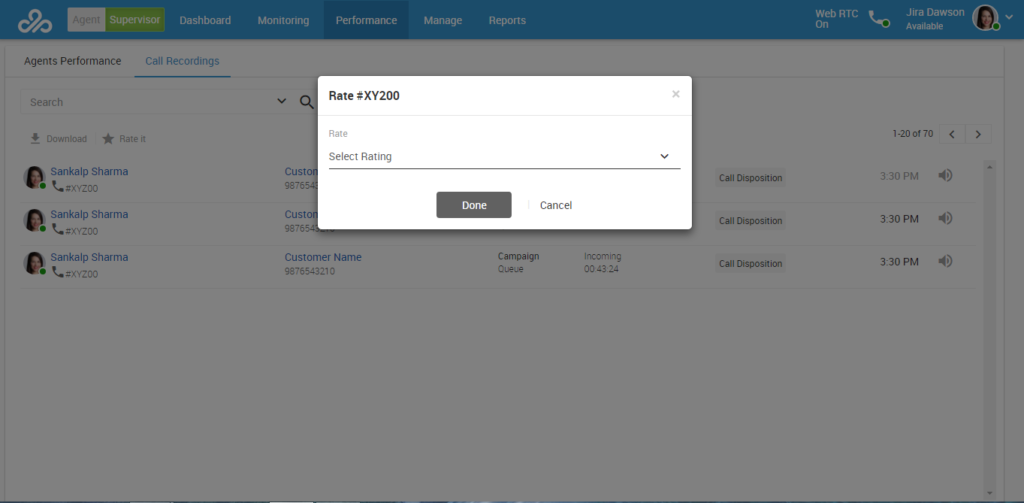 Gartner's Hype Cycle for CRM Customer Service and Customer Engagement, 2015, by Michael Maoz and Jenny Sussin, has also defined WFO as "the unification of complementary quality monitoring, workforce management, e-learning, performance management and speech analytics tools."

In order to have deeper insights on the deployment of WFO suite rather than a standalone solution, Ameyo did some internal research with its clients. The results truly showed the interest of buyers either in a single solution or the combination of two solutions. For instance: PM along with QM was chosen by clients who wanted to work on their key call center performance metrics along with keeping a track on the quality of calls by each agent to improve their call center productivity.
Midsize and small setups have shown less interest in WFO suite compared to stand alone suite. The underlying reason behind the same can be their disinterest to invest more in WFO due to the size of their setup and costing issues. Adding to this, other reasons can be about the decision of how a company will look after the needs of their employees, provide training and ultimately manage the changes to be incorporated by these employees. To facilitate a better and informed decision about the technology to be used, such companies should initially understand the current degree of their workforce optimization by evaluating wage incentives and other such strategies which can improve the same.
Limiting the call center capabilities by just investing in one solution cannot last for too long. With the rising competition in the market the organizations will have to build their future roadmap with a more unified and extensive approach.
Top pain points buyers are addressing by investing in QM, PM and WFM.
The ongoing buying trends of small sized businesses have shown that they are more inclined towards replacing their existing software rather than fixing issues. The image below has clearly highlighted that the major concern for call centers still lies in streamlining their operations or in expand features like performance tracking, analytics and improving workflow issues. However, the specific interest in analytics and performance tracking shows that these buyers' attempts at streamlining operations go beyond solving simple workflow issues.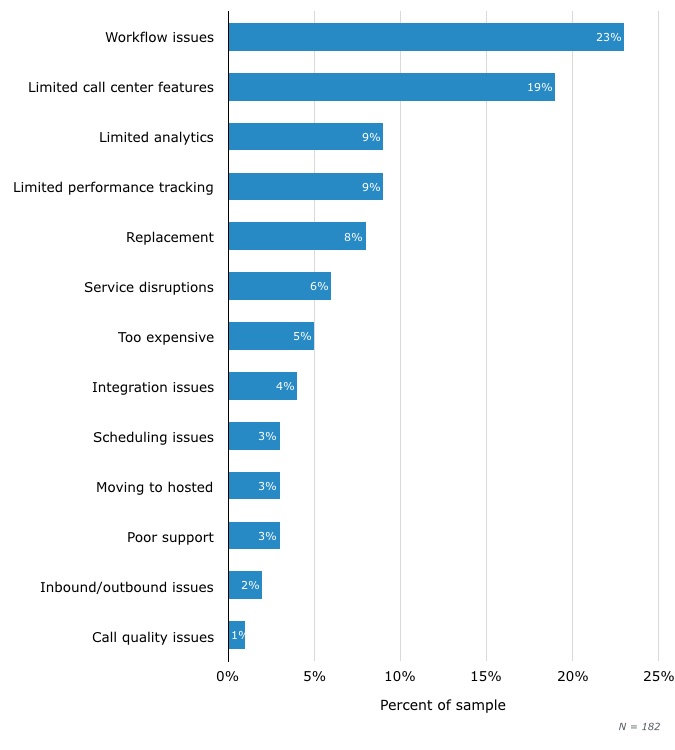 "In the lower end of the market, the clients have begun to expect one thing: the recording piece, as well as analysis of any such recording, has to be there" quotes Rahul Zutshi
If I missed out on any of the prevailing call center performance trends, then do share in the comments section below.
Happy Reading!
Source: http://www.softwareadvice.com/resources/call-center-performance-quality-management-trends/