Microsoft Dynamics 365, an enterprise resource planning (ERP) & Customer Relationship Management platform, committed to enhancing the productivity of customer service organizations has launched its Channel Integration Framework.
Dynamics 365 Channel integration framework is a cloud-to-cloud extensible framework to integrate third-party channel providers with MS Dynamics 365 Unified Interface Apps.
The framework was launched in lines of standardizing seamless integrations with third party channel providers & channel aggregators by exposing a standard set of Javascript API's. We are elated to inform you that Ameyo, a contact center industry leader and one of the biggest players in the Asia Pacific region, is one of the first ISVs from India to support Channel Integration Framework with MS Dynamics 365.  This integration draws synergies from Ameyo's focus on improving the Customer & Agent Experience and a state of the art technology stack of Microsoft Dynamics. It will help Sales and Services teams and contact centers to have context-aware interactions with customers & prospects. It also provides them with easy options to create, update and delete an existing object. A standardized integration now makes it possible to plug and play Ameyo contact center capabilities into MS Dynamics 365 platform.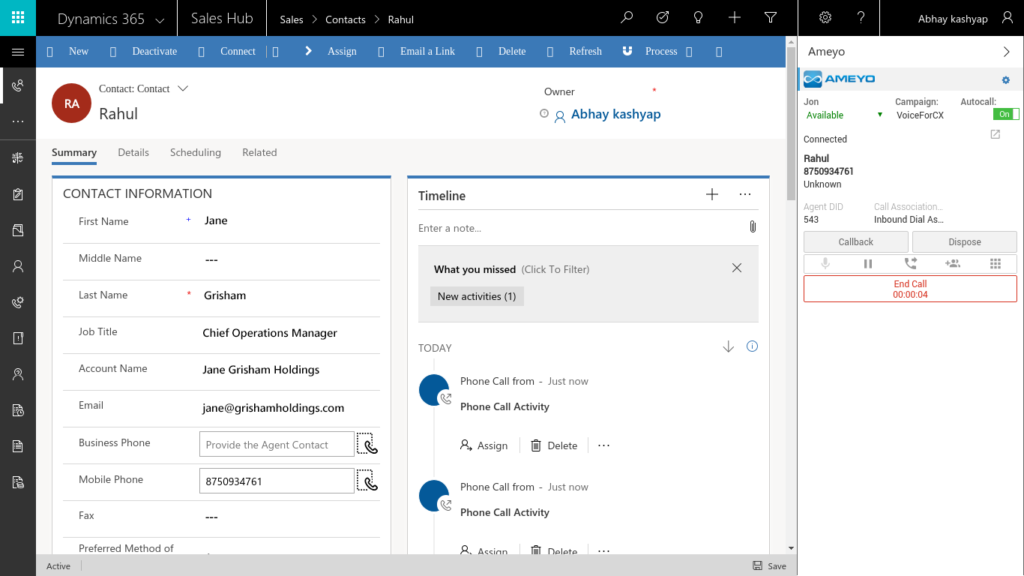 Advantages of the Ameyo-MS Dynamics 365 CIF Enabled Integration
Ameyo and MS Dynamics 365 CIF enabled integration offers following benefits for your business:
Multiple Identity & Access Management
The agents can login by SSO using Dynamics OAuth or use Ameyo Credentials.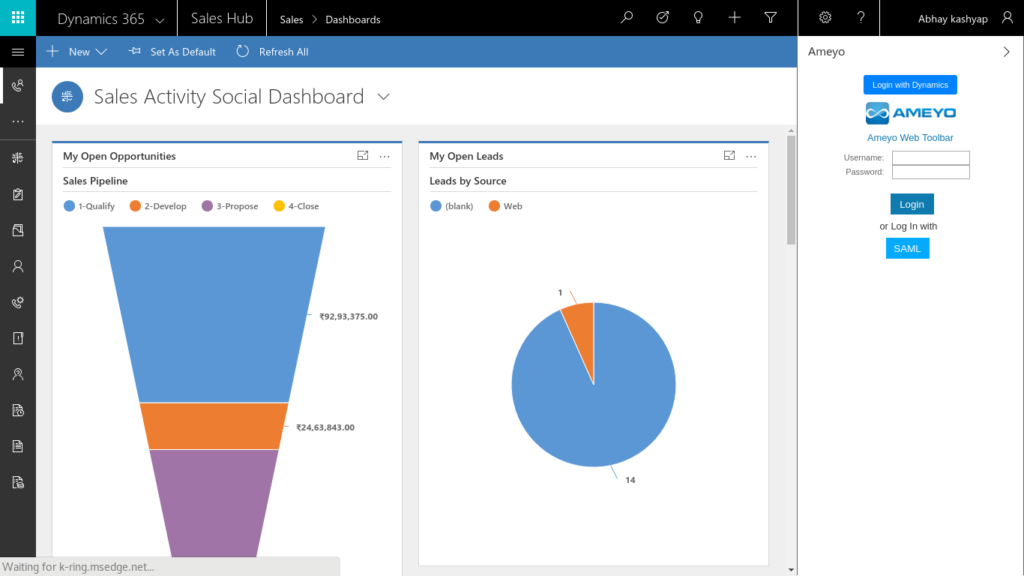 Two-way Synchronization
The framework is extensible for the configuration of communication between Ameyo and Dynamics 365 Unified Interface Apps. The two-way communication enables Agents to have inbound and outbound interactions(Click-to-Call, Bulk Dial) with updated customer information and also seamlessly sync Call Activity data ( Dispositions, Notes, Call Recording Link, Phone call activity association) into MS Dynamics 365.
Faster Time to Market
Seamless development and faster go lives as per your business context and process workflows. One can simply plug and play Ameyo capabilities into Dynamics 365. It is also available on AppSource for quick execution.
Supported by Leading Web Browsers & Operating Systems
Ameyo CIF integration provides flexibility and works seamlessly with Google Chrome and Microsoft Edge browsers.
Ameyo CTI Screen Pop
Ameyo Screen Pop displays customized customer information as per business requirement and aids agents to have contextual interactions with sales & Customer Service hub objects. Screen Pop data can also be easily customized as per Business needs.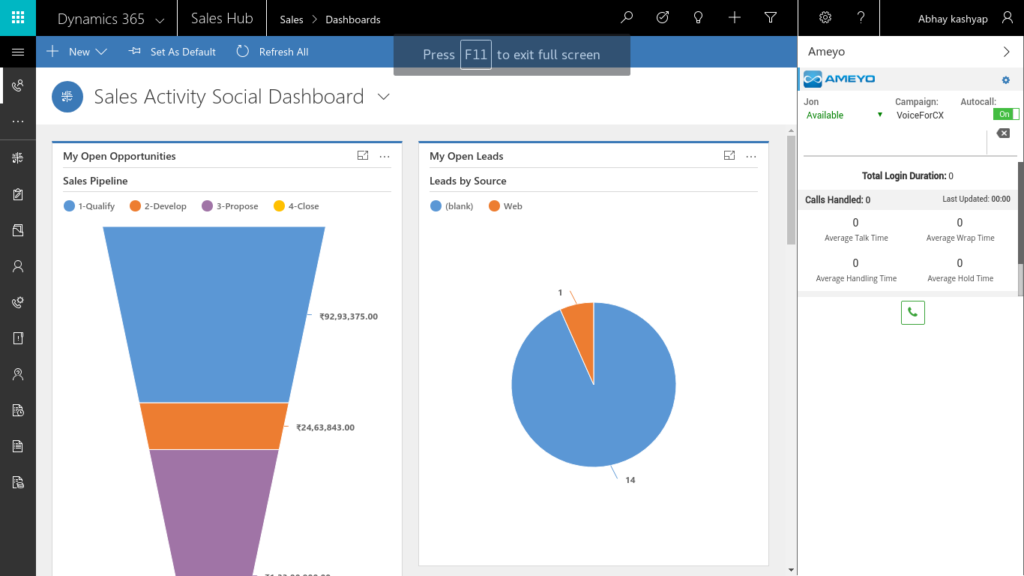 About Ameyo
Ameyo (also known as Drishti-Soft Solutions Pvt Ltd) is an Omni-Channel customer experience platform that helps businesses Connect, Serve and Support their customers across the customer journeys.
Ameyo's flagship solution, Ameyo FusionCX is an industry first in the customer experience market to bring customer service CRM (Customer Intelligence and Case Management) and Omnichannel contact center suite on a single platform. Its Products include Omni Channel Contact Center Software, Self Service across channels including Bots, Customer Intelligence, Analytics and Personalization, Digital Sales, Collections Automation and is available on Premise, Private cloud or Public cloud.
With years of proven experience in the extensively challenging and fast-paced Customer Experience Management domain, Ameyo enjoys a wide range of customers on a global level with over 2000+ customers in 60+ countries across Banks, Financial Services, Telecom, Travel & Tourism, E-commerce, Insurance etc.