Ameyo, the all-in-one call center software developed to upgrade customer experiences at businesses of all sizes and of all verticals across the globe unveils its integration with Freshdesk to redefine customer interactions. Freshdesk cloud call center help desk software allows agents to easily deliver customer service and track issues to resolution.
With Ameyo intelligent routing capability, customers are directed to the best skilled agent by matching each customer interaction with an optimal agent, and Freshdesk enables agents to provide customers with an exceptional experience by  equipping them with everything at their fingertips. This ideal combination allows organizations to deliver excellent customer service cost-effectively with minimal complexity.
The Ameyo Freshdesk integration philosophy is to use a telephony event to trigger one or more actions in Freshdesk. With the embedded capability of Freshdesk, contact centers can enhance customer experience, ticket/case management, and relationship building through:
Automatic Screen-pops: Once an agent answers a customer call, a screen pop is displayed at the agent's desktop comprising relevant information to actively engage with the customer.
Comprehensive Customer Profiles: Agents are empowered with customer intelligence, including voice logs, transcriptions, previous interactions, customer service provided, etc. The agent is allowed to add additional information during or at the end of the call to get more context.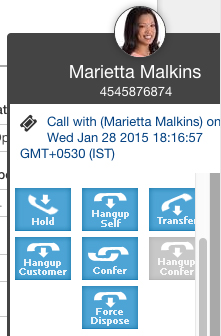 Ticket Management: Once a call is disconnected, Ameyo can automatically create a support ticket with a link to the call records and the transcriptions, and the customer gets an email with the ticket. The agent can opt in to adding more customer information, add the call to an existing ticket or ignore the call. Open, update, and close tickets (priority and status) from a single interface ensures every ticket is handled.
Automatic Synchronization: Ameyo automatically synchronizes customer information with Freshdesk, enabling the agents to search customer information from a single interface rather than swapping multiple systems.
Ameyo Freshdesk integration alleviates agents from hassling with system operations by automating and systemizing the entire process, allowing them to focus on the real thing-Customer Support. The Ameyo- Freshdesk call center software integration brings opportunities to enterprises to leverage new functionalities and capabilities that enable businesses to enhance contact center productivity.