Call centers are possibly the world's toughest work environment, and there might be a few agents and managers that might term it as a living hell. Having to deal with frustrated callers, strict work schedules, penny-pinching management and super-high expectation don't make it easier for them. To work in a call center as a manager can be very stressful, to say the least. As any manager will tell you – call center management is not for the weak hearted! 
Read More: 7 Habits of Highly Successful Call Center Managers
Undoubtedly, life as a call center manager is not easy. There are a number of issues that plague managers challenging them to perform better. Check out the Top 5 and probably the most common challenges call center managers face today.
Challenge #1. Agent Recruitment and Retention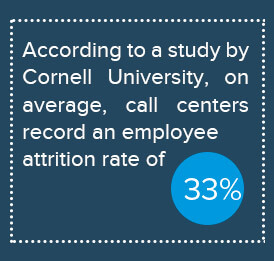 Hiring right agents is always achallenge for call center managers because one wrong selection can compromise customer relationships and experience. Call center managers need to make a list of questions that they should ask while interviewing applicants. But the job of a manager does not end by just building a team of outstanding call center agents, they need to find means of retaining them. Call center agent retention has been a prolonged problem in the industry and call center managers often go to battle in motivating agents and promoting a culture of tenure. Finding quality agents are surprisingly hard these days, and retaining them can be just as difficult. Call center operations suffer due to high agent attrition. Managers constantly train agents to only see them leave after a year. While there is no overnight solution to this issue, motivation has proven to help reduce call center attrition.

Challenge #2. Accurate Reporting and Analytics
Call centers are a mother lode of information, customer data to be more precise. And call centers typically use reporting and analytics tools to crunch data and generate reports that benefit organizational performance. Call center managers are mostly responsible for providing reports on various aspects to other departments. Sales and marketing require reports on outbound sales performance, finance require reports on the operational cost of the call center, and the information technology team want reports on operational performance of the call center. With so many separate reports and systems jumbled together, getting accurate and consistent reporting becomes a colossal problem to call center managers.
Challenge #3. Increasing Customer Expectations
With digital and social channels reshaping customer expectations and increasing business competition has made it harder for call centers to meet customer expectations. And with evolving customer expectation, customer attrition tends to increase. Customers expect immediate service through the channel of their preference.
Challenge #4. Bad Customer Experiences are Magnified
Social media poses threats to call centers when it comes to bad customer experiences. Customers turn to social medias to vent out their frustrations. When a customer is ticked-off, they react in ways that might end up being a social nightmare for companies. Online review sites, Twitter, Facebook, and other instant commentary social media sites can magnify one bad experience to PR nightmare disastrous to the company's reputation. A 140 character tweet (now 280 characters) can be read by thousands in a matter of minutes. Call center managers should train their agents to be social-media savvy to overcome broadcast of bad experience across different medias.
Challenge #5. Workforce Optimization
Accurately forecasting the demand of workforce is critical for call center success. Under-staffing and over-staffing are the two major problems call center managers are looking to tackle. By precisely predicting the number of agents required at a given point of time, call centers can optimize workforce and cost.
The real challenge here is to identify peaks and troughs of inbound call volume and assigning agents accordingly. By analyzing records of call patterns, managers can identify call peaks and troughs and hence increase agent's productivity. During peaks, managers should ensure that enough agents are available to handle customer calls. And at the time of troughs, managers can either reduce the number of agents or allocate idle agents to other productive venues such as making sales or follow-up calls.
A little overwhelming? That's why we've put together the perfect guide for workforce management!

Check out How to make Supervisor's Life Easy with Call Center Monitoring for better insights into call center management.