The future of customer-centric businesses and marketing will be more diverse, inclusive, and connected to the real needs of the customers. Technology continues to advance rapidly, and so of course, most of the recent and advanced trends are focused only on customer engagement. However, there is also a repel against the increased use of digitization and automation of interactions between businesses and consumers. While technologies such as AI and data-driven marketing continue to grow, the overarching focus will be on people, not technology.
Quick Takeaways:
The marketing trends that will dominate in the next 12 months will include Customer Experience, Employee Engagement, and Content Visualization.

As per the reports by Salesforce, 75% of consumers look forward to a consistent experience across multiple engagement channels–social media, mobile, online, in-person, or through the phone. 73% will likely change brands if they don't get it.
World-Class Customer Experience
Every year is the year of the customers as they are the bone of the marketing world. Though, with changing marketing trends, a massive sift can be been in marketing tactics, customers' behavior, preferences, choices, and beliefs. The main focus of marketers is not about convincing people to buy what companies want to sell, but it has moved to provide customers with an outstanding customer experience.
When you focus on building a positive business culture and providing great service, the marketing almost takes care of itself.
What Exactly Makes a Great Customer Engagement?
Engaging customers and building a harmonious relationship with customers is the utmost thing to keep on the checklist for driving good business revenue and driving customer loyalty. As the management experts at Bain and Company point out, a mere 5% boost in customer retention increases profit by 25 percent.

Customer Engagement is the interaction and emotional connection between customers and brands through various communication channels, both online and offline. The main agenda of businesses and brands is to make customers happy and inbuilt a positive attitude towards them.

Here are a few examples of good customer engagement tactics such as a customer receiving an email newsletter about a new product or service release and clicking through to the company's website to see and understand it or a customer calling the support line about returning an item. Or a customer watches a behind-the-scenes video about how a product is made on a company's social page. What sets a business or a brand apart from others' marketing tactics is the personalization element.
There are numerous examples of customer engagement, but the bottom line is this: Businesses that focus on customer engagement prioritize value creation, not revenue extraction. They provide customers something consequential, interactive, and an outstanding end-to-end customer experience to provide real-time customer support. When executed well, a strong customer engagement strategy will help to build strong customer loyalty.
Why Do Customer Engagement Matters?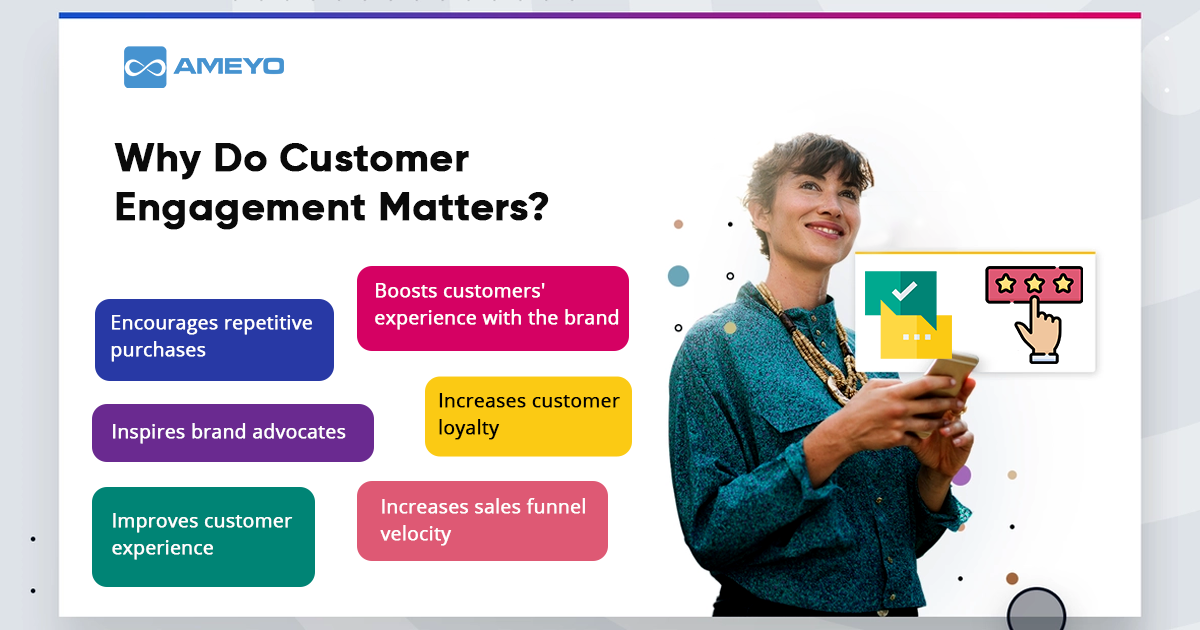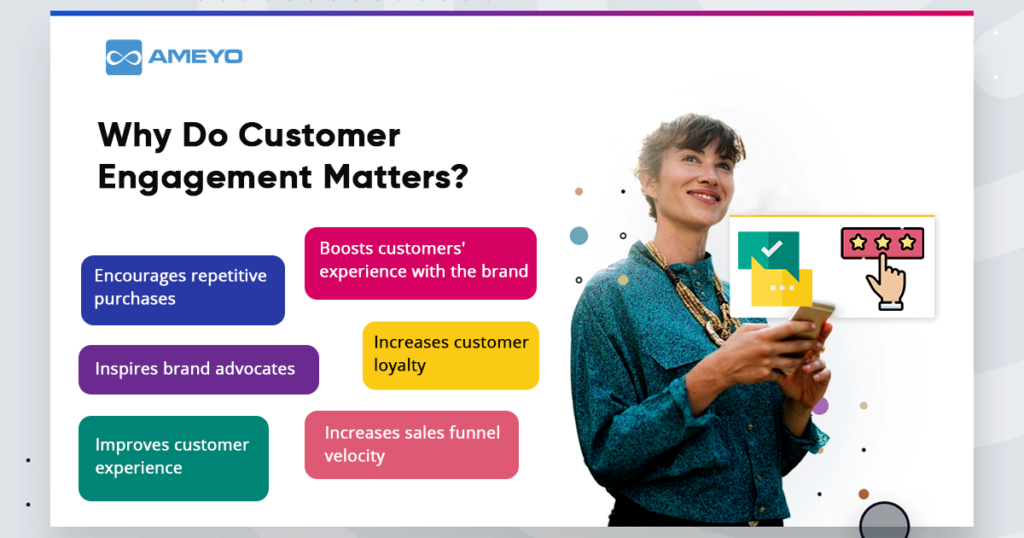 In today's marketing world, there are several ways to engage with customers and foster a good relationship, that provides numerous opportunities for brands to capture consumer attention and get them on board. To help and boost consumer engagement, brands should consistently and effectively connect, interact and work with customers, at every possible opportunity. Brands need to be consistent with the customer engagement strategies, craft brand messaging suitable to the target audience, and create positive end-to-end customer experiences, throughout the entire brand journey.
Customer engagement is one of the major problems for marketers today. Why? The reason is clear, it highlights the entire reason and answers why marketers market: to build and foster a healthy relationship with customers that will ensure customers prioritize you over the competitors, refer you to their family, friends, and colleagues and, keep coming back to you.
In order to acquire, convert, retain customers – and turn them into advocates – brands need to engage and connect with them with good content and marketing strategies in an appropriate, effective, and meaningful way.
Customer engagement is so important for three key reasons:
Encourages repetitive purchases and boosts the brand experience.
Inspires brand advocates and increases customer loyalty.
Improves customer experience and increases sales funnel velocity.
Customer Engagement Strategies to Focus in 2022
The end of the year is a perfect time to look at customer engagement trends we will see in 2022. In this article, we will look in more detail at specific customer engagement trends to look out for.
1. Cloud Platforms
Today's customers are looking for personal relationships instead of transactional relationships with brands. Companies that offer and create a unique and relevant engagement across customers' preferred channels tend to build more strong emotional bonds and drive incredible business growth. One of the major difficulties that businesses come across is determining how to service customers effectively in an environment where customer interaction is continually changing.

On-premise contact center solutions are proved to be inadequate in supporting the new remote working environment. The remote working environment needs a new solution and the answer is the digital age necessitates. Nowadays, businesses are accelerating and adopting modern cloud platforms for agility and adaptiveness
It enables enterprises to run their business in the comfort of their homes during the surge of the COVID-19 outbreak. It allows businesses to 'plug into' infrastructure; with the help of the internet and use computer resources without having to build and maintain them on-premises.
Cloud platforms leverage businesses to contact and connect with consumers quickly and efficiently across various channels, including email, online chat, social media, mobile, SMS, and outbound. Businesses can build enduring relationships with customers, scale across various channels, diverse customer journeys, and millions of customer interactions.
2. Omnichannel
The rise of cloud customer engagement refers to the rise of more advanced technologies and communication channels. But, most importantly omnichannel provides a unified view of data and experience across all channels. Nowadays, customers use various multiple channels ( such as website, social media, phone, in-app, stores, etc) to reach out the businesses for support and expect consistently exceptional experiences every time.
For contact centers, handling various modes of communication and data at scale is a real challenge, while for marketers creating a prudent brand experience across all channels and modalities is a challenge. Luckily due to technological advancements, brands can use cloud customer engagement solutions to overcome these challenges.
Key takeaways:
Identify all modes of communication channels your customers prefer to connect on.
Be active across the channels to engage customers by deploying cloud customer engagement tools like chatbots, live chat, and visual engagement tools.
Offer a smooth and seamless transition among channels and deliver a consistent omnichannel experience.
3. Conversational AI
Artificial Intelligence is the next big thing in today's world that provides personalized experiences and gives both businesses and customers an advantage that enhances engagement. Conversational AI Bot Strategy has become more than a necessity for enterprises that ensure a smooth experience for business partners, employees, and customers alike.
By 2022, AI-powered chatbots are expected to reduce business costs by $8 billion.
– Juniper
Businesses are continuously looking for ways and using AI to assure success in the increasingly competitive business world. Conversational AI platforms (Chatbot and Voicebot) can help businesses provide 24*7 assistance and solve customer queries, generate leads, drive sales and achieve their targets. Forward-looking businesses are using Conversational AI technologies to personalize their interactions with customers.
Key takeaways:
Deploying a chatbot help businesses to engage the users 24×7and collect customer information to deliver a personalized experience.
Scale your AI bots to engage all interactions during peak hours and improve customer satisfaction.
Bots capture customer data and help in creating personalized experiences for the customers as well enable businesses to build better marketing strategies.
4. Video-enabled Contact Center
Video-enabled contact centers help solve customers' problems faster and build more trust by giving a touch and feel of physical presence #BeingMoreHuman. It allows contact center agents to rapidly initiate video-based conversations from any support channel — including voice, email, chat, SMS, and social media. Video-enabled call centers help bridge the gap between an organization and its customers by providing a personalized customer experience and allowing agents to connect with clients face to face and resolve issues quickly.

With video contact center software, businesses can have a real-time exchange of additional information, including non-verbal body language, thus helping your agents reduce the time to address customer queries. Implementation of video supporting technologies in contact centers allows agents to provide an immediate solution or deploy a technician with a video snapshot for an efficient resolution.
Key takeaways:
Deploying a video-enabled contact center helps reduce costs by replacing physical meetings with video interactions
Scale up the efficiency with quality data monitoring and analytics.
Helps to win the customer's trust and foster healthy relationships by humanizing the contact centers.