There is a lot of talk about the impact of digital channels on call centers. Customer Experience leaders worldwide are walking through a maze of technology stacks and putting together pieces of a jigsaw puzzle called Omni Channel Customer Experience, while on the other hand, balancing costs in a business. Contact center technology has been evolving very rapidly, and digital transformation in contact centers has only recently started picking up pace and gaining traction.
"Leave no doubt, customers have the right to be served with least possible touches and effortless query resolution through any channel of their choice"
A compelling argument for such projects to be taken up by customer experience leaders. The same leaders found easy takers within the organization to implement digital transformation projects in contact centers due to a simple logic proven time and again – voice remains the most expensive channel for handling customer queries.
Amidst all the digital euphoria, a few experts have jumped the gun to conclude that voice is on path to slow death. However, the question "What will happen to Voice (as a channel)?", needs an inside-out inquiry and sound logic concluding it is close to death.
Fonolo's well reputed-blog talks about the phenomena in an informative article. It mentions a "Global Contact Center Benchmarking" Report which presents a unique picture of growth digital channels – specifically in last 3 years.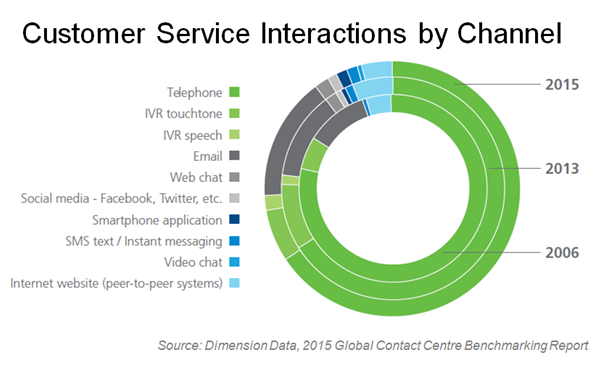 Disclaimer: Dimension Data seems to have removed this report from their repository. I am relying on the Fonolo Blog for authenticity of this data point
Although the data clearly points out the decreasing percentage of voice in the overall scheme of things, it fails to capture the total volume of the interactions to draw definitive conclusions. The article goes on refute the method to reach the number of interactions, and its equivalence across channels.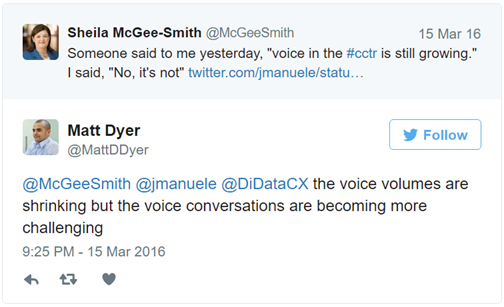 Sheila McGee-Smith, founder of McGee-Smith Analytics, clearly mentions that the number of voice interactions are not growing. However, there is no relevant data to substantiate that the decrease is enough to conclude the Death of Voice.
Something that quickly catches the eye is a huge claim by analyst Matt Dyer – "Voice Conversations are becoming more challenging", which finds a mention in the article. The lack of the data to substantiate this claim led us to conduct a quick survey with the hypothesis – "After implementing Digital Channels, Average Call Handling Time (AHT) for contact centres should increase substantially".
The results were as follows:
70% mentioned increase in AHT after implementing digital channels. Out of 70%, 30% mentioned that AHT increased more than 25%.
20% mentioned "No Visible Change", while the other 10% were not able to share this data.
The findings clearly suggest help us conclude two things:
The AHT increasing suggests that Voice Conversations are becoming increasingly important
Voice will have greater impact on customer experience after implementing digital channels
Apart from Digital Transformation, Customer Experience leaders need to take appropriate steps in agent training and enablement to make sure voice positively contributes to their target NPS.
Visit our page to understand how the right call center software can revolutionize your customer experience