The banking and financial sector in Africa displays a very strange paradox. According to a review by African Development Bank Group- "while Africa's banking environment is relatively shallow and less penetrated, it is as competitive as those in the developing and high income regions." This can be attributed to the banking reforms and privatization of the State control banks the region has witnessed since the mid 90's. Factors like safe banking environment, stronger governance and healthy financial regulations is driving the banking ecosystem in the continent.
At the same time, digital transformation with greater emphasis on online banking and electronic transactions has made banking services more accessible to the people. Domestic banks are compelled to digitize the banking experience in face of the competition from the foreign counterparts. Furthermore, in the last one decade, mobile internet and smartphone usage has incrementally increased in the region. Banking customers have become evolved, are better informed and are demanding exceptional customer service. This theory particularly holds true for the millennial customers, who not only have higher purchasing power, but also want independence over choice of communication channel and transaction options.
With Less To Worry About Stability Of The Banks, Africa's Banking Customer Now Differentiate Banks On Experience – KPMG Report
This is true. As part of economic and development initiative, regulatory authorities across the continent are determined to develop a stronger and stable financial infrastructure. Although, financial stability is still a major concern, with time, customers have developed trust and confidence over the banking system.They have now turned  their focus towards customer service. Therefore, customers demanding high quality service, innovation and banking convenience is a very organic and natural transition. This is despite the fact that traditional system is still the most preferred banking module for the majority of the population.
However, at the same time, there is a growing demand for alternative delivery channels namely netbanking and mobile banking. Banks are now striving to improve customer service as customer experience (CX) is becoming the primary differentiator between banks. Based on personal  experience, customers decide to switch banks or recommend it to their peers and friends.  In face of these trends, building strong customer relationship that is based on quality service and superior experience is taking precedence.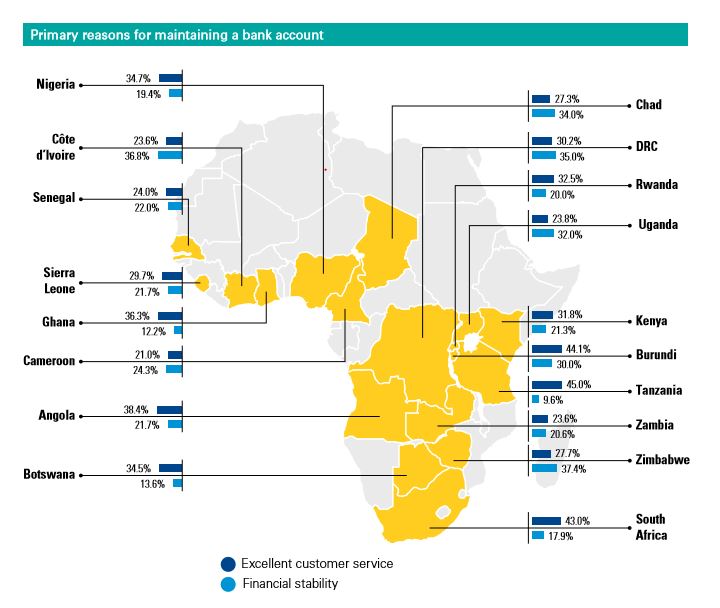 Reimagining Customer Care
The KPMG report further highlights a growing consciousness amongst customer demand for quality customer care. Amongst other things, African customers demand greater contact center service, friendlier staff and knowledgeable agents to handle queries related to product and services. In view of this, banks will have to adopt technology to foster customer interaction. Customer demands faster resolution time, accuracy of information and consistent experience across different channels.
When it comes to customer care, consistency is one of the biggest challenges banks in Africa are are grappling today. There are multiple touch points- web, In-app, chat, email, social media and more. A customer can choose from any of the mentioned touch points to reach the service provider . Although, most banks recognize the relevance of multi-channel communication, they are unable to offer similar customer service across the platform.
For instance, a banking customer calls an XYZ bank to inquire about a loan service. After procuring preliminary information, the patron calls the bank again. However, this time due to a long call wait time, the customer disconnects the call and emails his or her query. Now, the banking system should be progressive and smart enough to merge the two distinct interaction for the same query and offer a quick resolution. This is one use case of consistent customer service.

Omnichannel Customer Experience – The Game Changer 
One of the greater offering of omnichannel customer experience platform is that facilitates the transformation of contact center into engagement hubs. We are already aware that a new brigade of customers dictates how he or she wishes to communicate with the bank, creating a somewhat challenging situation for businesses.
Service providers across the spectrum are beginning to understand the link between customer experience (CX) and business outcomes. And there is no doubt about the fact that contact centers play an incredible role in shaping the customer experience of the organization. Holding to that thought, customers expect the following elements from every contact center interaction –
Context
Effortlessness
Consistency
Empathy
Trust
Proactiveness
Omnichannel contact center solution helps achieve all of the above in the following ways –
1. Offers a 360 Degree View of the Customer
A key element of superior customer experience is fast query handling, especially during live chats or calls. Features like unified desktop and knowledge base allows agents to fetch information quickly. As a result, customers don't have to be kept on hold for long time. All the relevant information can be seen by the agent from a single screen that not only increases agent productivity, at the same time improves customer experience.
2. Empowers Contact Center Agents
"To win the marketplace, you must first win the workplace"- Dough Conant. The phrase aptly brings out the importance or relevance of agent empowerment. Unless the agents or contact center employees have the requisite tools and technology to handle customer service, achieving superior CX is a difficult undertaking. However, with omnichannel contact center software solution, banks can empower their workforce to carry out seamless interaction with the customers. Agents have complete access to data from the CRM as well as the history of previous interaction. All these information makes customer interaction fast and meaningful.
3. Accountability and Reporting
Call center interactions have evolved tremendously. Today, businesses are not only concerned with solving the problems of the today, but are looking for innovative solutions for tomorrow. This is why real-time dashboard that includes complete reporting and analytics make so much sense. With every call, email or chat, contact centers are generating so much data. This material can be used to resolve issues with immediate effect, but will also help in defining long term KPIs and contact center improvement strategies.
Omnichannel software solution is a cost effective and efficient way for organizations to offer unmatched customer experience to their patrons. If you wish to explore more about this platform and understand its key functionalities, join Ameyo at the DOT Finance Summit on 21-22nd Feb 2018 Kigali, Rwanda.