COVID-19 has pushed the call centers to become digitally-enabled hubs. CIOs and CXOs have started to realize that the shift from on-premise call centers to cloud call centers has to be swift with the many capabilities that only a Cloud CC can ensure. As the uncertainty continues, cloud-hosted call centers provide greater flexibility, reliability, scalability, and disaster recovery. The call center agents, at length, have been agile towards elasticity of work from any location and time.
87% of global IT decision-makers agree that the current COVID-19 pandemic will cause organizations to accelerate their migration to the cloud.

– Logic Monitor
Interestingly, brands that relied solely on real-world experiences are now transitioning towards delivering digital experiences. This trend, coupled with cloud call center solutions, has become the best bet for businesses across the globe.
This brings us to the question of setting up a cloud-based call center.
Setting a cloud-based call center for your business is very simple. There are various modes of deployment that you can choose from to fit your business requirements. While cloud call center software can be deployed within hours, choosing the right cloud partner will ensure your customer journey success.
Public Cloud
In a public cloud, the database and applications are owned and managed by the third-party vendor or cloud service provider where you can use instances shared by many other organizations. The services are managed using a web browser.
It is advantageous because it involves a low cost of operations and it does not require maintenance as it is taken care of by your service provider.
Private Cloud is a great fit for E-commerce, BPOs, Telemarketing, Travel & Hospitality, and various other verticals that deal with a large chunk of incoming calls. Along with cost-effectiveness, it is a highly scalable and reliable solution. If your business is visioning to expand its operations, a public cloud allows you to scale without worrying about infrastructural management.
The public cloud services market as a whole is expected to grow by 18.4 percent in 2021.

– Statista
Private Cloud
Public and private clouds may seem to be different modes of deployment but are very similar. What differentiates a private cloud from a public cloud is that while public cloud instances are shared by many businesses, a private cloud is owned by a single business entity.
A private cloud can be hosted at your on-site data center or it can be hosted by a third-party service provider. In this, the hardware and software are dedicated to your organization and the services and infrastructure are maintained on a private network.
Private clouds are a right fit for banks, government bodies, and financial institutions that deal with large data. Private cloud ensures maximum data security unlike public clouds and offers a great level of customization for businesses.
Research suggests that the global private cloud server market size was valued at USD 30.24 billion in 2018 and is expected to grow at a compound annual growth rate (CAGR) of 29.6% from 2019 to 2025.
Hybrid Cloud
A hybrid cloud gives you the best of both worlds. In this, you can choose to store your data and applications on both private and public clouds alike, as your business demands.
For businesses that deal with high volumes of data with lesser security needs and sensitive customer data together, they can use the combination of a private and public cloud. It offers greater flexibility and it remains cost-effective undeniably.
In healthcare, the customer service, appointment booking, and report generation departments work in sync. While the data shared across the report generation domain can be sensitive and critical, data security becomes a prime concern. To minimize the risk of data breaches, a hybrid solution can be implemented that ensures data security while being potential cost savings on other business operations.
Another research suggests the global hybrid cloud market size was valued at $36,138 million in 2017 and is projected to reach $171,926 million by 2025, growing at a CAGR of 21.7% from 2018 to 2025.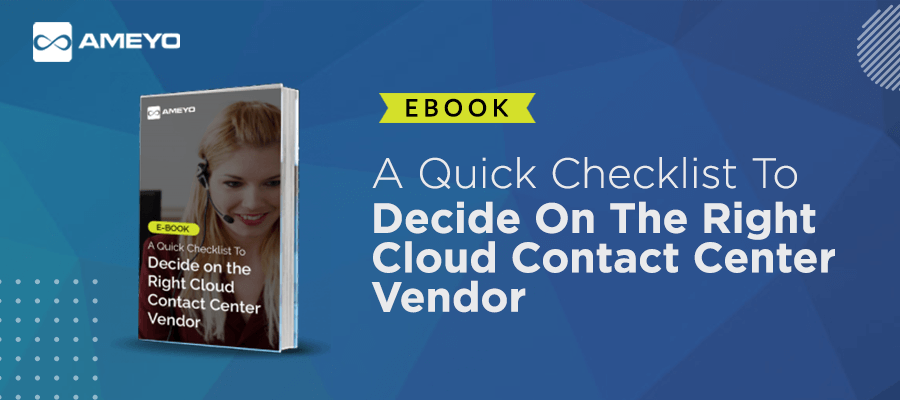 Conclusion
Cloud-based call center are going to disrupt the market in the decade ahead. In addition to being the ROI generator for your business, a cloud call center has manifold benefits of scalability, flexibility, reliability, and high data security. While you are choosing cloud call center software for your business, find this quick checklist handy to decide on the right Cloud Call Center provider.
Looking for a Genesys Alternative? We have the best solution for you.