World's leading B2B and integrated marketing media company, servicing niche markets within the communications and technology industries – TMC (Technology Marketing Corporation) has come out with a Whitepaper to explain why Budgeting for Enterprise Software is a challenge, and why organizations need to focus on creating a Budget.
It can be safely remarked that the proliferation of software has altered the landscape of contact centers and the world at large, in more ways than describable. Likewise, the explosion of Enterprise Software over the past few years is absolutely astonishing.
However, just like any other good thing, it also has lost its essence as it has been produced in abundance, and now the immediate challenge for organizations is to budget for a good Enterprise Software that is great, self sustaining, and doesn't self-destruct within a limited amount of time.
What exactly do we mean by Enterprise Software?
Most of us in the contact center space would have a fair understanding of this terminology. However, TMC puts a rather simple definition. According to TMC, Enterprise computer software is used to satisfy the needs of an entire business rather than solely those of individual users.
In other words, it in an indispensable part of a computer based information system. The primary function of the software is to improve enterprise productivity and efficiency with the use of business logic support functionality.
In the Whitepaper, TMC has defined the major components while deciding to budget for the software, namely they are – Operations Cost (which includes People Cost, Office Infrastructure Costs, and the total cost of sales, marketing, product innovation, strategy and research), pROI, and Maturity Factor.
Here pROI has been described as perceived ROI – the ROI calculated without taking into account the technologic maturity of a solution. On the other hand, Maturity Factor (m) depends upon how mature is the specific Enterprise Software Industry.
Therefore, Budget for Enterprise Software has been defined as given in the formula below: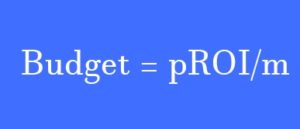 What is the perfect Enterprise Software?
With the help of a pROI use case, TMC takes a stand for emerging mid-sized software company, while choosing an Enterprise computer Software. According to TMC, organizations should go for an emerging, growing and financially sound mid-sized vendor. This way, we will be able to get the customer-centric focus of a small company, combined with the expertise and lack of business risk associated with a large and likely less attentive one.
TMC has further explained their principle saying that we can easily choose to go for the cheaper option. However, with the perceived risk, the absolute return on investment would be much less as compared to the more expensive option. On the other hand, going for the more expensive option would require a considerable investment up-front which may be a challenge for the enterprise even though the perceived risk is negligible. The obvious choice in this case would take best of both options – an emerging mid-sized company.
We at Ameyo are proud to state that TMC has recommended us as the best contact center software among emerging mid-sized Enterprise Software vendors. Furthermore, they have substantiated their choice with the following remarkable facts about Ameyo.
Over the past 3 years, Ameyo has expanded rapidly and gained about 9% market share in the APAC region alone.
Our technology has been appreciated at a global level with honorable mention in 2015 Gartner Magic Quadrant & Frost & Sullivan Best Practices Award 2016.
Ameyo team boasts of 25% strength in R&D – something that helps them develop ingenious products to exceed market expectations.
Our technology stack is futuristic and expandable, and we already have marquee enterprise customers, across industries.
Source: How to Budget for Enterprise Software