Delivering impressive customer service is better said than done, yet organizations are leaving no stone unturned to provide a memorable customer experience by smoothening the customer journey for each individual. One bad experience can have a far-reaching impact on the brand image and hence, organizations cannot afford to compromise on service delivery. 
Providing seamless customer service becomes more challenging with the complexity of merging data from multiple channels and operational systems into a centralized system to give a single unified view of the entire customer journey.
Another challenge in managing multiple customer touch points across channels is when customers transition between channels. It's common that a customer reaches out a brand via multiple channels like phone, email or chat for a single transaction. For customers, it's a single conversation and they get irritated if they have to repeat everything and start from scratch at each interaction point. This might get more complex if multiple agents are interacting with the same customer for the same issue. So it becomes more crucial for brands than ever to manage the customer journey in true omnichannel way.
Implementing an omnichannel contact center solution can be the first step towards delivering 360 degree customer experience and ensuring a smooth customer journey. An omnichannel contact center software helps organization to achieve the followings:
Customer Journey Mapping
An intelligent omnichannel contact center solution maps the entire customer journey to get a complete view of your customer's interactions and preserves the context of interactions throughout the conversation. It also unifies multiple related interactions into one conversation while maintaining the context of customer query. This improves the speed and quality of customer services delivered by the organization.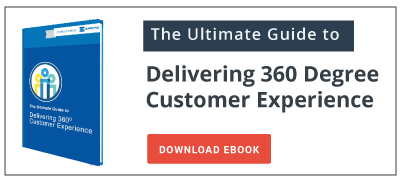 Single Customer View
Organizations using the dynamic omnichannel cloud contact center software track multple customer touchpoints across the journey with a single view of customer data and activities, and arm their agents to fetch customer information with one click while responding to customer queries. Single screen for all the customer related data helps agents to understand the context of customer issues better and enables the agent to deliver personalized service.
Automated Operations
When organizations implement the right omnichannel contact center solution, they can be rest assured of smartly automating operations to ensure continuous conversations across multiple channels. Firstly, organizations can ensure a quick resolution through smartly auto-routing incoming interactions from different channels to the right agent based on various criteria like agent's skill, workload, customer category, priority or persona. Secondly, setting automation rules based on event and time-related triggers can help in automating an action like conversation assignment to an agent, send notification or email, etc.
Let us know what are the other issues you are facing in managing your omnichannel contact center to design smooth customer journey in the comment section below.