There are many definitions of cloud contact center available and today we also define it. A cloud call center is defined as a system to handle customer calls and interactions over the internet. In a cloud setup, the call center agents can work from anywhere in the world, without the restriction of working from their office.
There are a number of cloud call center vendors available in the market today – too much competition. But the question remains – how to choose the best cloud call center solution for your business? In this article, we will briefly discuss the critical cloud contact center features that can make or break the decision.
Flexibility and Scalability
Cloud contact center has to be flexible and scalable. What this essentially means is that as per your business requirements, you should easily be able to add or reduce agents without having to invest heavily in the infrastructure. While looking for a good cloud call center vendor it is important to look into the kind of customer support that they can offer. You do not want to be stuck in a situation where you are facing high call volume and are in the need to expand your agents but the vendor is taking too long. This reflects poorly on your brand image and more importantly the experience of the customer.
One cannot emphasize enough how important an integrated call center software as call centers tend to use multiple software systems. A cloud call center solution that offers out of the box plugins to integrate with leading business tools such as CRMs, ticketing systems, and/or other third-party systems is the one that you should opt for. This one-click integration will go a long way in not just improving your customer experience but also reducing data redundancy. With all the systems working in sync, the callcenter agents will be able to have more qualified and enriching customer interactions. While the supervisors and managers will be able easily able to monitor the performance and make data-driven decisions.
Real-time Remote Monitoring
One of the biggest benefits of cloud call center software is the ability to work from anywhere, anytime. However, while the agents are working from remote locations, the supervisors also need to track their performance and monitor overall operations as well. This requires a solution that allows call center managers to:
Establish IT Governance: Identify any gaps in the health of agents' device to know if the agent's device is working properly using the device management report and rectify the issue.
Call Quality Monitoring: The supervisor can barge, snoop, confer, and takeover a call to ensure conversation quality standards are being met.
Agent Performance Tracking: Monitor available agents, number of calls being handled by the agents, wait time, number of customers in the queue, etc. to make effective decisions.
Omnichannel Communication
Even though buying a cloud call center is way more cost-effective than an on-premise call center setup, it is still an investment, and who does not want to maximize their ROI. Thus, while choosing a cloud call centre solution, go for the one that has the provision to add communication channels. You might start off with say, only call, email, and chat but might need to add WhatsApp, Facebook, Twitter, or Google's business messages in the future as your customer base grows and you look to serve them on their most preferred channel. So, having an omnichannel call center software or one that has the option of adding new channels is your best best for a futuristic technology partner.
Since the agents are working virtually instead of working out of an office, team collaboration becomes more important. Look for a cloud call center solution that offers team collaboration tools as an internal chat among agents and supervisors, message broadcasting by the supervisor, knowledge base, or an internal portal to encourage tribe learning – wherein more experienced employees can help newer ones. Additionally, having onboarding training can also be helpful in getting everyone on the same page, especially new hires.
Choosing the Best Cloud Call Center Software
The competition is stiff when it comes to different cloud call center solutions available in the market. Enterprises need to be careful while making the purchasing decision. After all, cloud-based call center software has the potential to take your customer experience to new heights.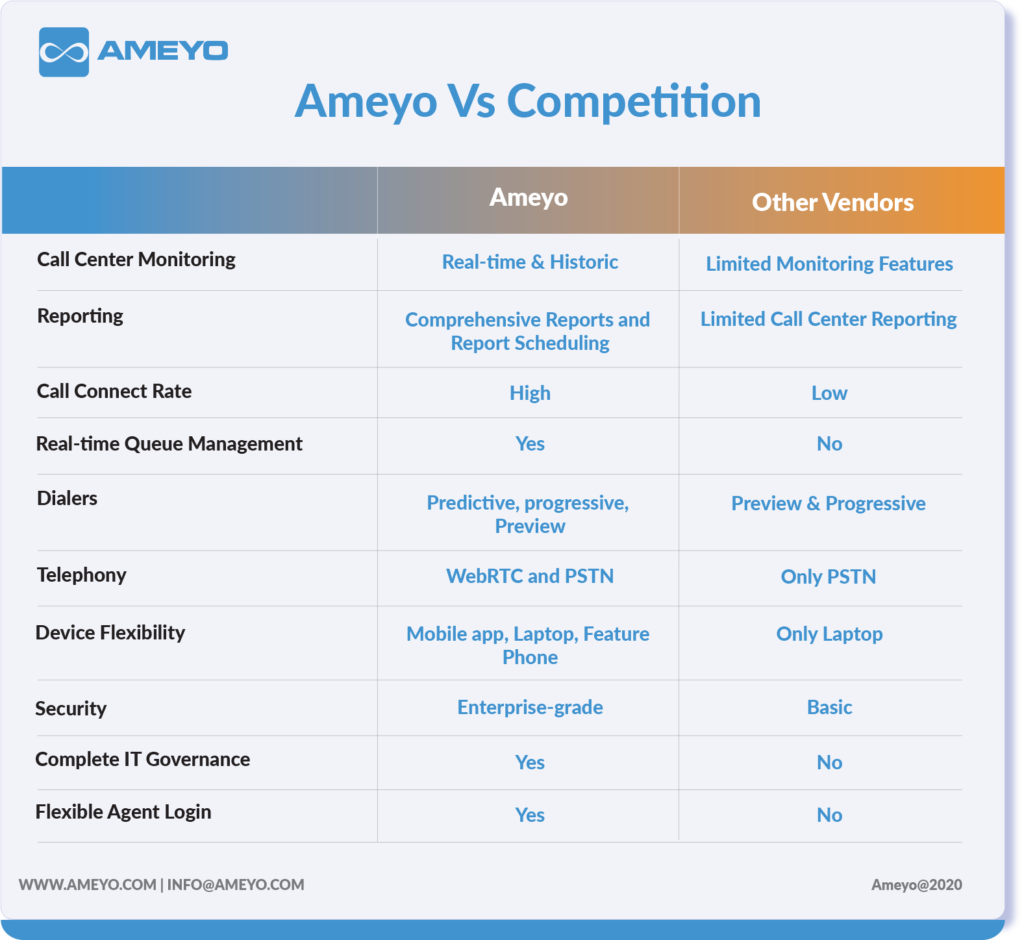 Businesses need an agile solution, backed by the support of a great technology vendor that helps them to boost performance, provide omnichannel support and engagement, real-time dashboards, and comprehensive analytics to successfully support customers and build a strong base of loyal customers.