A customer support system provides companies with the right technological infrastructure to optimize and automate customer interactions at scale. As a result, they streamline multi-channel interactions and help drive a more customer-centric engagement model for all enterprises.

A robust customer support ecosystem must incorporate best practices in leveraging the right technology and the right strategies in managing customer relationships. As a result, teams are empowered to make the right decisions while customers experience highly engaging and personalized interactions.
In the post-pandemic world, nearly 57% of customers are ranking call support as their primary preference for communication with companies. That is why enterprises seek the right integrated customer support system to drive better performance across key metrics. Revenue, retention, acquisition, and growth can be significantly impacted when the right customer support solution is leveraged with the right features.
Companies can improve their top-line revenue by around 10% when onboarding the right contact center system.
– Mckinsey
The Strategic Importance of Customer Support Systems in the Enterprises
There are several critical reasons behind the importance of customer support systems in enterprises, namely –
Greater transparency within customer management – As we move towards a more remote and digitized world, organizations need greater transparency when engaging with customers at scale. The pandemic has demonstrated the need for managers to have real-time access to any interaction at any time.
Improved efficiency of customer engagement teams – The dedicated interaction tools made available to customer service agents empowers them to make the right decisions at the right time. This significantly improves their productivity, enabling customer engagement to emerge as a profit center.
Optimization of the customer journey – A key benefit of adopting AI-based customer support solutions is the mapping and optimization of a customer's complete journey. This truly facilitates the development of an omnichannel presence for customers.
Seamless synchronization of conversations – A singular customer support solution ensures that all conversations with customers can be mapped and shared with relevant agents at any time. Cloud solutions also provide anytime access, which is key for real-time problem-solving.

Smarter management of ticketing – A customer support ticketing system is adept at managing large volumes of customer conversations with ease. Automated assignment and optimized resolution workflows also significantly improve customer satisfaction with service levels.
Customer Support System: Must-have Features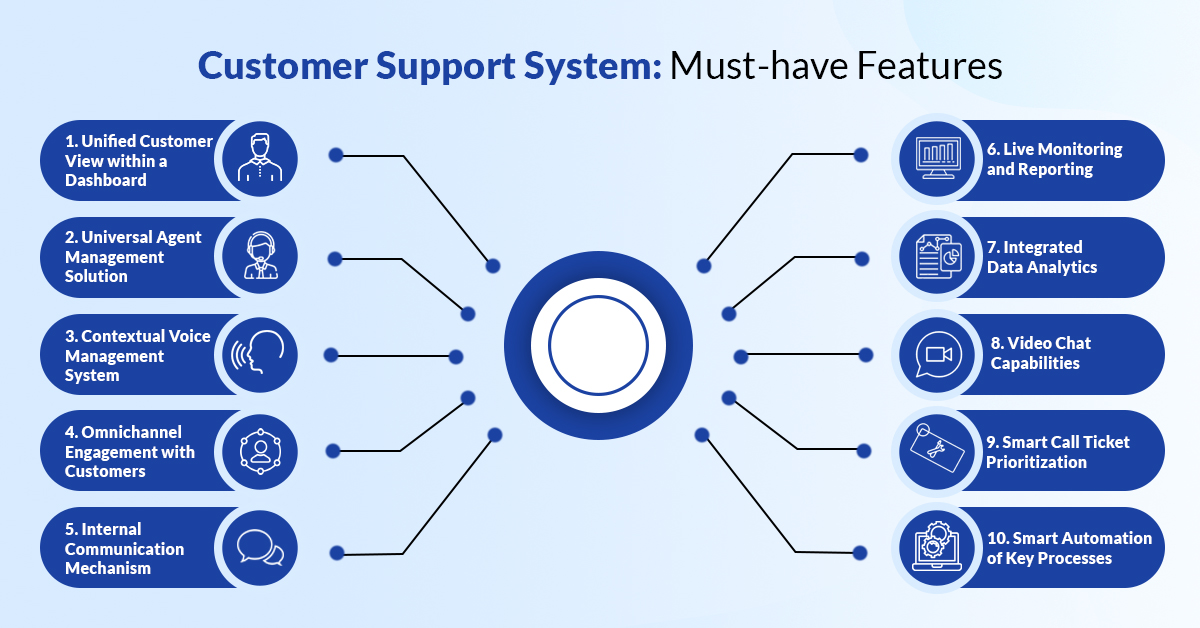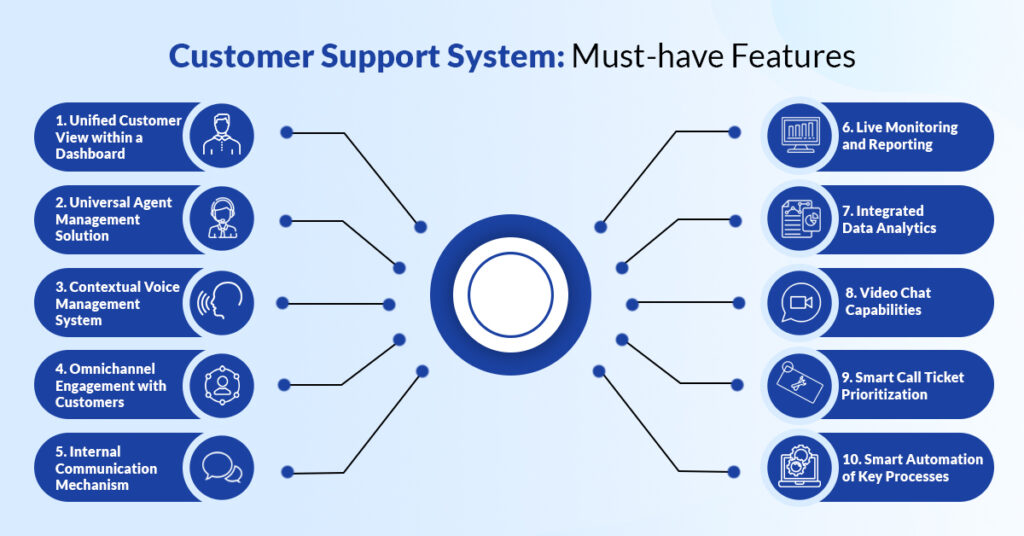 Let us further explore the 10 must-have features that all customer support systems must offer to enterprises–
1. Unified Customer View within a Dashboard
A vital must-have feature that all customer support platforms must offer is a unified view of all customer insights. This is key to expedited identification of incoming callers and the empowerment of outbound sales agents that are engaging with leads at scale.
2. Universal Agent Management Solution
A top customer support management system must have a universal agent management system to track live calls, analyze agent performance, review irate calls, etc. In addition, the platform should allow for seamless management of teams across sites within the universal management solution.
3. Contextual Voice Management System
Having a complete record of all inbound and outbound calls is a critical feature that customer support systems must offer. Solutions should also provide analytics insights about call data while providing a cyber secure centralized management system for all voice information.
4. Omnichannel Engagement with Customers
Robust customer support systems provide multiple ways for customers to interact with businesses, allowing for contextually rich engagement across platforms. With self-servicing being a preferred first mode of interaction for nearly 66% of customers, tracking data across channels for journey optimization is important.
5. Internal Communication Mechanism
A robust customer support solution must have an internal communication platform for managers, teams, and external vendors to interact with. Key live queries, clarifications, and information requests can be shared on the internal platform, which can be reviewed regularly for optimizing training and recruitment.
6. Live Monitoring and Reporting
A critical feature that customer support systems need to offer businesses is the live monitoring of all calls, both inbound and outbound, as well as real-time insights on call outcomes. Reporting mechanisms should also be available to provide frequent metrics information across all channels.
7. Integrated Data Analytics
The right data analytics solution can radically transform how enterprises engage with customers at scale. Key insights on team performance, customer sentiment analysis, retention, and other critical parameters can be generated when using the right customer support system. While only around 37% of enterprises are using advanced analytics to generate value, there is significant scope in scaling analytics through better customer support data.
8. Video Chat Capabilities
Video chatting capabilities via app or platform are critical to optimizing customer interactions, especially for high-value interactions, such as banking, and technical engagements. Instant video calling facilities also improve the quality of interactions, which significantly impacts customer onboarding, issue resolution, retention, etc.
9. Smart Call Ticket Prioritization
By prioritizing all calls within a single dashboard, teams can escalate specific conversations, route them to other teams, or prepare resolution pathways for niche queries. Ticketing prioritization is a critical solution that must be present within all customer support ticketing systems.
10. Smart Automation of Key Processes
Automation capabilities can transform customer interactions while resolving queries at a rapid pace intelligently. Customer support solutions must enable managers to create automation rules for interactions, with smart routing, insight mapping, call analytics, and ready reporting.
Wrapping up..
Customer support systems allow enterprises to manage multiple customer conversations easily. They also help drive a culture of innovation within customer relationship management, through team empowerment and simplified access to caller insights. Therefore, firms must ensure that these 10 features are available as core offerings when reviewing scalable customer support systems.
Ready to transform your customer support strategy? Request demo now.