With the changing customer behavior, the contact centers have evolved over the years and the growing need for faster deployment, flexibility, and scalability are the important factors for businesses to choose a solution that fits their needs. The contact center software providers, in the post-COVID era, are not limited to providing solutions that help businesses to provide just the support for their customers, but with the advancement of the technology, most companies are inclined towards a contact center software that offers the flexibility to work from home, office or for that matter with no location constraints.
After the pandemic hit the world, the initial step for businesses to deploy a temporary solution that helped them continue serving their customers remotely, but as the situation is not starting to ease, businesses are realizing that WFH will stay and continue to dominate the market with its presence. The comfort that remote work environments bring for the people is reshaping the future gradually where flexible work arrangements are becoming the norm.
To successfully scale your business and take full control of your contact center operations, you need a remote contact center. Businesses often make a mistake of taking a cloud contact center as an equivalent of a remote contact center but in a cloud-based contact center software, remote monitoring is a challenge along with additional challenges of operating with multiple devices. To battle the physically distant new normal, businesses are significantly moving from a traditional cloud contact center to a remote contact center software that is more agile, flexible and has an end-to-end monitoring system, permitting the businesses to completely rely on the software they choose.
While a traditional cloud contact center is limited to providing basic inbound and outbound contact center features, a remote contact center tops all of the enterprise-grade features with an added advantage of work from anywhere flexibility.

How Remote Contact Center Software is Different?
Remote contact centers are the future of the world because, in a remote contact center, businesses do not have to rely on laptops only to function remotely and it provides the ability to monitor end-to-end network performance, ensuring that businesses do not lose on the productivity while adopting work from anywhere model.
Choose your own Device
For most businesses, what turned out to be an onslaught challenge of arranging remote infrastructure to their employees has now become the new normal. Your agents can choose to work remotely without any device barrier. They can work using a laptop or smartphone as business as usual with a no-compromise work productivity environment.
With work from anywhere, businesses get the flexibility to work within the mobile agent app and perform all contact center functions with ease.
Device & Network Monitoring
Remote contact center software allows you to monitor the devices remotely and helps you identify the reason for low productivity with a comprehensive device management report. With 15 unique parameters, you can check the unsupportive devices, low internet connectivity, or poor signal as the agents will be using their personal devices, it is important to take necessary security measures.
In case of low talk time, low app bandwidth, and bad call quality reported, managers and supervisors can monitor the productivity of agents and establish a high trust environment in their team.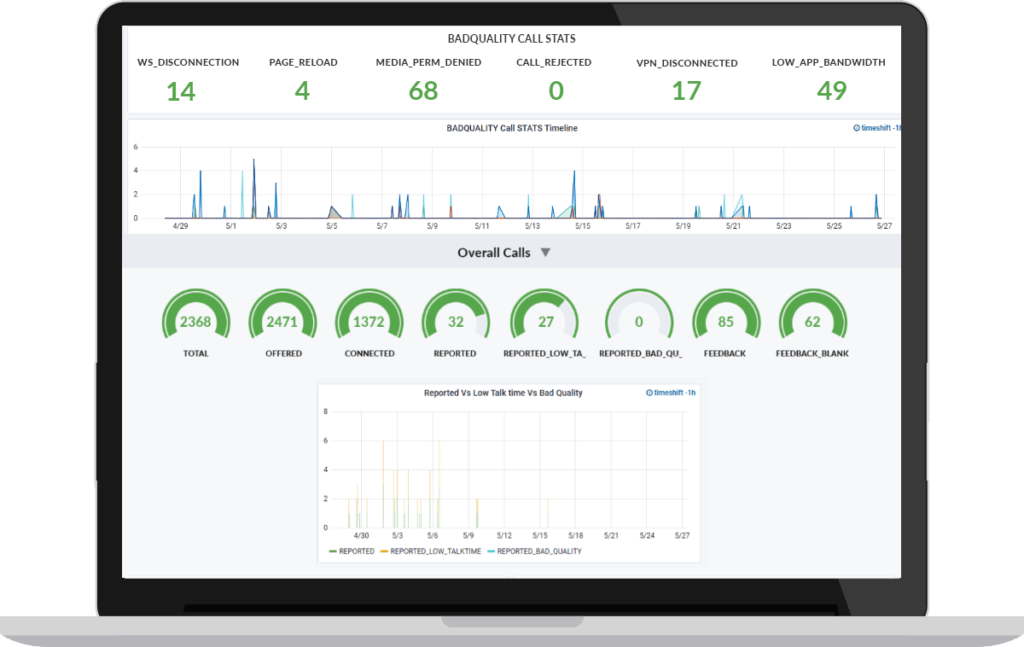 360 Degree Management View
In a remote working environment, you get full control of your contact center operations and get a unified view of remote agents irrespective of their work location of device usage. Supervisors can monitor agents' productivity in real-time and get a holistic view of all the activities with a comprehensive monitoring view.
Additionally, managers get access to granular reports of call quality, average handling time, and campaign performance to draw actionable insights and manage resource allocation in real-time in case of a heavy call flow.
On-Call Assistance and Team Collaboration
Working virtually has its own challenges but team collaboration does not have to be one of them. Supervisors can create a remote work environment by being present for their agents whenever they need it. If an agent is stuck with a customer query, to resolve it faster, supervisors can snoop, whisper, and confer to increase first contact resolution.
Furthermore, agents can communicate internally and provide the required information to each other using an internal chat option. Supervisors, if needed, can also broadcast messages to their teams to send out an important communication.
Enhanced User Experience
Remote contact center software is highly flexible and it enhances user productivity by manifolds. Agents can choose to log in from any device, any browser, any environment and they will get all enterprise-grade features in smartphones and laptops alike. Agents get access to a unified interface, allowing them to retrieve all customer information in one place which results in better productivity and reduced call handling time.

With end-to-end monitoring capabilities, remote contact centers are here to stay and will become a major disruption for businesses. As contact centers are the last line of human to human interaction in a physically distant world, it provides a huge opportunity for contact center functions to drive sales, service, and collections along with the customer support remotely.
(Also Read: How to set up a Virtual Contact Center in for Remote Agents in Post-COVID Era?)