At the moment, the world is pretty piqued about AI or artificial intelligence. From tech giants like Google, Microsoft, Amazon and Facebook to start-up incubators tucked away in the suburban areas of San Francisco, everyone is dedicating their time and resources to develop future ready AI products. These innovations (both hardware and software) are expected to change the way we conduct business, operation, and what not.

However, despite all the buzz and interest, the cloud of doubts over AI technology and its usage in the business world is still unclear. Take, for instance, contact center performance. In recent times, a lot has been written and spoken about the overhauling impact of AI on contact centers.
A recent Gartner study predicts that by 2020, nearly 85% of customer interactions will not be through humans.
As a result, the call centers of the future shall be more efficient, high on performance and predictive.
VCAs, or virtual customer assistants will be able to predict customer queries and provide them a tailor-made solution. In a nutshell, the technology will not only improve customer experience but the early adopters will have a definitive advantage over their competitors. Sounds great!
Although promising, contact center owners and managers have many impending questions. This is because even though AI is evolving, it is still a nascent technology. Therefore, the attempt of this piece is to cast away the doubts for the following questions –
How will the contact centers be able to predict customer queries in advance?
Will the customer interactions with the VCAs be accurate?
What about cost savings?
To adeptly answer these questions, it is imperative to get a brief understanding about AI and how the technology will be used or implemented at every step of contact center communication.
Artificial Intelligence (AI): A Quick Glance
In the context of contact centers, AI shall augment at three levels. These are summarized as under –
1. Predicting Queries
Thanks to big data, bots will be able to predict and analyze questions based on past activities of the customer.
2. Efficient Communications
In the age of conversational AI, chatbots or VCAs will be able to perform instant query handling irrespective of the time and location.
3. Automating Operations
Wherever applicable, AI will be able to automate operations. For example, following up with customers is a very crucial part of customer experience which the AI will be able to prioritize and perform.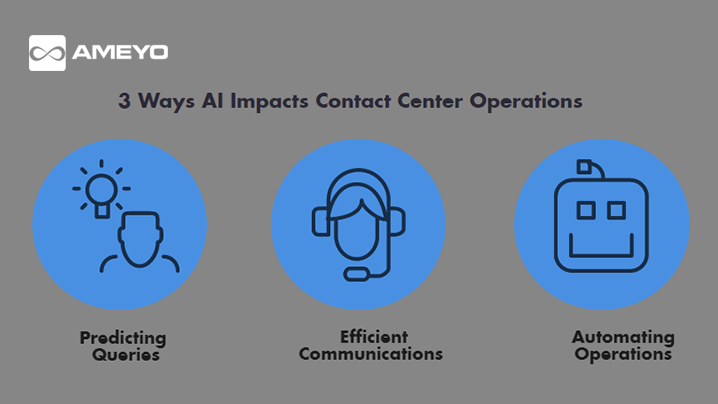 The three factors combined together will make contact centers efficient and at the same time guarantee customer satisfaction as they no longer have to go through redundant IVR system.
The Driving Force Behind AI
Wondering, how AI will be able to perform these awesome tasks? This is possible through a combination of narrow AI or non sentient artificial intelligence. Siri is the best example to understand narrow AI that relies on predefined feeds as it is not thinking software. Inferring from that, the contact center software driven by AI will be based on the following components:

Big Data + Natural Language Processing + Machine learning = Smart & Predictive Contact Center Software
With time, customer expectations have escalated. A caller expects the contact center agent to know who they are, what their past relation with the company was, and why exactly they are reaching out for help. These trends are already prevalent; however with the help of big data, call centers will be a step ahead.
Imagine a customer calling a contact center for a particular issue s/he is facing with a product or service. The customer's past history indicates that s/he has never contacted the contact center before suggesting it is a dire strait situation.
Now the magic begins. The pre-defined range of the software will enable it to prioritize the call and quickly address the customer's call, thereby improving customer experience. This is just one example of AI implementation in contact centers. The multi-faceted technology will facilitate the improvement of key performance indicators in a call center in various ways and formats.
The contemporary world is driven by big data. A user's activity on the internet is constantly recorded. This translates into a "gold mine" of information that includes user behavior, customer persona, user preference and location. All this information can be used to deliver stellar inbound call center metrics.
Therefore, the predictive nature of contact center software propelled by AI will is expected to be advanced and sophisticated.
Last year, Taco bell, a popular American fast food joint introduced Tacobot for its users. Built on AI, Tacobot is a messaging app on Slack where customers can place their orders. The bot is an intelligent assistant that recommends menus, answers questions, organizes and groups orders.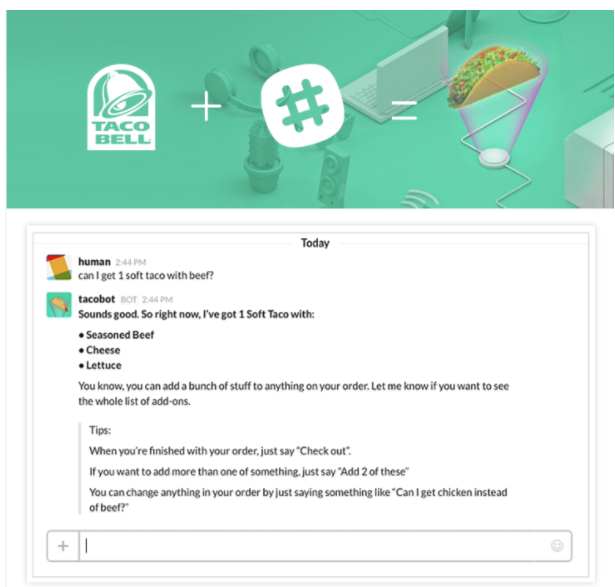 Tacobot is a fine example of leveraging AI technology and using virtual assistant to interface with customers. The messaging app is very popular and has worked well for the fast food brand. However, this is just step one.
Amazon Alexa has changed the game of deploying Natural Language Processing (NLP) in a big way. This has opened up a window of opportunity for the developer community and product innovators from around the world to make speech recognition and NLP technology more sophisticated and powerful.
Owing to NLP, virtual assistants are expected to be more accurate, efficient and will be able to understand and assist in a very logical and natural manner.
AI : A Primary Cost Saving Tool for Enterprises
One thing is certain, AI, in particular chatbots conversations will save businesses and corporates billions of dollars.
According to Juniper Research, chatbots will save the banking and healthcare sector nearly $ 8 billion by 2022!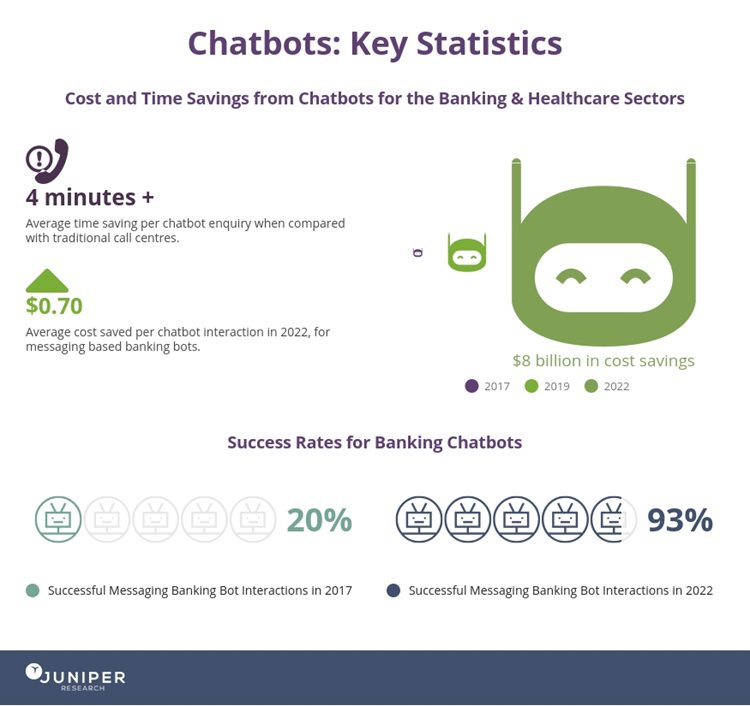 Customer service chabots will be able to carry out fluid conversation with customers. Besides that, it will be technologically advanced enough to automate tasks. For example, a customer's visits a travel website and requests for an itinerary for a particular cruise liner, the bot will immediately register the request and send the attachment on mail or any other channel of communication instantly. This is a very primary example of automation. The possibilities are endless, and in every industry, the level of automation will vary.
To summarize our discussion, the scope of AI in the coming decade will be huge. Big enterprises are already routing towards it. But this will not undermine the role of humans. Consider the example of Hawk eye, an advanced and complex computer system that tracks the trajectory of the ball in a Live tennis or cricket match.
Despite the technology being around for a while, the jobs or role of line umpire or cricket umpire in a live match has not ceased. In fact, the combination of human and technology will make contact centers in a decade more scalable, efficient and high performing.
Looking for smart and AI driven Contact center software? Ameyo Fusion CX is empowering businesses to understand their customers, foster accountability and commission agents with an integrated knowledge base that will transform customer experience like never before.