Customer Service Chatbot Integration
Quick and seamless integration with your existing chatbot system to foster omnichannel customer experience.
Deploy Across Chat Channels
Facilitating chatbot across chat channels including web chat, mobile apps, and social messaging applications helps to deliver quick customer service. Messaging applications have a vast user base and customers prefer brands which are accessible through these channels. Chatbot integration with 
Ameyo Fusion CX
 helps businesses to tap these chat channels to offer easy and instant service by deploying customer service chatbot across messaging applications like Facebook Messenger, Twitter, Viber, LINE, and Wechat.
Smooth Handover To Live Agent
There would be times when customer interactions and queries cannot be resolved by the chatbot and would require human assistance. This is where Ameyo comes into the picture. When the customer service chatbot is not able to cater to the customer's question, Ameyo handovers the conversation to a live agent, who can then either continue the chat with the customer via the current messaging platform or take it over to the voice channel by initiating a callback to the customer.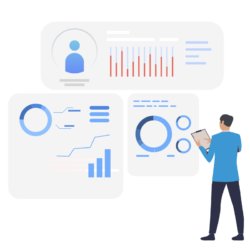 Unified Reporting
For an omnichannel communication system to work, unified reporting is a must. Ameyo offers unified reporting dashboards with real-time data to support seamless chatbot integration and expedite customer query resolution as it helps to identify customer service gaps swiftly. Unified reporting provides insights into the customer journey across the channels in one go and empower agents to understand customer preferences for delivering better support.