Businesses need a straightforward metrics-driven framework to run effectively. Clarity on what is happening on the floor and what actionable are pending to be taken helps create a productive plan of action. Operation heads need a quantitative structure that helps them stay proactive and plan a step ahead of demands. They need regular notifications/alerts, customizable dashboards, automated indicators for SLAs and dashboards clearly stating what matters to the business, to stay ahead of what next is to come there way.
To guide the behavior of Contact Centers, Ameyo Call Center Software has augmented its Product offerings with some new features in its latest product release. To prevent our users from getting overwhelmed in the time of high traffic and to help them strategize their approach to handle the call spikes, Ameyo has come up with the following features:
Put the Maximum Agent Potential to your Benefit
Why
Operational managers demand control on agents call-related activities and the time taken by them in handling calls, wrapping calls and after call work activities like filling up the CRM or taking some notes. ACW is more important when the agent is having a conversation with the customer and filling the CRM/forms. In case of not connected calls, the agent will be only capturing the outcome of the call which can be RNR(Ringing No Response), call notes, etc. This is the minimalistic work which agents will be performing in case of Not Connected calls. The track of these aspects and a way to manage and configure timelines for each activity can help supervisors save time and costs.
Usecase
Michael heads the sales operations of Mark Life Insurance. He often finds it difficult to track the productivity of agents working on the floor. In the peak traffic hours, it gets all the more problematic as to restrain the agents from sitting idle and to drive maximum potential from the agents. This is taking a toll as he wants to increase his profits and he is not able to cut on the operational costs.
How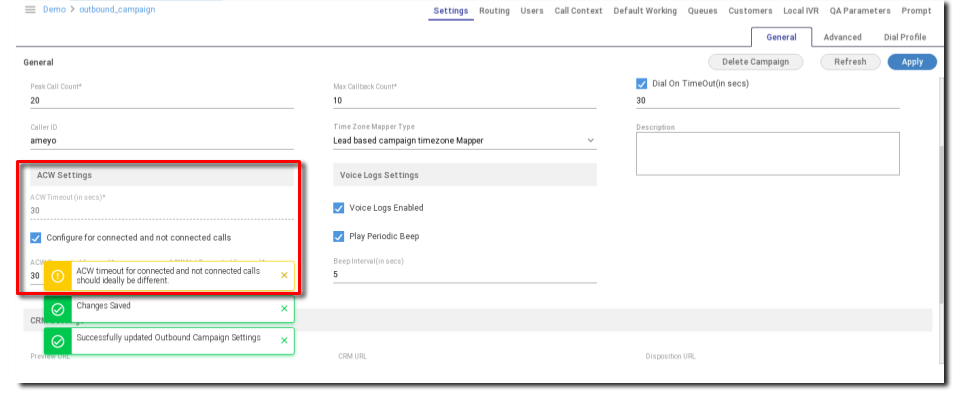 To aid Supervisors like Michael in keeping control of the amount of time agents spent completing after-call work. i.e. keying disposition codes, updating customer databases, filling out forms, etc, there are configurations in Ameyo Call center Software to set an optimal ACW timeout for the connected and not connected calls to ensure that the agents are continuously getting the calls and they are able to perform ACW within the provided time.
Stay Updated, Stay Informed
Why
Staying on top of everything in real-time needs automated alerts and notifications for agents and supervisors. Automated updates help in keeping a track of activities and lets you prioritize the tasks in hand. Moreover, businesses need configurable thresholds for the various KPIs past which the supervisor or agent should get notified as the same values can't fit in all the situations.
Usecase
Ron is working with the Customer Support Team of an E-commerce Company. He is finding it difficult to keep a check on the time he spends on the various activities he does while handling a call. At times he takes too long to find information while the customer is on hold, the other time he is not aware of how long he has been on a call and the other customers waiting in the queue are turned back. His operation manager is not able to control the things as in absence of the configurations to identify the breach of hold time or call duration time in real-time, he is clueless on the real-time updates.
How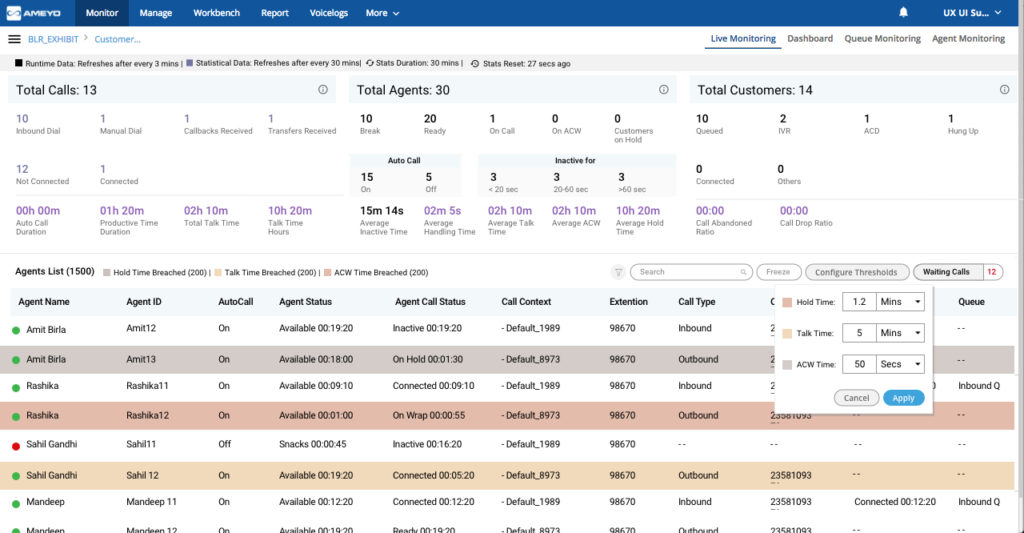 To ensure agents like Ron stay on alert, with Ameyo they would get notifications for the threshold breaches for critical metrics like ACW time, Hold time and Call Duration on their workbench. This would help them prioritize their to-do list and take timely actions. Adding on to that, the threshold would be configurable from the supervisor panel along with visually segregated color themes for easy identification of the levels exceeding the thresholds.
Follow-up Calls are no more a burden
Why
Agents need the flexibility to reschedule/delete the callbacks at their will as at times the follow-up response to customer conversation is handled through other media channels or the agent is himself/herself unavailable to take calls. In such scenarios, supervisors also need real-time updates on such agent activities.
Usecase
Mary works as a customer service personnel with a healthcare organization. She has lined up a few callbacks for the next day but has come up with an unplanned leave for the next day. Now she is finding it difficult to close her pending callbacks and conversations even if she replies through emails, she has to delete the scheduled callback or reschedule it. Her boss Joan also needs updates on the callbacks canceled by her to check the status of her work.
How
Mary can get benefitted from rescheduling/delete option for Callbacks available in Ameyo Agent Workbench. Agents can fetch the Callbacks in the Call Details section for a particular period and can go ahead at altering the same according to their will with a reason to justify their action and it would be updated to their supervisors via notifications.
Quality Analysis Made Easier
Why
With numerous calls at the hand, Operational heads or Quality Analysts in contact centers look for easy call center quality monitoring identifications and filters to discern scored/unscored calls.
Usecase
Henna is a Quality Analyst working with a BPO handling the support process for a Consumer Tech Company. On a daily basis, she has hundreds of calls to monitor, analyze and score to maintain standards for quality assurance. On every other day, she gets overwhelmed with her work while identifying the unscored calls out of the list and then analyzing them was tedious in absence of proper filters.
How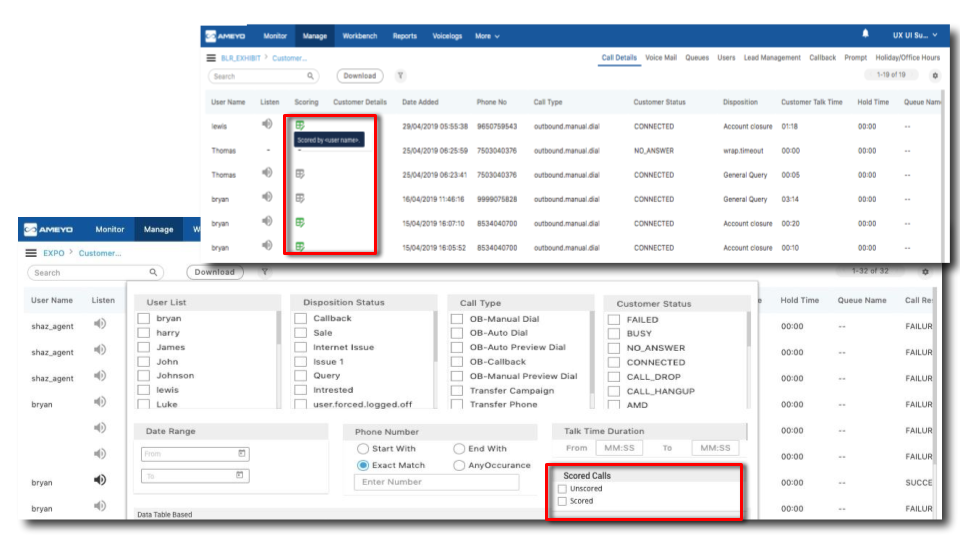 Supervisors/Analysts on the Ameyo platform would now be able to filter and view scored/unscored calls using the Color-Coded Quality Assessment Views. This would enrich the Quality assessment process as VoiceLog Archiver and Call details page both would display the name of the last user who has scored a particular call along with color-coding for easier identification.

The Supervisors find it hard to manage and monitor things in real-time in the absence of powerful call center dashboards and flexible agent management solution. They need call center management software to analyze their traffic at hand along with intelligent visual dashboards to quickly identify the alarming SLAs and KPIs. Ameyo's effective Call Center Software gives all that is needed to manage and monitor the traffic in real-time along with an arsenal to proactively handle the call traffic in real-time.