When businesses engage with the technology ecosystem about automation, some specific solutions emerge: AI, chatbots for the web, and automated workflows. With the world evolving rapidly, enterprises are looking for new technologies that can radically transform digital communication. That is precisely where email bot offers maximum value to companies across industries, such as retail, manufacturing, eCommerce, etc.
Omnichannel optimization can boost conversion and growth by 15%, as customers can communicate with companies through email, phone, social media, etc
–Mckinsey
With omnichannel being the way forward for customer engagement, companies are focused on adopting email bot solutions to automate communication. In addition, having the right chatbot email solution can help drive sustainable engagement to offer an actual omnichannel experience.
What is an Email Bot and Its Purpose?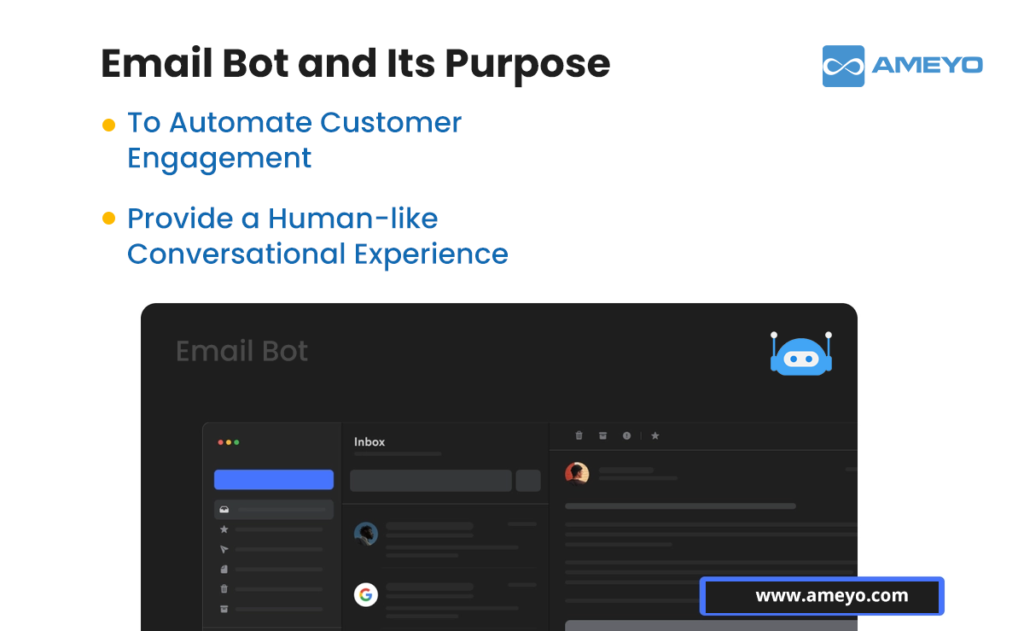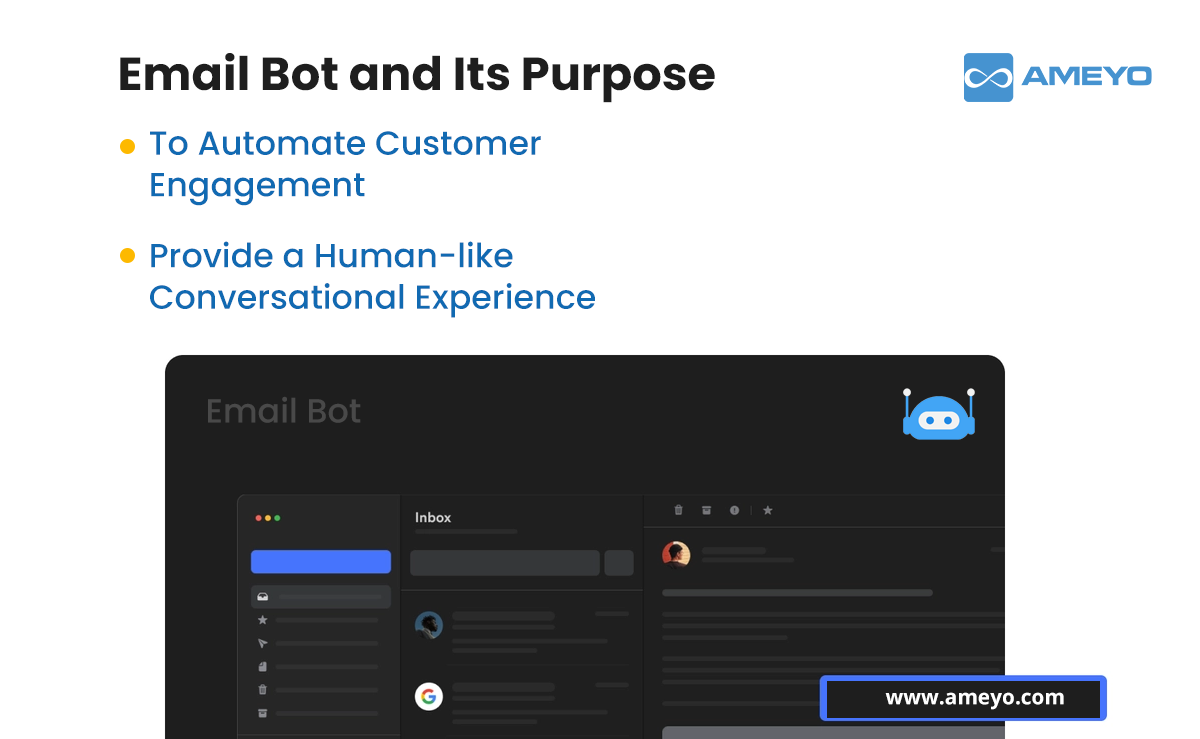 An email bot is essentially a marketing and customer engagement tool that uses AI and natural language processing to provide a personalized interaction experience to customers. It is designed to fully gauge the content and context of an incoming email and respond to it automatically using an extensive knowledge library base.
The overall purpose of email chatbot solutions is to automate customer engagement at scale while providing a near-human-like conversational experience. As a result, customers should not feel like they're interacting with a bot, and enterprises shouldn't lose out on response windows due to long email ticket trails.
How do Email Bot Works?
Email bots work by incorporating several integrated technologies, such as AI, ML, NLP, and contextual learning algorithms. This allows the email bot to access a knowledge base of query resolution while enabling firms to customize conversational scripts fully. In addition, email bots can also be fully personalized, allowing for complete control over tonality, language, and script.
Email bots also use data analytics and machine learning to grasp the context of the email conversation. This feeds into the email chatbot algorithm, allowing it to learn more about what customers are trying to express. As a result, email bots can improve their responses and provide highly targeted messages with the right intent through consistent data analysis.
A key Use Case – Nurturing Leads Lifecycle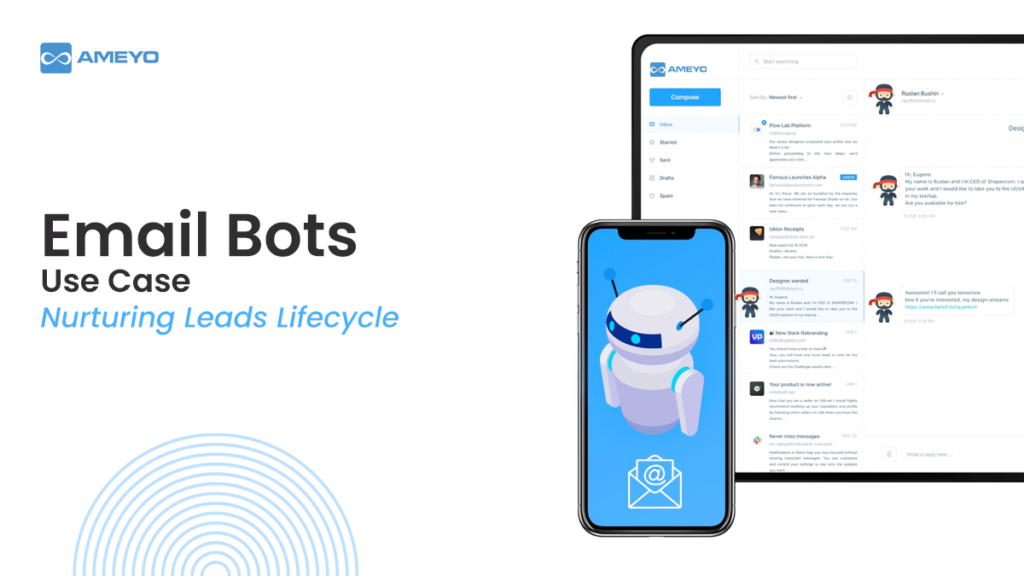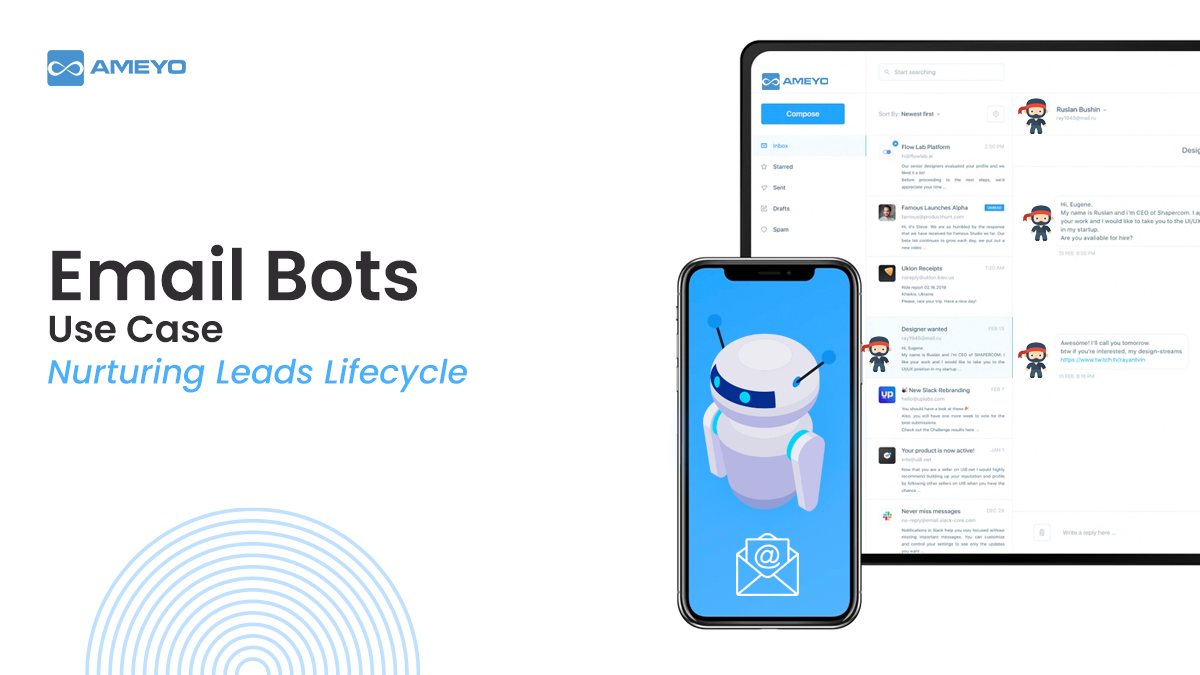 Businesses can develop a genuinely omnichannel relationship with customers by incorporating email chatbots within customer service process flows. Leads can be captured, qualified, nurtured through automated systems, and seamlessly routed to live agents for closure.
Email bots can also offer timely promotional offers that are highly targeted and based on customer profile and behavioral data. With 68% of buyers wanting more personalized promotional offers, email chatbots can analyze context and provide the right messaging for better sales conversion.
4 Key Benefits of Email Bots Not to Miss
There are multiple benefits of email bot solutions, which are highly relevant to enterprises across industries. Let us explore the top 4 that you should not miss –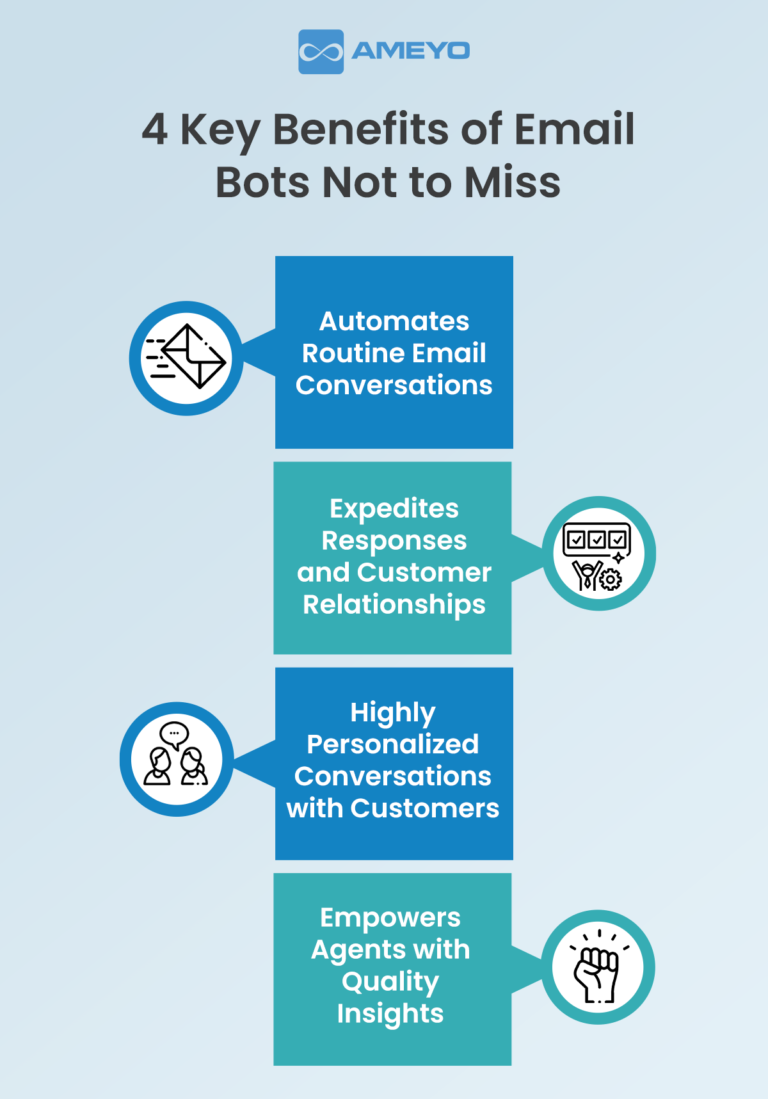 1. Automate Routine Email Conversations
Periodic emails, such as claims, KYC, account information, etc., can be automated through an email bot for any enterprise. This makes the workload less intense for customer support teams, as they can shift focus towards more complex queries.
In fact, AI driven automated conversations can improve productivity fourfold in many cases, making them vital to agent empowerment and streamlining the domain. In addition, teams can help deep dive into customer research and provide the right support, promotional, and retention-based solutions within minutes.
2. Expedites Responses and Customer Relationships
Speed is of the essence when it comes to resolving customer queries. Customers experiencing issues with a product or service may communicate via email, requiring instant response times to help provide resolution.
Additionally, email chatbots are critical to developing long-term customer relationships. They can be used as a viable tool to boost retention and keep customers loyal through regular engagements.
3. Highly Personalized Conversations with Customers
Personalization is a key area of expectation for more than 70% of buyers, as they engage with customer service mediums. The right email bot solution provides a highly contextual experience to customers through sophisticated natural language processing.
The email bot can quickly gather the intent behind an email and share a meaningful response to ensure that the query is resolved. Email bots can read images and text and instantly offer an appropriate response through computer vision, machine learning, and OCR.
4. Empowers Agents with Quality Insights
With agent empowerment being a key objective for customer service domains, email bots are the preliminary way of resolving productivity issues. Email bots handle many primary queries that can lead the way for upselling, cross-selling, upgrading and promotional opportunities. Agents also gain access to a wider spectrum of information through email content analyses and intent identification. This streamlines the routing of email conversations, giving agents complete access to particular insights.
Final Words
Email chatbot solutions are rising in popularity owing to the growth of email as a popular communication medium and the flexibility in conversation scripts that can be prepared. Companies can also expedite communication via email and solve support tickets at rapid pace. With in-depth access to enterprise knowledge bases, email bots can generate solutions in real-time for faster closure of queries.
Transform customer engagement operations with Ameyo's industry-leading solution.