When was the last time you checked your mobile? Was it a few minutes ago? Or maybe it was a few seconds ago. According to figures collected by a screen lock app, the average user checks their phone 110 times a day. In fact, you might even be reading this article on your mobile or tablet. 
One of the key trends that are accelerating in 2016 is the use of mobile devices by millennials to access information, research and makes purchases. On an average, millennials spend around 172 minutes using internet or apps on their mobile and 60 minutes on tablets. Mobile platforms encountered around for 60% of the time spent on digital media last year.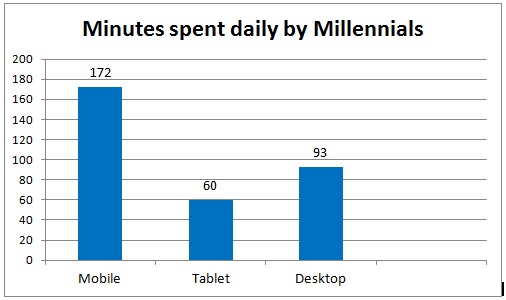 Essentially these statistics show that mobile devices are now a vital channel for many different types of business and have become a key part of the customer journey. Given the growth in mobile devices and how easy it is for consumers to access the internet through them, companies obviously need to focus on delivering a better user experience in 2016.
Smartphones and tablets contain multiple channels that are part of the customer experience. Consumers can browse your website, download and open your app, send you an email, Tweet or direct message or simply use the phone to call you. This means that increasing use of mobile devices will lead to a greater number of interactions across all channels – so make sure you have the resources in place to provide fast and consistent service to consumers
Millennial generation is defined by digital, mobile, real-time and an always-online lifestyle. They're nothing like your traditional customers. So, in order to understand them and how they think, you need to redefine and rethink your mobile-first approach to customer experiences. Startups need to implement technologies such as self-service IVR, social media ticketing, web chat and in-app chat so that customers can instantly get in touch with brands through mobile devices.
An effective business strategy should examine and consider customer behaviour, expectations, perceptions and platforms to provide better customer experience, and it's time for businesses to respond to the needs within the context and deliver the right information.
If you were to ask contact centres across the globe what their main goals are, it's likely that 'improving customer experience' will be top of the list.
So what does it mean to achieve a good customer experience? Topping the expectations are first-call resolution, little to no waiting on hold, as few transfers as possible, and 100 percent resolution of a problem within minutes. Technologically, it means incorporating all communications channels into the same platform, so customer queries can be handled quickly and efficiently regardless of which channel the customer chooses.
A mobile-first strategy means that no matter what a customer might want to do – ranging from knowing a new product to receiving customer support, contact centres need to provide seamless experience irrespective of the channel they choose. For the business continuity and in case of hardware faliure or due to calamity contact center can opt for Mobile App Based Call Center Solution. 
Ameyo Emerge, a Cloud-based contact center software for millennials helps implement contextual interactions with features like In-App Chat, In-App Call to Indian start-ups and emerging businesses.