It's that time of the year again – time for good food and celebrating with your friends and family. The spooky season is officially over and it's time to be Thankful and welcome Santa and his elves. However, this year, things are interesting, to say the least with the whole Coronavirus situation. But keeping that aside, it's time for online food delivery companies to gear up for increased business and customer query volume.
Unless you possess Santa's elves and sleigh it's better to prepare your call center for the holiday season rush. Be it high order volume, managing restaurants, or ensuring timely delivery of food – it all comes down to exceptional customer service experience. 
Serving Yummylicious Customer Experience in the Pandemic Era
Since COVID-19, restaurant owners have seen a steady increase in online food ordering and delivery. People who earlier used to visit the restaurant were now opting for home delivery. This steady yet dramatic increase during and post lockdowns gave rise to some new and interesting holiday food delivery trends such as:
Preference to eat at home over restaurants
Revenge buying after limited to no outside food
Increase in orders of sweets and chocolate delivery
With so many food deliveries and orders, food aggregators and restaurants see an increase in customer queries. Customers are curious about their food order, they want to know when their gift boxes will be delivered or some even have complaints about the quality of food/item delivered.
Remote Call Center – Your Delivery Partner this Holiday Season
Are you feeling the holiday rush? Is a high influx of customer queries overwhelming your customer care reps? Is COVID-19 dampening your holiday food delivery experience? Well, you need a remote call center solution to manage the holiday traffic. But how exactly can you make the most of the remote call center software? Let's discuss it!
Drive Omnichannel Communication
Even though most food aggregators have mobile apps for customers to place orders, it is important to integrate these applications with customer support options like – click to call, in-app chat, send an email, or WhatsApp the brand to resolve the issue. Additionally, live chat has emerged as a winner when it comes to immediate gratification. Customers can chat with your bots or live agents to get answers to their questions quickly and effectively.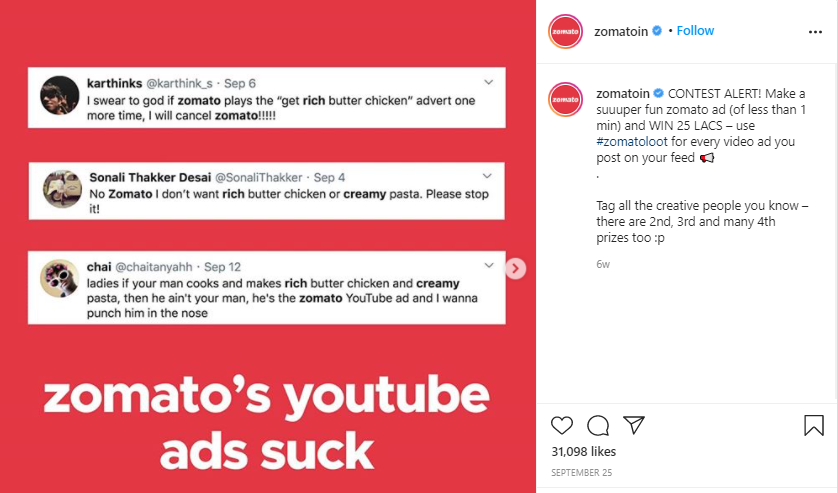 Apart from managing omnichannel customer support, using various platforms to engage with your target audience can also be an effective marketing strategy. For instance, Zomato's new campaign, #ZomatoLoot is an awesome example of handling negative reviews and turning them around into something positive.
Offer Customer Self-Service Options
Simplify your customer journey and more importantly your customer experience. Not making your customer wait is a great place to start. But how can you manage that? Self-service options are a great way to do that –  and there are multiple ways to achieve that.
Using Chatbot: Let the artificially intelligent bots to automate common queries
Publishing FAQs: Publish the most frequent queries or issues that the customer face and help them get answers there and then rather than wait for an agent 
Self-service IVR: Design your IVRs with personalized prompts and advanced routing to ensure FCR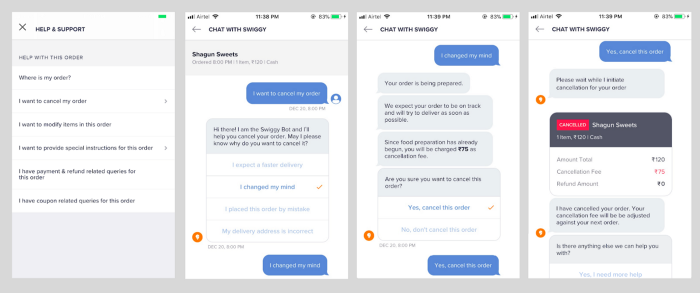 One of the best use cases of using bots to self-serve has been depicted in the above image where Swiggy is using the chatbot to automate their food order cancellation process. Thus, effectively reducing the whole process from several minutes to mere seconds.
Integrate your Systems for a Holistic Customer Experience
As an online food aggregator, one has to manage multiple stakeholders – customers, delivery people, restaurants, etc. It's imperative that all these processes are in sync to deliver a delightful customer service experience. With a remote contact center software, you can easily integrate your systems – order management, vendor management, CRM, or other third party systems to allow the customer service reps to have personalized and contextual conversations.
Having a single view of the customer enables the agents to check previous orders or any open ticket and provide a satisfactory response to the customer while being productive and effective.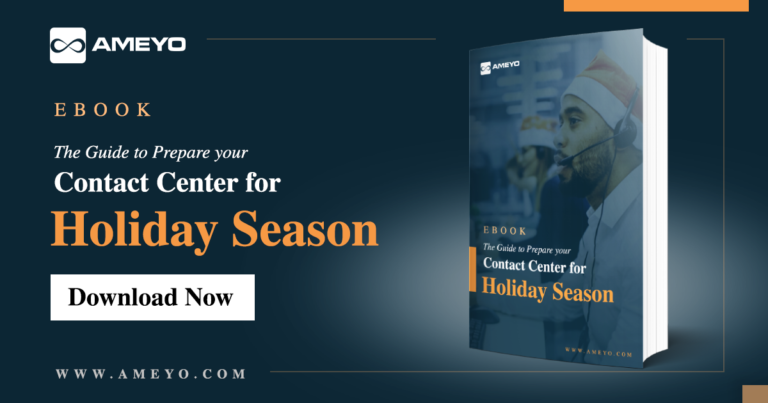 Collect Customer Feedback
One of the best ways to prepare for the holiday season in call center is to study the historical data and past customer behavior and you can only do that if you have that information. Thus, collecting customer feedback is not only beneficial for forecasting but more importantly, it offers great insight into gaps that you, as a business can improve upon. Asking the customers to rate the delivery experience, food quality, and even their customer support experience will be a great help in the long run.
One of the most effective ways to collect this feedback is via star rating in the mobile app itself. Some outlets also send a feedback link on SMS or email also. However, the easier you make it for the customer to give their feedback the better it is.