Customer Service has come a long way since the last two decades. Customer Service or Customer Support is no more mere operations but an experience now. Responding to customer queries started over phones, then emails and today to any digital channel that is available. Although phones were a thing earlier that is changing gradually and so is the abbreviation – FCR. A lot of contact centers, customer service teams used it and still use First call resolution as a key metric to measure customer satisfaction and optimize operations cost. But with a plethora of digital channels opening up, the term is no longer the First call but First Contact Resolution rate. Customers can't be restricted to any channel. its the BPOs', customer service teams and other organizations' onus to provide support on different digital channels ( social media, Chat, messengers, email, SMS, video etc.) and preferably in a single touch.

Let's Talk a bit about FCR now- First Contact Resolution Rate ..
In simple terms, it is the percentage of customer queries resolved in the first contact made between a customer and organization through any interaction channel.
However, it's not that simple. Calculating FCR varies from organization to organization. At times, there are organizations with poorly defined or non-existent business processes and thus, the queries will never be resolved in the first contact. Thus, calculating FCR effectively is only possible when you have defined customer service business process.
Why is FCR Important?
Why so much stress on this KPI and not others? For any organization customer retention ( revenue) and regulating costs ( Operations) are the top priorities, at least from a service standpoint. And FCR directly or indirectly impacts both.
Let's take a scenario where you have five hybrid inbound agents – calls & chats. Each agent per day services 100 calls and 200 chats. So in total every day your team caters to 500 calls and 1000 chats. Let suppose your FCR is 60% thus, 405 of your inbound queries are repeat customer queries that is – 40% of 500 calls + 40% of 1000 chats – equals 200 calls & 400 chats – 2 extra agents. Do the math.
Customer retention is the other metric which takes an indirect hit. As per an industry study, CSR is 35-45 % lower when a second call is made for the same issue. Lower CSR translates into less happy customers and there are 10 other organizations poaching your customer.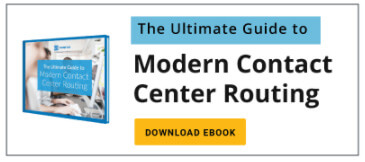 So how do you mend things?
How to improve FCR- First contact resolution rate?
Invest in an Empowering Technology


Coming to a clinch, I hope I was able to add some value through this article. This must have given you a fair idea of how FCR is important for the growth of business and how it can leverage your performance. There are other call center metrics also available but, as per my notion, being one of the prime factors responsible for customer satisfaction, businesses should have a solution that focuses on FCR. This will help them meet customer demands at the earliest and deliver exceptional customer experience.