Artificial intelligence and machine learning are slowly becoming conventional territories for several industries. In today's scenario, a chatbot is considered the most trending technology. Whether an emerging startup or a large enterprise, chatbots have a crucial role where automation is the need of the hour, and the banking sector is no exception.
In today's trend, with automation, the banking world is slowly getting self-service oriented to cater to the needs and demands of digital-savvy customers. Therefore, including chatbots in the financial industry is a remarkable phenomenon to decrease the overall banking task to a great extent.
Due to hectic schedules, people hesitate to stand in long queues and complete their banking operations. Thus, people prefer mobile banking, net banking, and trend chatbot banking. With the help of a chatbot for banking, the customers can perform any financial transactions without much hassle through text or voice. Additionally, due to chatbots, customer satisfaction has improved a lot.
Nearly 90% of bank interactions (internal and external) are automated through AI chatbots.
– Juniper Research
It is also noticed that people are more comfortable with chatbots as they are more robust and efficient when responding to queries than human agents.
Since the pandemic started, the financial industry has seen people willing to move towards digital transactions across financial institutions of all sizes. In addition, customers are now more willing to move towards more digital activity. To meet the customer's expectations, financial industries are now taking more approaches towards adopting new technology to serve more customers with the help of digital channels.
Thus, the role of AI chatbots in the banking system in the coming years will be more significant and ever-expanding. 
Nowadays, most banks have implemented chatbots to handle routine tasks such as fund transfers between accounts, resetting mobile banking passwords, paying bills, and even opening a new checking account.
With the advancement of technology and the progress of customer adoption, in the coming time, chatbots in banking will be handling more complex tasks and interacting with consumers on a more human level, like helping a customer with pre-approved loan origination.
In this blog, we will discuss:
AI Meet Banking Industry: Role of Chatbots
The banking industry has moved towards digital adoption in recent years. Everything is getting digitized, whether small or big financial institutions. When digital channels are more widely used, the customers also have higher expectations from their interactions with the banks. Artificial intelligence chatbots are well equipped to enhance customer experience using digital communication channels.

As the pandemic carries on, chatbots are helping financial institutions, such as community or regional banks, stay and thrive in the business. When the pandemic started, the waiting time in call centers was horrible as nobody expected this to happen, and several customers faced financial concerns with furloughs and layoffs. Thus, it became difficult to meet ends to pay a mortgage payment.
Along with high call volume, several financial institutions also face limited staff issues in the call center due to the requirement of social distancing. Besides, due to the sudden upsurge in Coronavirus, the FinTech industry was struggling with the transition of settling their employees to take up calls from home.
To cope with all these struggles, many organizations have deployed chatbots in banking to help and enhance the breadth of customer service. Nowadays, Banks are using chatbots to automate and handle the service for basic routine questions while keeping the human resource for assisting customers with more complex issues.
Few Use Cases, And Benefits of Chatbots in the Banking Sector
These days, how often do you visit the bank branch for banking? Surely the answer would be 'not very often. So now you must think about what the bank has to do with chatbots. Well, the answer is quite simple: To Automate Services. As you can see, services these days are pretty slow and even unpleasant sometimes as people are relatively more prone to misunderstanding and mistakes than chatbots.

So in such a scenario, a conversational AI chatbot can help you provide exceptional customer services as it is available 24/7, never forgets anything, never gets sick, and never gets unproductive. An AI chatbot for banks can be installed to complete daily operations and enhance the customer experience in the digital banking sector.
Let's see some of the Use Cases of Chatbots: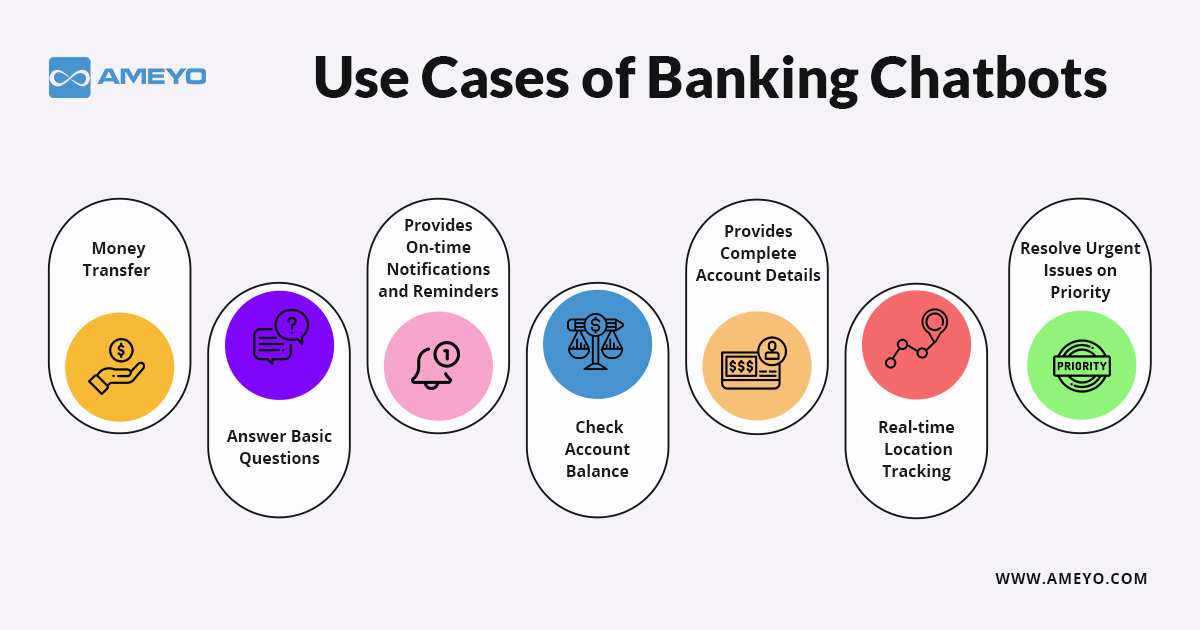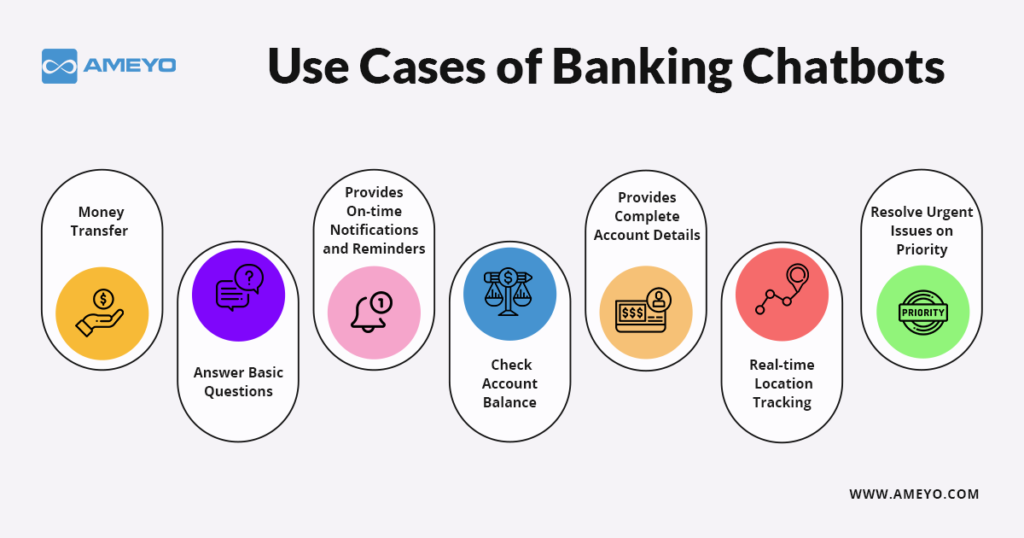 1. Money Transfer
Users can use chatbots to pay bills, set or cancel payments, and track monetary transactions. Chatbots can also pay off credit card bills or charge prepaid cards.
2. Answer Basic Questions
Chatbots can answer several fundamental questions regarding accounts of customers or banking products. For instance, chatbots can answer questions like "How can I apply for a credit card."
3. Provides On-time Notifications and Reminders
Most banks use chatbots to offer their customers timely reminders and regular notifications regarding their bank accounts. Some of the frequent reminders that customers often get are regarding their bill payment deadlines, the last-day offer of loans, and so on. All these reminders intend to keep the customers aware of all the activities that can benefit them and stay with them.
4. Check Account Balance
Users can ask chatbots to provide them with account balance details under their names. Chatbots can also alert customers if their account balance is in danger of falling below an average balance.
5. Provides Complete Account Details
Apart from account balance, users can also ask regarding other details of the accounts, like recurring payments and expenses, card reward points, and money transfer limits. One can also recover their account details and make changes such as updating their current address or phone number.
6. Real-time Location Tracking
As per location, the answers to user questions may vary. For example, if a user ask's, "Where is the nearest bank branch?" In this scenario, the chatbot will answer depending on the user's location. In addition, Chatbots can track the location through mobile GPS, thus providing correct answers every time.
7. Resolve Urgent Issues on Priority
Chatbots in banking industries can help customers with issues that can be non-complex but urgent. These issues include unlocking or locking cards, resetting, checking bank statements, and completing fund transfers. AI chatbot allows customers to complete the entire process without waiting on the phone.
Benefits of Chatbots in Banking Sectors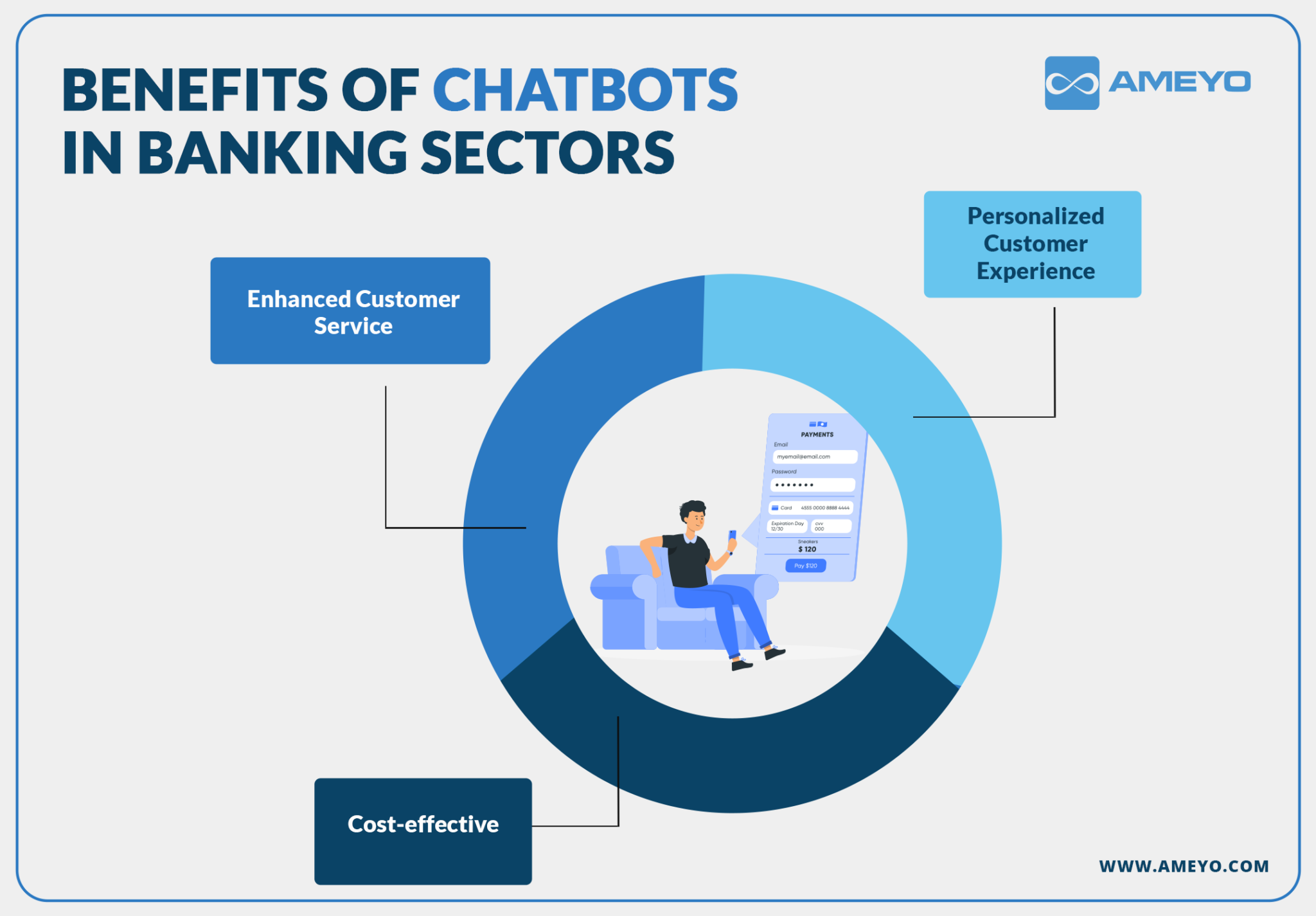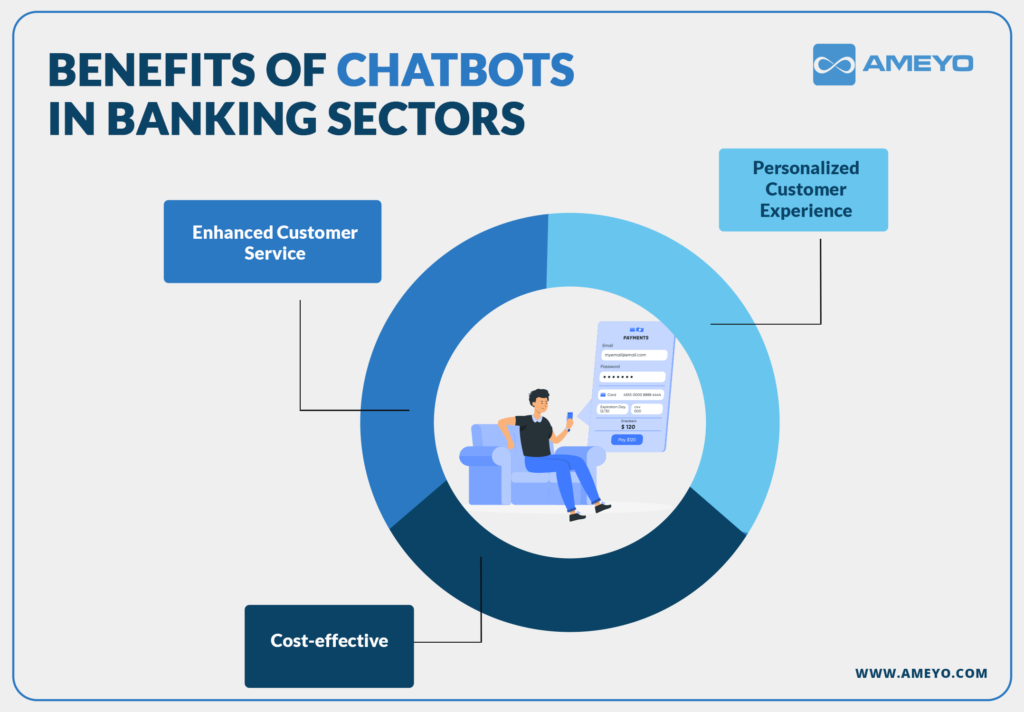 1. Enhanced Customer Service
Numerous chatbots implement NLP, i.e., natural language processing, to analyze customer needs and provide accurate answers or solutions. With 24/7 customer service available through chatbots, waiting for a customer's real-time solution to be solved to a greater extent. Furthermore, Chatbots collect customer data (both historical and real-time) through interactions, this helps provide personalized interactions with customers. Last but most importantly,  chatbots eliminate human error as one can rely on chatbots to give accurate answers.
It would not be wrong if we say conversational banking is the future. With the help of chatbots in banking, some imperative customer service and support can be achieved, such as access to information, pleasant interactions, and speed.
2. Cost-effective
As per the reports by Juniper Research, the operational cost savings from using chatbots in banking will reach $7.3 billion globally by 2023, up from an estimated $209 million in 2019. Chatbots offer 24/7 support besides providing instant customer support, increasing customer satisfaction.

Chatbots also reduce the requirement of human resources to answer customer queries. It is also proficient in handling multiple chats simultaneously with accuracy. According to the research done by Accenture, nearly 57% have accepted that chatbots can bring significant ROI without much effort.
3. Personalize Customer Experience
Nearly sixty-three percent of customers expect to get personalized service. In this matter, chatbots are much more efficient in providing customized service to each customer by using customer data (after taking consumer consent to access their data).
As customer expectations have evolved in the last few years, banks are continuously looking for ways to enhance customer experience and meet their expectations in the best way possible. A few things which have led to enhanced customer experience are:
Automating answering of FAQs: Queries on a product, loan, credit card, or report credit card loss can be answered in a jiffy through these bots.
Marketing: From sending upsell/cross-sell notifications to gathering and analyzing customer feedback, chatbots are enhancing the customer experience and increasing brand loyalty.
Customer onboarding: Onboarding has been the most crucial and important part of the banking process, which the banking industry has been eying on improving. A chatbot is helping companies speed the process, ending the paper trails, and eliminating the data entry time, which further enhances the data accuracy for banks.
Emerging Trends
Chatbots have come a long way because of the advancement in technology. It is visible why businesses are adopting chatbots to take their customer service to the next level without increasing the operational cost. But the question comes why the customers are so satisfied with chatbot services.
Today customers have hectic schedules. Thus, they don't have the time to wait on calls to get in touch with a customer care representative. They want answers to their queries immediately, so 90% of customers mark an "immediate" response as very important when they have any queries. Chatbots offer consumers an immediate response facility to connect with brands in real-time to provide instant solutions and resolve their queries. This makes chatbots the fastest-growing communication channel for brands.
Here let's talk about some emerging trends that would further change the game of chatbots.
1. Chatbots Will be More Human-like
As per PwC data, immediate query resolution and convenience are essential for customers in today's fast-paced world. Thus, they are willing to pay a nearly 16% premium to businesses providing such services.
To ensure customers get what they are willing, chatbots need to be more understanding and able to provide human-like communications. Chatbots leveraging technologies like AI and NLP (Natural Language Processing) possess semantic analytics features and offer more human-like conversations than before.
2. Voice Bots Becoming Popular
These days voice is becoming the mainstream technology. As per the report by Accenture, it is said that most of the customers prefer to go for a voice-based interface compared to text-based messaging platforms. Today you can see a rise in using conversational bots for assisting customers over text. This is because it helps provide a seamless user experience. Sectors like banking, finance, health, and e-commerce will witness an enormous surge in automation, especially when chatbots can improve customer experience.
3. Chatbots Automating Payments
Earlier, businesses were using chatbots to answer customer queries besides collecting information. However, it's high time chatbots go beyond customer service and play an imperative role in streamlining digital payments.
In 2022, it is expected that most businesses will integrate more payment services into chatbots. With this facility, the user will only have to say, "I want to make my credit card payment,." The rest of the payment processing would be taken care of by chatbots via connecting it to a payment system.
Chatbots will be connected to payment systems like digital wallets and Paypal. It will allow customers to make payments without leaving the messaging platform, thus enhancing the consumer experience.
Conclusion
To sum up, 2022 will be a year for chatbot adoption. Chatbots are being adopted across industries, like healthcare, real estate, and several more. It can be a tricky thing to pick the best features of a chatbot from the different types of chatbots available in the market.
As banking is one sector that enhances customer journey and experience at all stages, banking is already way ahead of the curve when adopting Conversational AI solutions. AI-powered chatbots and voice bots have significantly helped banks engage with customers at every stage of the customer life cycle and will eventually be more advanced in interacting with customers with a more human touch. This will help in cost efficiency and make the customer experience more real. Therefore, the future of chatbots in banking is more virtual than in person.