Call Center Quality Monitoring
Keep a track of call center quality assurance. Analyze and monitor calls to improve Agent call quality in a call center.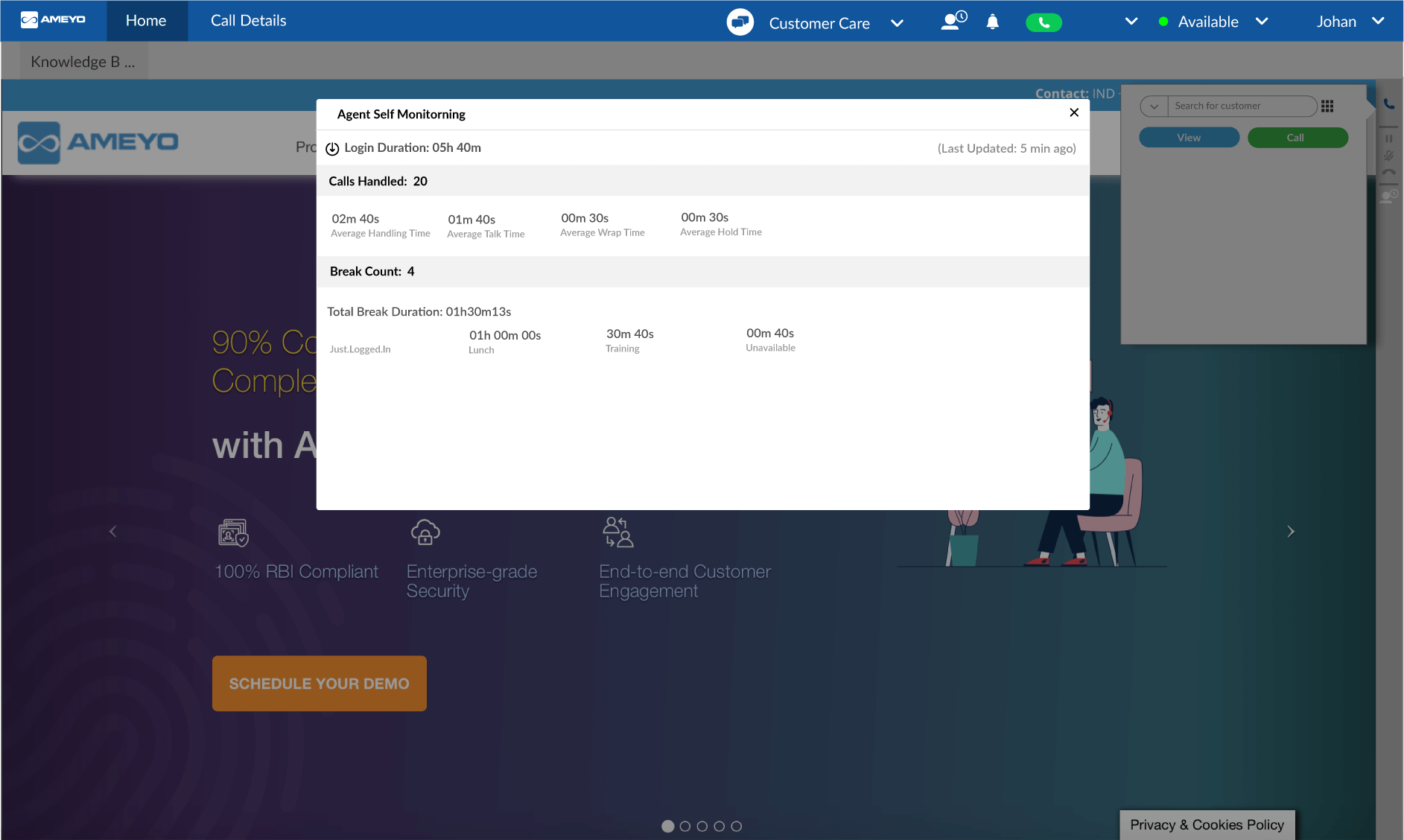 Motivate the Workforce with Agent Self Monitoring
Ameyo Call Center Software allows your agents to self-monitor and self analyze their call center performance by providing a Self Agent monitoring dashboard with key Call center KPI's. Agents can monitor the number of calls that they have taken, Average Call Handling time, Average Call wrap up times, etc. These metrics help them identify gaps in their performance and work efficiently with a self call center quality monitoring software.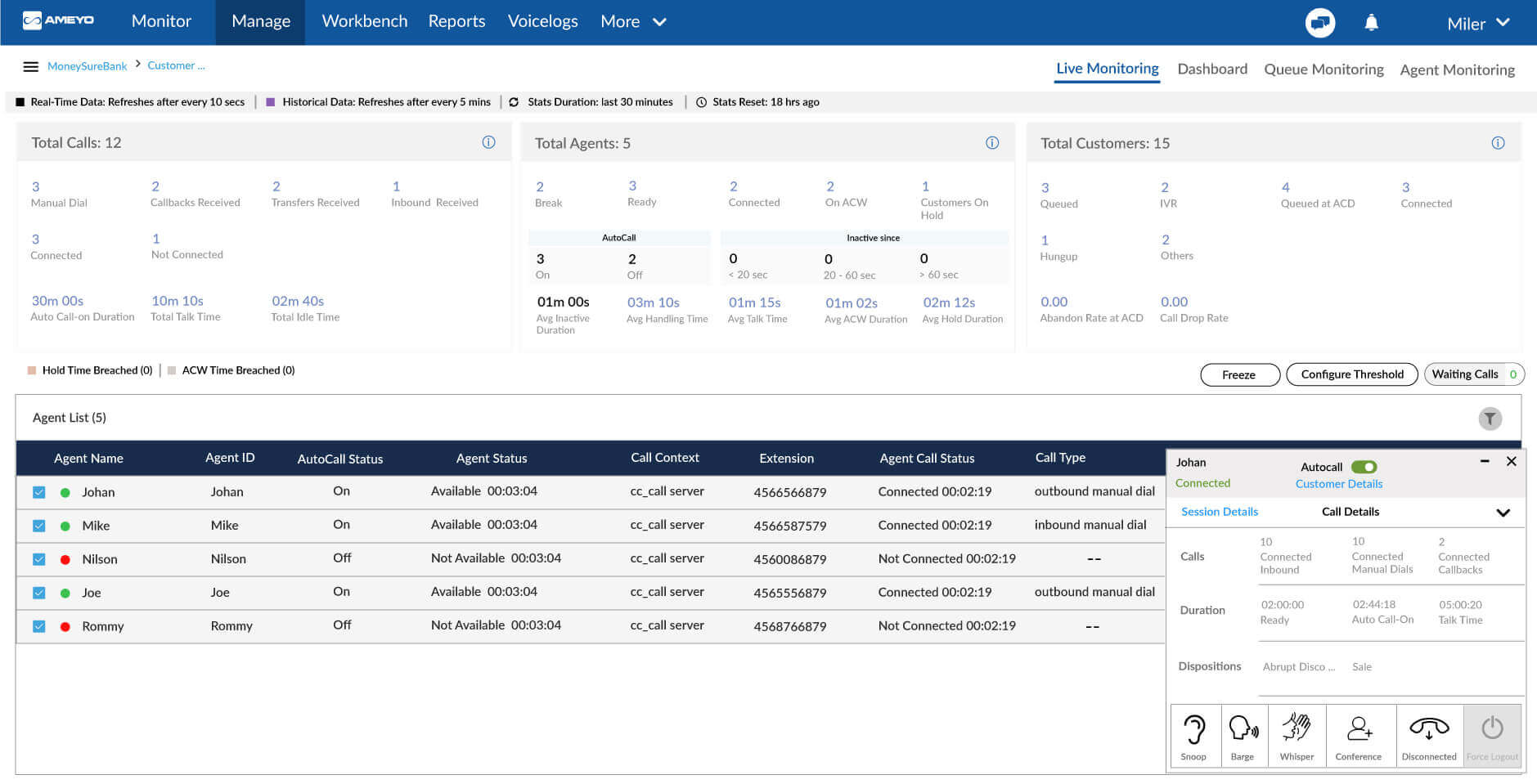 Enable Supervisors with real-time Call Quality Monitoring
Ensure Agents are having high-quality customer interactions by keeping an eye on call quality monitoring parameters. Monitor real-time Agent interactions with real-time call options of snoop, barge, and whisper to continuously check Call quality across your Agents. Help and guide your Agents in the right direction to deliver a consistent customer experience.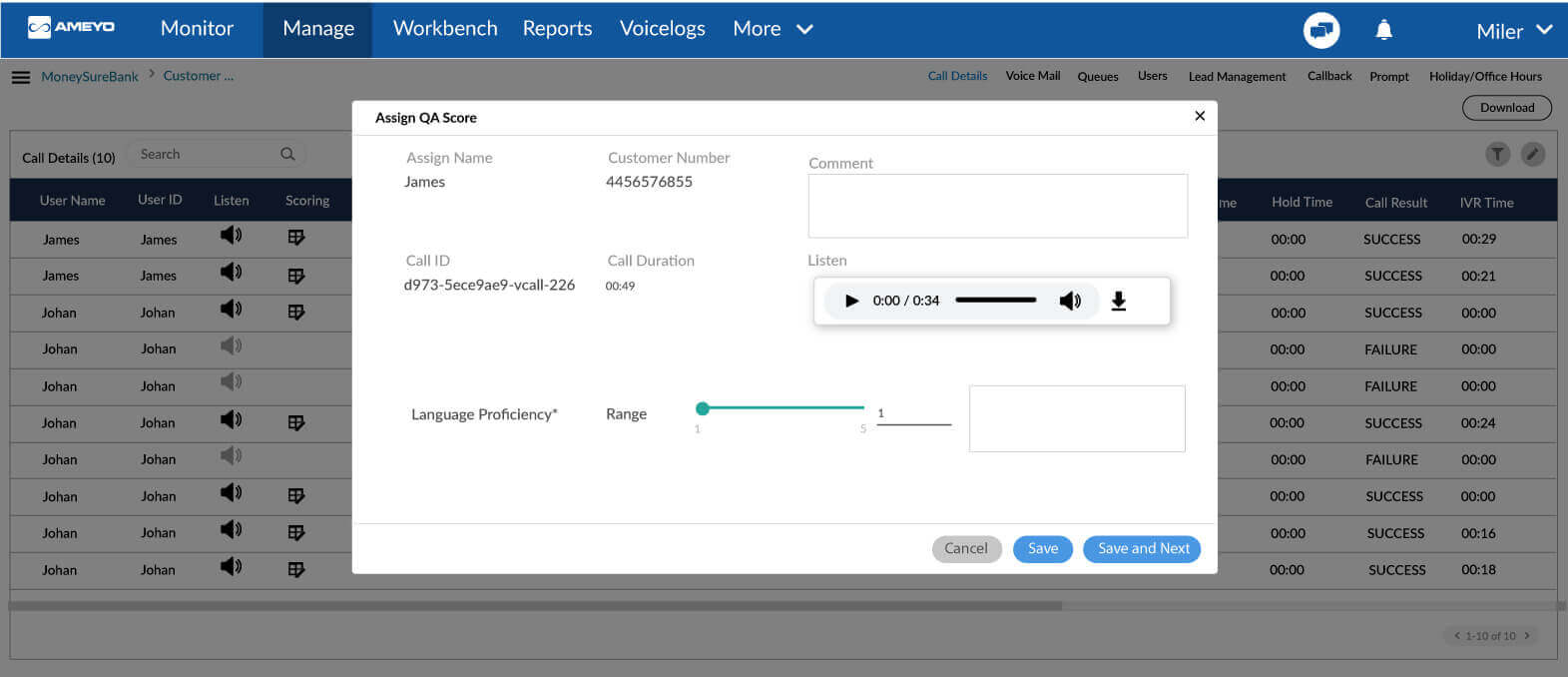 Enable Call Scoring for Adherence and Training
Measure Agent Call Quality on predefined quantitative and quality benchmarks to ensure Agents follow Call center etiquettes, stick to the script, don't miss out on key phrases, and overall deliver a consistent customer experience. Score Agent Call on configured parameters and filter call details with a quick color-coded bifurcation of scored/unscored call. Fetch call center quality monitoring scorecard in the form of reports and keep track of agent performance.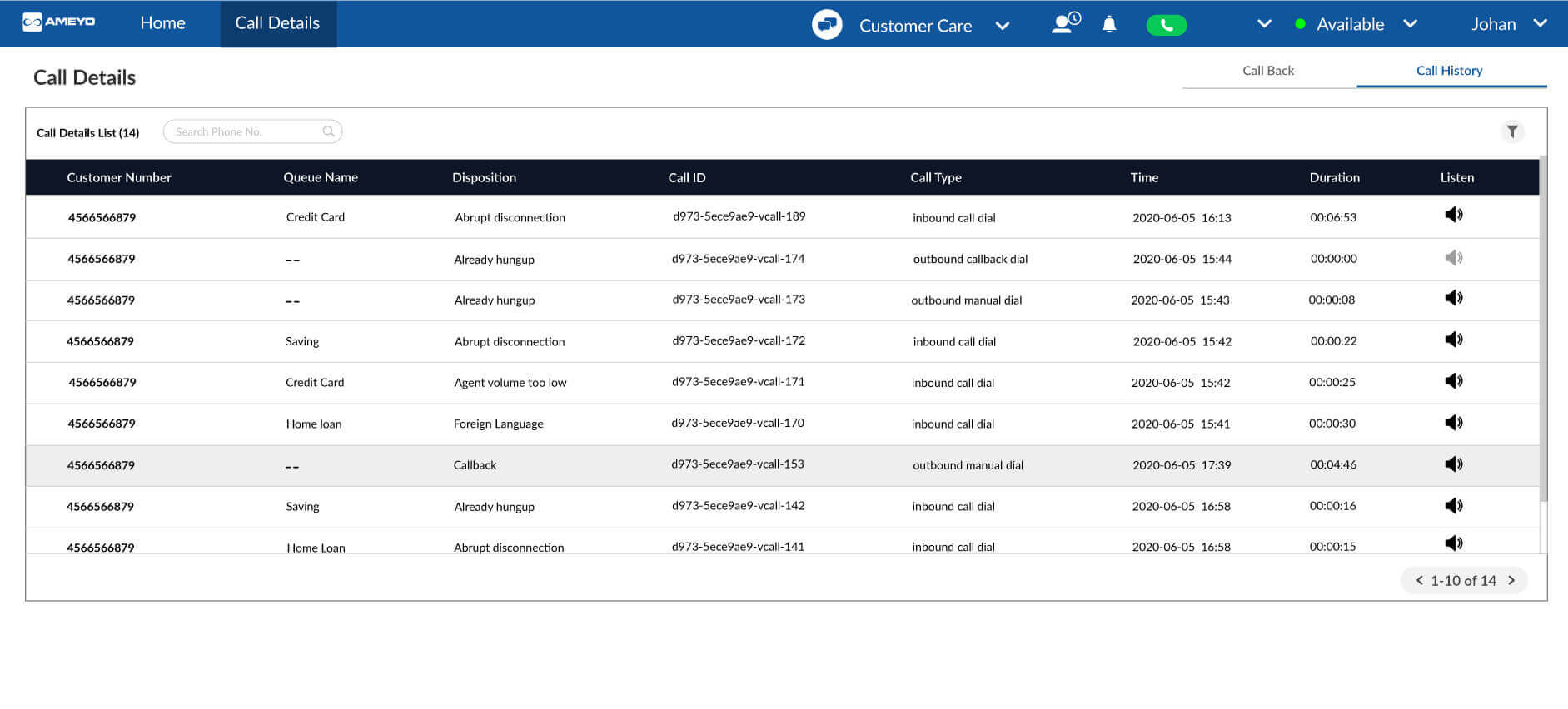 Maintain Call Recording Logs to Achieve Compliance
Have records of call history in Voicelogger for a period of 6 months or archive them for several years. Comply with your industry regulations and archive your call records to follow the norms. Swiftly search through your voice records with quick filters to crunch your voice logs to your requirements. Allows supervisor and agents to listen to call recordings for call quality monitoring with an inbuilt single click player. Configure privilege based access to call recordings and ensure customer data privacy.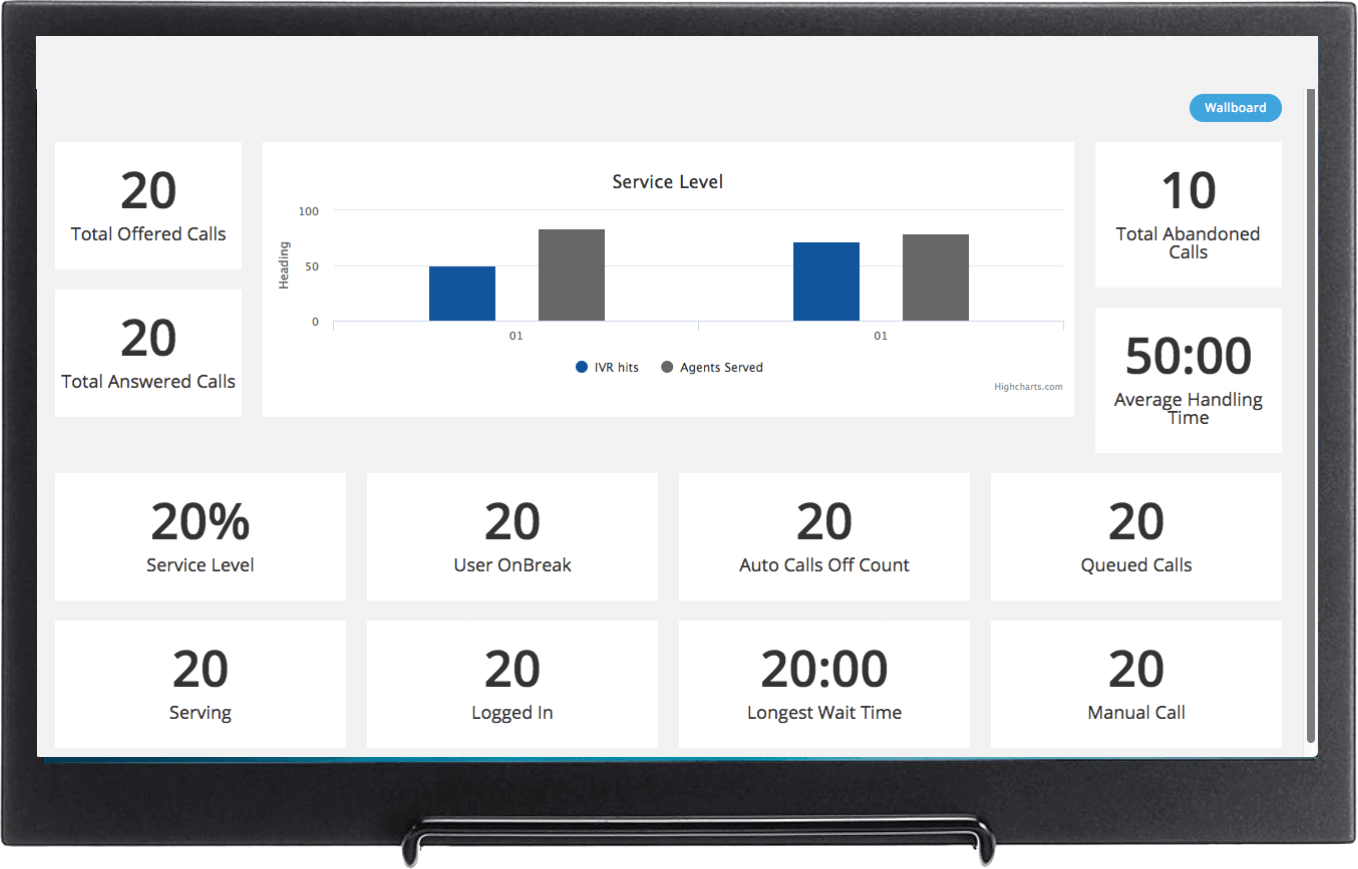 Instill Competition with Call Center Wallboards
Get hold of the key metrics in real-time with tailor-made projections of the stats that you want to measure. Wallboard does a two-fold task of inspiring agents to perform better and helps supervisors with effective monitoring. Choose from a wide range of historical and real-time stats to boost your agent morale thus enhancing agent productivity.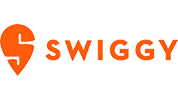 Gulf African Bank revamped their case management processes to resolve customer issues quickly.
Some More Call Center Software Features

Inbound-Outbound Calling
Handle all your inbound, outbound, and blended campaigns with ease and flexibility.

Computer Telephony Integration (CTI)
Seamless call center integrations to improve operations and agent efficiency.

Reports & Dashboards
Track and Monitor real-time data through customer interaction management to make faster decisions