People often complain that dealing with a call center is not a very pleasant experience. This is not surprising – customer demands have significantly increased with the onset of the digital age, and your call center is going to need to keep up or risk losing customers in the long run.
Chances are – if you're managing a call center, you probably have to deal with a lot of unhappy customers. Usually, the problems in a call center are process-related, and one-offs are not that common. If you improve your efficiency with call center solution, you could significantly improve customer satisfaction and create loyal customers by strengthening the manner in which your agents operate and serve customers.
Strategies for Call Center Improvement
Possibly the best way to start with call center improvement is by knowing your audience, and how your business helps satisfy their most important needs. If you don't know your audience well enough, your agents won't know the best way to solve your customer's problem.
1. Find Out What Customers Really Want
Apart from your excellent product or service, your customers want timely, personalized, and simpler customer service with immediate solutions to their problems. It includes everything that makes it easier for them to solve their current problem. Customers also ideally want the ability to solve their own problems with self-service options.
According to CRM Magazine, 45% of companies offering web or mobile self-service reported an increase in site traffic and reduced phone inquiries.
2. Create Buyer Personas of Your Ideal Customer
You might have the most powerful story to tell, but it won't really help if you don't know your customer. Knowing your target audience will help build character personas of your buyers and engages, and help you understand why customers will choose you rather than your competitors.
What are the major type of customers you serve and what are you doing to make their lives easier? Gather insights about your audience and step into their shoes when you enter the customer journey. Use customer feedback to really gain an in-depth understanding of what customers want and what they don't need.
Want to Add WhatsApp channel to your Call Center Management strategy?
Look from the eyes of your customers and how they perceive your brand experience. Understand how they actually use your product, and design experiences based on that information. In fact, tell your employees to become customers and let you know where you can improve!
3. Improve Call Center Service Quality
Apart from monitoring the key call center metrics, here's how you can start improving call center quality in your call center:
– Perform a Call Center Root Cause Analysis
To identify the real cause behind a problem, it sometimes helps to perform a root-cause analysis. Most call center problems fall into 3 categories: Product, Service, or Policy. Identifying each of the above for a specific problem will help get to the root cause.
– Resolve the Query
What should you do if something goes wrong? Once you find a problem,
Find the specific root cause of the problem, and find it early
Prevent the problem from happening again
Implement proactive measures and ideas to improve customer service to ensure it does not happen again
Once you find a problem in your call center, never assume it is a one-off incident. The same type of issue could be happening with every related service ticket, and you just found out about one such instance. For example – consider an unhappy customer with an open service ticket who personally emails you to tell you that your team never answers the phone after 7 PM (even though you offer 24 / 7 availability).
Instead of resolving the specific customer's query reactively, try to find out the root cause of the issue. In this case, the call center manager found that their contact center does not cater to the customer's particular geography in the evenings – and implemented reactive measures immediately.
Some call centers hire call center quality assurance experts for improving call center quality. Although this is a good business strategy, employing a large number of agents performing quality assurance manually is not really that efficient. Not to mention – scaling would cost a fortune. Why not use leverage the power of artificial intelligence to improve service quality in your call center? We're not suggesting layoffs – rather we're proposing a much-needed helping hand.
Using artificial intelligence to gather, store and associate deep customer intelligence will allow your quality assurance experts to perform at a higher level of efficiency. Speech analytics will eliminate the need for quality assurance experts to manually listen to calls, and they'll monitor more calls in lesser time. Moreover, it enables the system to determine when a customer is aggravated so a live agent can quickly attend to the customer.
80% of executives feel AI improves worker performance and creates jobs, according to Narrative Science. 
5. Set Call Center Standards for Service Operations
Without a clear and definite set of call center standards, your agents will deal with customers how they see fit. Call Center Standards are a set of guidelines for your agents to follow when interacting with customers in a call center.
Creating effective call center standards is not a piece of cake, and if you have too many – it might hinder performance and make the conversation seem robotic or monotonous. For example, if a company follows 15 strict interaction standards for something as simple as checking account balance – it is not too productive and would frustrate your employees.
Here are some good call center standards to include:
Make customers feel welcome
Resolve customer queries effectively
Look for additional up-selling opportunities
Think about improving interaction quality, information availability, behavior, and appearance. Brainstorm common customer service scenarios, along with the most appropriate way to solve the scenario. Then, impart this information to your agents and set a standard throughout the entire organization. If possible, reward employees who go the extra mile for your customers.
6. Improve Call Center Efficiency and Productivity
Rather than incorporate virtual assistants, you could improve the efficiency of your existing system and processes to improve productivity. Here are some of the ways you can improve call center productivity:
Using better call center software, such as Ameyo's FusionCX Customer Experience Platform, can do wonders for your business
ss. Imagine having the power of artificial intelligence, smart insights, and 360 customer view at your disposal – that's what FusionCX can do for you.
Research estimates that by 2020, AI will be a $5.05 billion market, with over $5.4 billion invested in AI start-ups. Also, By 2018, six billion connected things will be requesting support according to Gartner.
– Increase Employee Engagement
Sometimes your call center agents won't feel valued enough to facilitate high-quality customer interactions and end up spending their time on useless activities or taking longer breaks. Investing in your agents will prove to be one of the best decisions you'll ever take. Our rule is simple – if your agents are happy, they'll make your customers happy.
– Provide Better Call Center Training
One of the best ways to improve call center efficiency is identifying instances where a specific set of agents need more call center training to better manage customers and build lasting relationships. Sometimes, you'll find that agents are not able to solve a particular problem or take too much time to solve it.
– Don't Hold Back on Incentives and Rewards
If you're facing a large number of dissatisfied customers, it would be a good idea to try giving out incentives and rewards to customers for making them dissatisfied. Usually, customers appreciate agents giving a free coupon or discount voucher for future purchases. Do everything in your power to empower agents to make the customer come back for more.
– Automation Powered by Artificial Intelligence
In the past, you couldn't really talk to your computer. But things have changed – and for the better. As the age of automation dawns upon humanity with the widespread adoption of artificial intelligence, more companies are beginning to automate their customer service and customer support with the power of chatbots.
According to Oracle, almost 80% businesses will use chatbots by the year 2020. 
A Chatbot is a computer program that virtually interacts with users using a messaging app/platform. Enterprise chatbots are usually powered by artificial intelligence and big data and intelligently learn about users with each interaction. They do this by using the use of a system of neural networks to technologically simulate the vast number of connections in the human brain.
According to HubSpot, 40% customers don't care who answered their query — an agent or a bot – as long as it was resolved.
If you're specifically interested in improving efficiency in your call center, you should try implementing a chatbot for automating customer interactions. Using artificial intelligence to automate your most frequent customer queries is a great efficiency hack – and it'll allow you to offer an always-available, intelligent self-service option for your customers.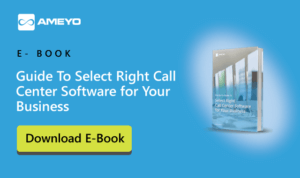 Call Center Feedback Improvement
You might find out, at some point in your call center management career, that some customers are unwilling to share feedback with you. If this happens – find out why this is happening, and fix it immediately!
– Reasons Why Customers Stop Sharing Feedback
Your customers might not complain because:
Difficult to Reach Customer Service Department
Incomplete Query Resolution
Negative Brand Image
Past Negative Experience
Strong Relationship with Customer Service Representative
Gathering feedback is crucial for improving your call center. You can get more customers to complain if you improve these lags. Give a strong signal to your customers telling them you want to find out what really bothers them.
Empower Your Agents with a Powerful Call Center Platform
Without the right call center technology, agents will not be able to effectively do their job of building better relationships with customers. If you consider a dedicated contact center platform to manage your call center, it will provide the right tools for agent empowerment – such as ACD, Unified Desktop, CRM, 360 Degree Customer View, and Real-time Analytics – and achieving process excellence.
Did you know? 42% of customer service agents are unable to efficiently resolve customer issues due to disconnected systems, archaic user interfaces, and multiple applications, according to Forrester.
In our quest to provide the best, most-flexible call center solution suited to any business, we created a platform that simply makes your life easier. Not only is it ideal for agents to build better customer relationships, but it is also powered with artificial intelligence to deliver the kind of experience that will make your customers come back for more!