Loyal customers of a brand become the source of potential referrals as per their experience. Irrespective of the business category, the competition in the markets has mostly increased, making businesses give significant importance to customer interactions for both sales and support.
As per a survey conducted in 2020, 42% of respondents stated that they choose phone calls as a communication channel to resolve customer service issues.
For businesses that deal with a high volume of both incoming and outbound calls, the right technology can make a significant difference in efficiency, sales, and ROI.
With customer experience taking the center stage around meeting customers' expectations, it is important to understand Computer Telephony Interaction (CTI) – a robust technology that can help leverage maximum benefits from customer interactions.
What is CTI?
CTI is a call center technology meant for customer service teams that provides them the ability to access telephone services through a desktop. It essentially unifies a telephone system with a computer and also combines various other technologies like Automatic Number Identification, Interactive Voice Response (IVR), and Voice Conferences to allow a contact center to function to its true potential.
Using CTI, you can ensure that your teams are no longer dependent on phones to communicate with clients. Besides this, all your devices – fax, phone, or voice mail, can communicate with one another. In other words, it gives you centralized control over different business communications through a single interface.
A wide range of CTI features makes it a better alternative to the traditional PBX systems. With effective CTI integration, the required customer information – personal information, account status, previous call logs, etc. are easily visible to the agent for faster resolution of customer queries.
How does CTI Work?
Previously, setting up customer support service and sales channels required PBX systems, server setup, and hiring of maintenance professionals. With the advent of cloud telephony, the entire process has been streamlined.
Using CTI integration with your call center software, you can enable the agents to manage phone calls from their computers. They can make or answer phone calls and follow a data-driven approach to fulfill customers' needs.
Key Functions of CTI
CTI can be used for a variety of contact center functions such as:
Automated dialing that generally includes power dialing, auto-dialers, and click-to-call
Phone controls like answering calls, making calls, or holding conferences
Screen popping to trigger caller numbers (ANI), number dialed, and other customer data during the call
Call routing that includes time-based routing, skill-based routing, and others
Primary Advantages of CTI Integration for Contact Centers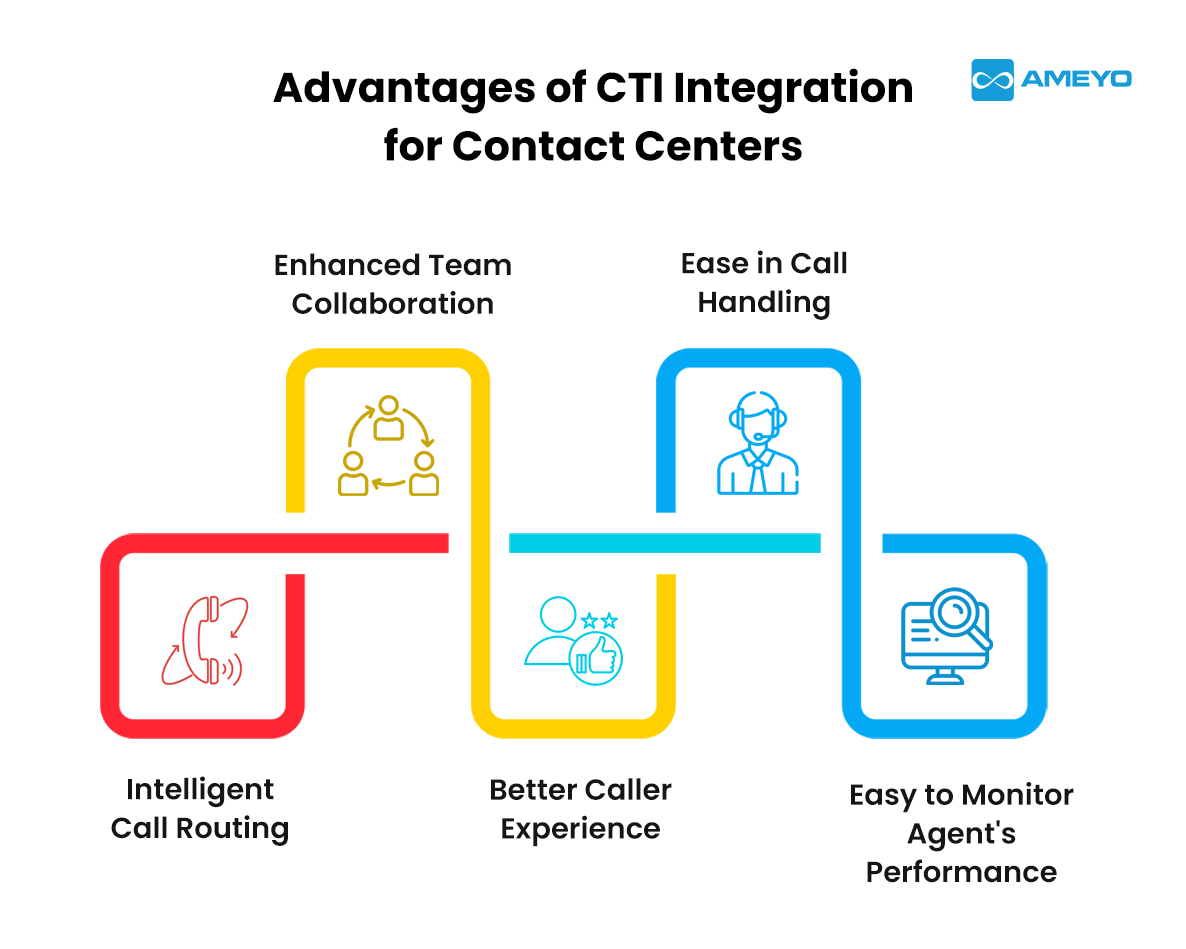 1. Intelligent Call Routing
If your team of agents handles a large volume of calls, they might have come across situations in which the calls are to be transferred to relevant departments multiple times. The results are dual-sided – customers will most likely get delayed responses while the agents face productivity issues when at work.
CTI integration to call center software is one possible solution that can help route incoming calls to different lines based on product types, departments, or extent of support needed. As a result, the customers can get in touch with the right agent directly by selecting a suitable keypress option and asking for help.
Using CTI technology, you can also exercise control over the transfer of calls to a specific agent within a department. This way, you can achieve faster resolution of customer queries and in turn, higher customer satisfaction. In cases where a customer selects the wrong option, IVR flow will provide them the option to go back and select the right number.
2. Enhanced Collaboration Between Teams
As per a research, 33% of customers feel most frustrated when they have to repeat themselves to multiple representatives.
Put yourself in the customer's shoes and you will realise that it is annoying to repeat your query related to a product or service to multiple agents. This generally happens when the interacting agents are unable to resolve their problem, do not have the option to transfer the same call to a domain expert, or add more people on the call as required.
CTI solutions help overcome such challenges by allowing the agents to loop multiple team members on a call if necessary to ensure a satisfactory resolution to the customer. On the business side, it also creates a collaborative work environment where different agents work in harmony to deliver maximum customer satisfaction. Using the right CTI integration technology, one agent can also leave notes for other agents to take the conversation forward.
3. Better Caller Experience
Answer this simple question –
What will be the result of greeting a caller/customer as per their location and referring to the recent purchases for queries if any?
Most likely, the customer will like such personalized support and does not feel annoyed with the response received. If this is something you want for your contact center to earn loyal customers, you need CTI solutions.
Through CTI integrations, your team will have detailed information about each customer they deal with, including his/her call records, and prior concerns if any. For example, the agents can greet customers with their names while having their personal details right in front of them.
Besides this, your team can address their previous concerns without waiting for the customers to follow up. The ultimate result will be a satisfied customer base, higher referrals, and higher sales. CTI can give you the much-needed competitive advantage and effective utilization of internal resources.
Read More: What is Cloud Computing? Usage and Benefits
4. Easy Call Handling
One of the reasons behind unsatisfied support service delivery is the complexities that the agents face to juggle between computer and telephone systems while dealing with the consumers. CTI can help them overcome hurdles that they face.
Agents will no longer need to balance the work between contact center software and the connected telephone system. They can access the required information on their computers and manage call controls with the click of a button on the screen. Besides this, they will have control over different functionalities like answering calls, hanging up, transferring them to an agent, etc. at their convenience.
CTI technology also helps create automated responses for frequently asked questions, thus reducing call traffic and allowing the agents to focus more on queries that require human interaction.
5. Easy to Monitor Agents' Performance
With a CTI call center management system, you get access to the right tools like live call monitoring or call recording to monitor the performance of different agents. It also allows you to highlight instances during customer interactions where an agent could have performed better. Based on the tracking information, you can provide the required training to the agents to help them improve their skills.
"Alone, we can do so little; together we can do so much." – Hellen Keller
This popular quote underlines the importance of individual growth of team members to grow business. Running contact center operations involves various complex tasks, one of which is to dive deep into understanding the performance of the hired agents.
This will not only help boost the team's performance but also strengthen their ability to deal with customers.
The Bottom Line
Various benefits of CTI solutions will help increase productivity and customer satisfaction. Consolidating all the customer-related information into one platform allows your team to get a thorough understanding of the caller and hence, provide full support to build a loyal customer base.
Integrate Ameyo with Leading CRM and Helpdesk Systems
At Ameyo, we help our clients integrate their preferred CRM with contact center software. We also offer ready-made integrations for all major helpdesk and ticketing systems. With our robust CTI integration, you can enable your agents to drive the right conversations with the customers or prospects. For more details, visit our official website.